Highest peak
14,505 ft / 4,421 m
Most summited peak
578 summits
Most prominent peak
10,075 ft / 3,070 m prom
First Ascent Awards
4000 of 8,623 peaks 46%
Top climbing months
July 11%
August 10%
June 10%
California mountains highlights
The Sierra Nevadas are the most famous California mountain range, stretching over 400 miles from north to south. In it lies the highest mountain in the lower 48 US States, Mount Whitney at 14,505 ft / 4,421 m.
California contains many mountainous National Parks, the most well-known being Yosemite National Park. The other national parks include Pinnacles, Lassen Volcanic, Kings Canyon, Joshua Tree, Redwood, Channel Islands, and Death Valley.
California boasts 14 peaks over 14,000 ft elevation, concentrated in the Eastern Sierras.
The massive Cascade volcano Mount Shasta 14,180 ft dominates the northern California landscape and can be seen from over 100 miles away.
"Very tough! Started from the Palm Canyon Trailhead at about 9 AM after the road to get to the north ridge of Indianhead was blocked off and closed. The first 1.5 miles are on the Palm Canyon trail which is well maintained and pleasant. Just past the palm grove are some large granite boulders that make for an interesting obstacle. Past the end of the trail at the palm grove the canyon widens and the creek begins to flow. Bushwhacking is light until you reach the second set of palms but can be avoided by leaving the canyon for a brief time. Followed the south ridge from the canyon which is quite steep with some class 2+/3 moves. Ridge reaches a saddle and has a sheer drop off towards Henderson Canyon, but great views of Toro and the rest of the San Ysidro Range are had. Towards the summit there are more large boulders which create some interesting maneuvers but technical climbing can largely be avoided if initially staying to the left. The last push to the summit is largely flat and offers great views of most of Anza-Borrego. Went down largely the same way except cut into a wash that is just east of the South ridge. Had to climb down some dry falls but nothing too sketchy. T..." —
trevormaziek • Dec 4, 2022
"Where Baldy Mesa Road turns to dirt at Mesquite Street, I parked there to begin the hike. Technically, I could've driven 2 Miles on the dirt road to reach another place to possibly park, but this worked out fine (I was there to hike anyway). The road turns into more of an offroaders dream after two Miles, as evidenced by the offroad vehicle's I encountered there. A bump sits at the edge of the rim overlooking Cajon Pass. This is the summit of Baldy Mesa. A foundation is all that remains on top. Great views make this high desert trek worthwhile. " —
MikeTeeples • Dec 3, 2022
"I parked on the dirt in the Brake Check Area off Interstate 15, In order to give the big rigs all the room they needed. Meanwhile, I went up the obvious dirt road that went up the slope. Shortly, it topped out on a hill overlooking the Brake Check Area. The road continues along a fenceline to an overlook of Interstate 15. Three benchmarks sit on and near the top. " —
MikeTeeples • Dec 3, 2022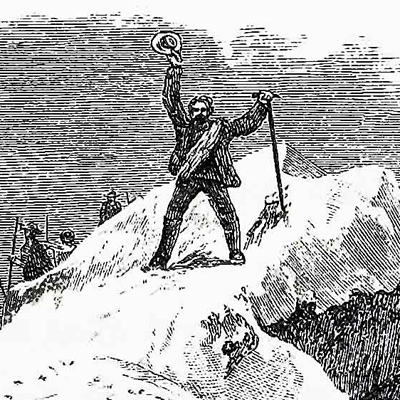 "Hiked 11/22/22 solo. Started early at Icehouse Canyon and went up Timber, Telegraph, Thunder and North Thunder in absolutely awesome weather with no wind. Some ice but mainly snow to Timber so no micro spikes, just careful poled steps where necessary. Put on micro spikes on the way to Telegraph with very little post holing but then had to use an ice axe because of semi-frozen snow sluffs taking out the trail up/down Telegraph - no trail on the steeper northwest slopes. Only used crampons for two traverses but if you don't use an axe, you're going to need them with poles to ascend/descend the from the northwest. Once off Telegraph, bare hiking boots/shoes were good enough. Completed the loop by walking down the Baldy Ski access road and then Mount Baldy Road back to Icehouse Canyon. Very adventurous and fun hike! " —
Temecula-Dan • Nov 23, 2022
"I had this Mountain to myself on a Sunday morning. From the Pine Creek Trailhead parking lot, I walked about a tenth of a mile back up the road to a trail gate that is hardly visible from the road. No signage to go with it. The trail parallels the mountain for about a mile before reaching a metal gate in front of a gully. As it turns out, the gully is the summit trail. The trail goes over a few false summits before reaching the top. Another great San Diego summit! " —
MikeTeeples • Nov 20, 2022
Popular California mountains