Old Speck Mountain is a 4000 footer in Maine.
The mountain, the 4th highest in Maine, is the northeasternmost and highest of the Mahoosuc Range, the northeasternmost part of the White Mountains.
Flanked to the southwest by Mahoosuc Arm and faces Baldpate Mountain to the northeast across Grafton Notch.
The summit of Old Speck is on the southern boundary of Grafton Notch State Park.
The Appalachian Trail runs along the Mahoosuc Range 0.3 miles west of the summit of Old Speck. A short side trail runs off of the Appalachian Trail to the summit.
The summit is wooded with limited views but an old fire tower offers an excellent 360-degree view.
Speck Pond is located about a mile below the mountain's summit on the Appalachian Trail.
12 summits • 7.5 mi • 2,696 ft gain • 5 hr 55 min
1 summit • 14.7 mi • 3,633 ft gain • 12 hr 0 min
1 summit • 26.7 mi • 4,684 ft gain • 52 hr 33 min
"I did this the first time 7 years ago and it almost killed me. It was my 3rd or 4th hike ever at the time. It was interesting to gauge my progress against something that was so difficult for me originally. I completed the 7.6 miles out and back in 6 hours. Pretty good time for me. Overall it's a crap hike as mountains go. There are multiple false summits and ups and downs which are extremely annoying. And there's not much to look at along the way. The fire tower is sweet and the views from up there are awesome, if you're willing to climb the ladder. " —
mikewilliamsjr • Jun 21, 2022
"Last day of section hike, from speck pond to route 26. Was a short day with only a little elevation gain, and the summit of old speck had great views from the observation tower." —
noahthackeray • Jun 16, 2022
"Got the heart pumping near the start! Steps up for .7. Then walk in woods mixed with good elevation climbs. Mica on the trail. Steadier at top. Followed AT. 7 miles RT. 6 hours. Maryellen, Eric, Amy, and Chris." —
lfrancois • Jun 27, 2021
"Felt like grabbing Old Speck for January to help out my career Maine 4k peaks. Trail was well broken out. Did not need to use my snowshoes. Went up, had a socked in view on the summit, then came back down. 7.6 miles!!!" —
newenglandwarrior • Jan 18, 2021
"What do you do on Memorial Day at 1:00pm while sitting on the couch realizing you haven't hiked in two weeks?? Turn to your son and ask how long to get to Old Speck? In record time, we had our climbing team assembled and were on the trail by 3:00 pm. The weather was better than forecasted. We had great views until just before reaching the peak. Spikes and poles really came in handy once we reached the second peak. Definitely not crowded. We only met about a dozen hikers on their way down. " —
Audette207 • May 25, 2020
"Beautiful Day! My cousins & brother accompanied me on my final NE 111 peak. We went up the Eyebrow Trail & down the Old Speck Trail (AT). Both were nice trails in their own way - challenges on the Eyebrow Trail, waterfalls on the Old Speck Trail." —
PJSelmer • Oct 13, 2019
"A red-lining hike. Went up Eyebrow Tr, tagged summit of Old Speck, then red-lined the AT down to Speck Pond and May Cut Off. Decided to hike Mahoosuc Arm again since it was so close. Beautiful day. " —
newenglandwarrior • Sep 7, 2019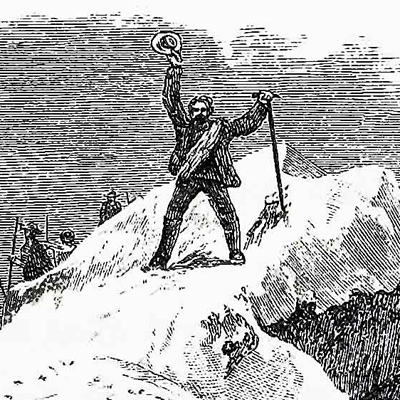 "Ran into 17 other hikers, 4 flip flopping, 8 nobos. The trail was easy started at 10:45 and ended at 3:45 with a chat to each hiker going through and met up with a NOBO that is from my town that is a friend so talked with him for a bit. Ate lunch for an hour at top someone was celebrating their bday. Fun hike..gave some thru-hikers a ride into bethel. " —
Joleneahikez • Aug 20, 2018

"This was our first hike in Maine. Having finished the New Hampshire 48, we decided to move on to my 111 and Bitty's 67. This hike was pretty good, except for the careless dog owners with unleashed dogs. I had to pull Porter off the ground when one dog charged us, its owner over a hundred feet behind. The second time this happened, Porter nipped the dog in the face. Both times the owner of the other dog made it clear to us that their dog was friendly - which is idiotic because not all dogs they will happen upon will be. The views were pretty good up top for a hazy day. Mount Washington was visible in the distance." —
ne4kclimber • Oct 21, 2017
"Kim joined me for my final hike of the Northeast 111. We hiked up via the AT in overcast and drizzly conditions. We met an AT thru hiker on the way up who we were able to give a little bit of trail magic (snickers, gatorade, beer) before continuing to the summit. The summit was socked in and we stayed and ate some food and took some pictures before heading down. We detoured over to the eyebrow on the way down to take in the views of Grafton Notch and the fall foliage. It was a steep and slick descent from the eyebrow. Luckily, we got to the car just before it started pouring. Successful day. " —
LGH-Tom • Oct 8, 2017
Awards
about