Mount Haystack is in the Great Range of the Adirondack High Peaks in the Adirondack Mountains of New York.
3rd highest peak in New York, after Mount Marcy and Algonquin Peak.
Named based on the resemblance of its rounded, conical peak to a haystack. Offers incredible views from its bare, alpine summit.
Not climbed by many outside of those pursuing the Adirondack 46ers challenge due to its remote position from the nearest trailhead and the steep and challenging approaches from either direction.
Most frequent approach if Haystack is the main goal is to follow the Johns Brook Trail from the popular Garden parking area in Keene Valley to the Phelps Trail and then use Shorey's Short Cut to get over to the Range Trail.
Possible to combine this with an attempt on Marcy itself, but that makes for a long day and the approach from Panther Gorge is even steeper than that from the north.
Some hikers come along the entire Great Range itself, making the peak their last stop before Marcy itself, or combine it with neighboring Basin and Saddleback. This is known as the "Great Range Traverse"
One of the most famous elements of Haystack is the infamous "Devil's Half Mile". This stretch, which is technically 3/4 of a mile, is the extremely steep last stretch of the trail. The reward is what many peak connoisseurs choose as the finest summit in the Adirondacks.
Haystack is consistently listed #1 on View Ratings for the Adirondacks.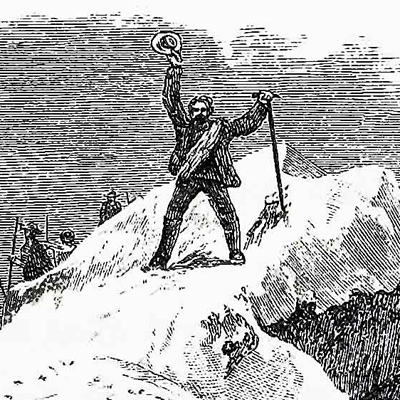 "Got to the Garden lot around 5:30 am, but that wasn't early enough as the lot was full of cars. We turned back and parked at the Rooster Comb parking lot, adding a mile and a half to the day right off the bat. Partly cloudy day in the 50's and 60's, perfect weather for hiking. Easy gradual climb for the first 5 miles or so, then we started to climb more, introducing a very wet, muddy trail. Water dripping from the trees which were frozen the night before, pockets of snow-covered forest before the day got too warm. A wrong turn down the Shorey "Shortcut" added another mile and 1,000 ft of elevation to our day before getting to Little Haystack and eventually Mount Haystack. After a brief stop at the 360-view, open rock summit, and lunch at the crossroads, we descended and ascended to Basin. Wind gusts were a little worse at Basin, which brought down the temperature, so that summit was a quick stop. The descent from Basin wasn't easy, many slick ledges and slides. Then we got to the Cliffs before Saddleback, which were scary, technical bouldering scrambles, but all in all pretty fun. Great views down the range from SB. Trip back to Garden wasn't awful but felt like it took ..." —
gregoryskiba • Sep 29, 2022
"With friends and future 46ers, we went the same route I had gone 2 years earlier and up and over HaBaSa. Great weather the entire day. Met up with some Allen red slime on the Ore Bed slide." —
JMindlin12463 • Jul 1, 2022
"Did Saddleback on its own last year via Orebed trail & over to Pyramid peak as a traverse coming out the AMR. Did to avoid cliffs & keep myself safe as possible as a solo hiker, though the cable route up toward the gothics intersection was scary & exhilarating.. So did Basin up the gorgeous Shorey's Shortcut near slant rock, then on to Mt Haystack over L'il Haystack & back down to garden parking trailhead via Phelps trail. I'm a 46er baby!!!! WOO HOO!" —
ionahscully • Jun 28, 2022
"Parked at the Garden well before sunrise; got some great views of the stars before starting. Trail to Big Slide was straightforward, many outcroppings along the way. Descended to Johns Brook Lodge, then up Phelps Trail to Haystack. Grueling part of the trail, over Little Haystack and up the summit! Slowly over Basin, up Saddleback (cliffs right before sunset!) before descending Orebed Brook and out to the Garden. Muscle cramping = biggest issue, and hiking in the dark: 2.5hr. All in all, a very long but fulfilling day!" —
hunterjfrost • Nov 6, 2021
"Haystack Basin Saddleback: I have been anticipating this hike for a long time with a lot of excitement about the challenge of the much talked about Saddleback Cliffs, and some dread about what a long and tough hike it would be. I knew we wanted a dry day for climbing the cliffs and ideally a beautiful day to enjoy the views. I planned to go a few times this summer and plans changed because of the weather or other factors. So when it looked like this would be the weekend I could get it done, I was nervously checking the weather forecast which changed from sunny to rainy to back to sunny to cloudy over the course of the week. I had gambled and booked a room and the forecast was back to looking ok so we decided it was a go. I drove up Friday and got there early evening to the little inn I found (private room but shared bathroom, which worked out fine and was very cute and inexpensive), which thankfully also had a great restaurant so I could eat, get packed up for the hike, and go to bed early for our 5 am start time. I met Courtney at the Roostercomb trailhead parking lot so we could take one car to the Garden trailhead lot, which notoriously fills up and then you are pretty screwed..." —
kvander • Aug 28, 2021
"Kathryn and her dog Rex arrived at the B&B last night. She joined Tom and I for a trio of Haystack, Basin and Saddleback today. Nice sunny weather with some strong winds on the summits particularly Haystack. Got Tom up to #43 and Kathryn up to #25 for their 46r quest." —
Nimblefoot • Sep 5, 2020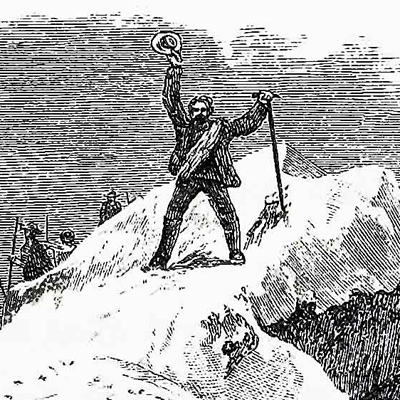 "Tom. Black and I left the Garden lot at 5:10 am. Started early to get a parking spot. Temps in the 60s. Trail up Haystack was brutal. Summited Haystack at 10:15. Spectacular 360 degree view. Best view in the whole ADK 46. Off to Basin." —
garyogden • Aug 8, 2020
"Epic day on HaBaSa with my friend and fellow ADK46er. Went up via Slant Rock. Very windy on Haystack. Trip down to Basin and ascent wasn't too bad, but was muddy in areas. Descent off Basin is one of the most difficult, if not THE most difficult in the ADK. Was frightened looking at the cliffs on Saddleback as we were descending. All the hype of the cliffs was worse than the climb actually. Got up the cliffs in about 10 minutes. Toughest part was the very beginning and the Spiderman walk up the crack in the rock. Beautiful views on Saddleback. Went down the Ore Bed slide and the Stairway to Heaven on the descent towards the junction with the cable route up Gothics and back to JBL" —
JMindlin12463 • Jun 12, 2020
"What can i say,, WOW! 3 mountain day and a few bumps along the way with an amazing crew to finish the winter hiking season in the Daks. Special Congrats to Ian Hamelin for finishing his Winter 46er and to Ray Finney for finishing his Regular 46er Journey, It made for a very special time to be part of this amazing event. Have to admit was a cold, snowy and very windy day on the summits that challenged my every step but with the right gear and great guides was able to finnish the day to hike another day," —
ramjet1963 • Mar 16, 2019
"Last High Peaks hike of an epic 17-peak season. Cold and windy. Brutal trails. Overcame my fear of the "Saddleback Cliffs". Basin was 10x harder. Party of 2. Camped out at Deer Brook lean-to the night before." —
ndru-virus • Sep 29, 2018
Awards
about