Cascade Mountain is an ADK 46er in the Adirondack High Peaks region of Adirondack Park.
Its name comes from a series of waterfalls on a brook near the mountain's base.
Of the 46 Adirondack High Peaks, Cascade is the most accessible and the most frequently climbed.
The main trailhead is on Route 73, 6 miles east of Lake Placid, at Cascade Pass, overlooking Cascade Lake.
The summit is visible from the trailhead, a rare occurrence in the High Peaks.
The mountain's bare-rock summit resembles the alpine summits found on many higher peaks but instead is the result of a 1903 fire.
Porter Mountain, another of the ADK 46ers, is an easy side-trip that is usually climbed in the same outing.
"After leaving the summit of Porter we were off to Cascade. The forcast called for 20mph gust on the summit. It was easily twice that! So windchills were brutal on the summit. Took some pics and made a hasty retreat back into the tree line where I met an elderly hiker. This fine gentleman was 82 years young!! We talked for a while. It was his 13th summit of Cadcade! He was a real inspiration!! Returned to car at 11:40. Trail conditions were perfect. Snowshoes door to door." —
garyogden • Dec 21, 2022
"A failed attempt to climb Little Porter ( because of a trail closure) turned into summiting Porter & Cascade. Not a bad consolation prize. Out and back mileage was 8.1 miles from RT. 73 & took 4 hrs. & 50 min. to complete. " —
billsussdorff • Oct 20, 2022
"Back again to the mountains we went, chilly morning, bright sun, and snow! ❤️☀️❄️ Porter Mountain and Cascade Mountain Pretty easy hike up two high peaks, lots and lots of mud! The snow and ice melted off the trees feeling like rain, it was beautiful, and a fun day in the mountains. 40 high peaks left to hike for my ADK 46er challenge! ❤️🥾🏔" —
Littlefoot • Sep 24, 2022
"Priceless! Spending first day of holidays hiking on some old friends with inspired to be a 46er Corny Connie in Lake Placid climbing 46er Cascade 4098ft and Porter 4059ft Mountains with a reluctant throw in, Baxter Mountain @2440ft. Great day in the mountains with inspired friends doing what we love" —
ramjet1963 • Jul 16, 2022
"The final mountain on our traverse from Blueberry with Nancy on a windy sunny day. 1 mile from Porter. Yellow painted blazes up open faced rocky top. Met people on this section of trail. " —
lfrancois • May 26, 2022
"Molly and I reached Lake Placid yesterday. The plan was to join a group for a long hike tomorrow, so we decided to do something short today. Molly had yet to hike these peaks. Unfortunately, the weather wasn't going to cooperate, giving us low cloud cover. We headed up and tagged Porter first in the hopes the cloud cover would lift on Cascade. This did not happen and we hit the summit of Cascade in the clouds. It was windy there as well. So we came off the mountain quickly. A +2 gain for my winter 46. 6.2 miles." —
newenglandwarrior • Dec 28, 2021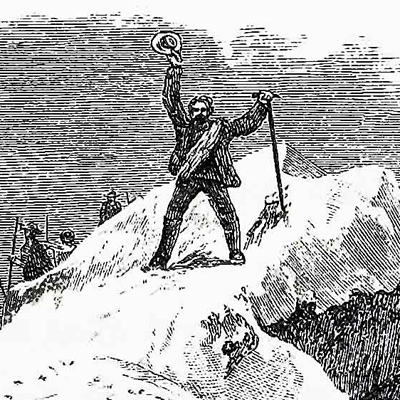 "Planned on doing a traverse over Pitchoff (W to E) but realized halfway through that I left my keys in my friend's car. So, we looped back after hitting the summit, stopped at Balanced Boulders on the ascent, which provided great views and was a wide-open rock face, It was a bit windy on some climbs and the summits. We needed spikes for a part of it, but overall great sunny weather and not too difficult of a hike, a few technical scrambles. After getting back to the car, we decided to continue to Cascade Mountain. Muddy for the first half, icy on the second half so spikes were needed. Summit was beautiful as always, but extremely windy. Overall, 9-10 miles in 6 hours between the two peaks. " —
gregoryskiba • Dec 17, 2021
"Took Bailey the Hikin Pup on our first 46ers! This hike was dedicated to both my mother and my Broski Brandon. This has been on my radar for the last 15 plus years. When my mom got into hiking, I wanted so badly to hike this with her. Slowly, distances hiked with her became shorter and I lost her to cancer. Brandon stepped in as a hiking partner and long story short here was he had sadly committed suicide last September. This was a hike we discussed several times and never could get to complete together as we had so many peaks hiked and planned, this one never happened. While early for the 46 Climbs for Suicide prevention, due to my ever changing and never consistant schedule being a manager of a short staffed business, I'm not sure if my time will allow me to climb during that timeframe. I had one day off and made the most of it. After a 4 hour drive, the struggle to park and then the success of hitting especially Cascade, this was an emotional hike indeed, then the 4 hour drive home. Beautiful day, beautiful weather and that summit feeling is unlike any other. No regrets sneaking this all in with the drive etc. This one's for you, Mom and Broski. " —
Mousetek • Aug 16, 2021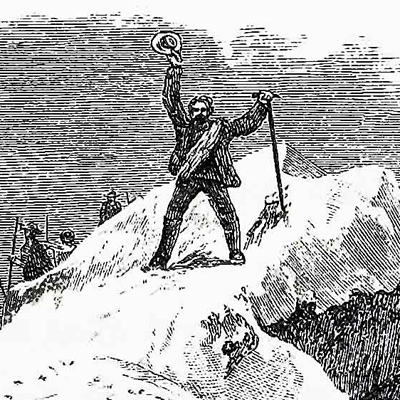 "It rained when we got close to the summit, so we took a sandwich break and waited it out. We were the only ones on the summit and watched the clouds come out of the trees. It was my and Evan's first high peak in the ADK. We brought Lily, and we opted not to do Porter in the same go, which was good because Lily struggled on the way down." —
nicoleortiz • Jun 5, 2021
"Headed up to Lake Placid with Kim's cousin Austin and his friend Donny. Planned to do Cascade and Porter since Austin hadn't done them and this would be Donny's first time in the Adirondacks. Started out later than I am used to, however there were not alot of people on the trails compared to normal (mud season). Those two guys are long distance runners, so they allowed me to set the pace up front which I'm sure was very manageable for them. We wore too many layers and had to stop early to shed items. We passed pretty much every group that was on the mountain on the way up even with my out of shape butt leading the way. We decided to go over to Cascade first to get Donny his first ADK 46er. We got out to the summit and it was super windy. After a photo or two we dropped behind some rocks to enjoy a beer and a snack. Donny shotgunned a beer after I told him that I did it on every 46er during my first round. We met another group of hikers on the summit and hung out with them a little bit before heading over to Porter. One of the guys in their group was wearing shorts and was freezing cold so I gave him my gloves to keep his hands warm before we headed out. We made quick work over to P..." —
LGH-Tom • Apr 23, 2021
Awards
about