Capitol Peak is a mighty Colorado 14er in the Maroon Bells-Snowmass Wilderness in the heart of the Elk Mountains.
The mountain bears a faint resemblence to the domed U.S. Capitol building.
Many regard Capitol Peak as the most difficult Colorado fourteener to climb.
The only non-technical route, the Class 4 Northeast Ridge, requires crossing the famously exposed "Knife Edge" and the K2 sub-peak.
Capitol Peak's north face is one of Colorado's biggest walls, offering a sheer 1,800 feet of technical rock climbing routes.
These routes have significant rockfall danger due to a great deal of loose rock; however the rock is substantially more solid than on the nearby Maroon Bells or Pyramid Peak.
11 summits • 8.3 mi • 2,762 ft gain • 7 hr 34 min • Class 4
1 summit • 18.2 mi • 5,504 ft gain • 11 hr 24 min • Class 4
1 summit • 19.5 mi • 4,719 ft gain • 20 hr 34 min
"5 years ago an early season snow forced us to abort a trip to Capitol and every waking moment since then I've been thinking about Capitol. OK, well that's a huge exaggeration but just seemed like a good throwaway intro. After another piss-poor night of sleep in the tent (0 min? need to figure this out), ate a bag of Pop Tart crumbs/dust and we were off at 4:45am. The line of headlamps in the switchbacks above reminded me of other alpine starts, but this time there wasn't any snow. After a brisk ascent we de-layered at the saddle and headed down and across into the infinite talus beatdown. Having recently lost our buddy Phil to a work call, a new Phil from CT temporarily philled in the gap and accompanied us -- at least until the... ...Fabled Knife's Edge. I went first, walking for a bit before "Ridin' the Pony" when the footholds disappeared. At first I actually sat on the Knife Edge right into my butt crack -- not recommended. Instead, adopted a kind of push-up position shimmy across the non-foothold sections. A bit airy, a bit of adrenaline, but not too bad. People down in camp the day before had said that the Knife's Edge was just the beginning, that the hardest stuff ..." —
scott • Jul 28, 2021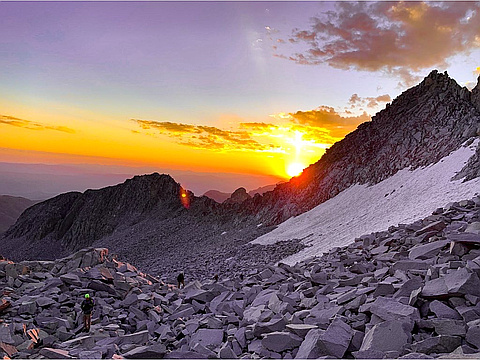 "Capitol Peak, the so-called "hardest 14er" has eluded me for years, sending me back home multiple times through wildfires, floods and even an overturned trailer of pigs shutting down Glenwood Canyon. Finally, my car was at the trailhead. We battled relentless cold, soaking rain and trails of flowing mud to reach our camp below Capitol Lake, then hastily pitched our tents and jumped in our sleeping bags, trying to regain some morale and feeling in our appendages. The weather finally broke in the afternoon, long enough for us to partially dry out and not spend the night hypothermic, and the next morning the sun rose as we reached a frost-covered K2. Luckily the rising sun burned off most of the remaining ice on the SW ridge as we climbed across the knife's edge and up the wild terrain thereafter, reaching the summit at 8:30AM. You didn't make it easy, but thanks for finally letting me up ol' Cap. " —
LGH-Dan • Aug 30, 2020
"Way back when while living in Snowmass Colorado, I headed out to climb my first Colorado 14'er, Capitol Peak. I had heard stories of how scary it was, and the leader of our group himself, John Placek, who was an outstanding athlete, himself had been struck by lightining and survived up there, gaining the nickname "Johnny Lightning". To say I was nervous about this trip is an understatement. A strong skier and hiker I was, but a mountaineer or rock climber, I was not, and I had no idea what to expect. To compound things i had a fear of heights i was working to get over. The picture of the peak you see here when i was on my way to standing on top of that mountain. All I had with me was three co-climbers, a fear of heights I was working to overcome, no rock climbing gear, no rock climbing skills, a gung-ho attitude, physical fitness, a small bottle of water, and a cheap camera. The photo was taken at approximately 10 AM. The tiny red dot you see on the ridge near the bottom is one of my friends, there were three of them. When I took that picture, I had fallen and frozen in my tracks unable to force myself to move for twenty minutes, afraid i was going to fall to my death, and my..." —
davesinlv1 • Aug 3, 2019
"This was another great late season hike. The aspens had started to change along Capitol Creek. We had some ice on the rock before the sun came up on summit day, but it was manageable by the time we got to the knife edge. " —
ChrisMeloche • Sep 13, 1998
Awards
about