Highest peak
14,440 ft / 4,401 m
Most summited peak
355 summits
Most prominent peak
9,093 ft / 2,771 m prom
First Ascent Awards
2098 of 5,590 peaks 37%
Top climbing months
July 20%
August 18%
September 13%
Colorado mountains highlights
The Rocky Mountains reach their zenith in the heart of Colorado, with over 50 peaks reaching above 14,000 ft high.
The highest peak in Colorado, Mount Elbert 14,440 ft, is the highest in the Rocky Mountains and 2nd highest in the contiguous United States
One of the most famous and popular peak challenges in the world, the Colorado 14ers Peak Challenge, permeates every aspect of Colorado culture
Numerous mountain ranges, such as the Sawatch, Elk, San Juan, Sangre de Cristo, Mosquito, Ten Mile, and Front, contain a diverse collection of mountains worthy of exploration.
In summer months beware of near-daily afternoon thunderstorms up high. Best to start really early and plan to be off the top usually by 12-1pm at the latest.
"Absolutely beautiful day for it, cool 45/50 degrees up top and not a single cloud in the sky. Some stronger wind gusts coming from the west while on the ridge seemed to die down as the day went on. Ive wanted to do this hike for awhile now, and would have been very disappointed in myself if i didn't bag it during my time in Colorado this summer. Probably my last hike in Colorado before i leave in a few days. Love the San Juans. Took the Southwest ridge and came down the standard route. The ridge was wonderful, some fun class 3 and definitely could have made it class 4 if you wanted. Unique rock formations on the ridge, almost cathedral like in some spots. Honestly i didn't like the standard route, it felt far more dangerous than the ridge because of the steep slope and loose rocks.. saw 4 deer and a handful of pikas. Good amount of fellow adventurers due to it being a Saturday. 7.43 miles from the 2wd trailhead. My super-roo definitely woulda made it further but didn't really feel like trying when i rolled in around 11pm Friday. Until next time, Colorado!" —
ryangallant • Sep 9, 2023
"My second bike summit, this time a bit more impressive I think! Biked up the main uphill route to the top of Keystone, and descended via some green trails (only wiped out once) and roads. I did have to stop and walk a few times on the way, but I think that was made up for by the fact that I had to backtrack and hide under the gondola for 30 minutes due to pouring rain." —
wazoheat • Sep 3, 2023
"Beautiful hike. The san juans are one of my favorite ranges ever. I was stoked to finally have bagged a peak there. Started at matterhorn creek trail at the lower trailhead around 6:15am. Had a brief sprinkle about an hour in which brought a cool half rainbow. Saw 4 deer and a handful of pika and marmots. Few other hikers. Some beautiful purple and white flowers (columbines i think). I didn't see the grazing sheep but i did hear the dogs barking aggressively at something way out in the distance... glad it wasn't me. Views from the summit were spectacular. Couple clouds in the distance but otherwise very clear and no smoke. Back to car at 11am sharp. 8.65 miles RT. The Matterhorn to Wetterhorn traverse looked spicy, and Uncompahgre peak in the distance looked like a fun hike. Cant wait to go back! " —
ryangallant • Aug 28, 2023
"My first biking summit! Took the bikeway out to the Old Dillon Reservoir trailhead, and summitted via the radio/cell equipment access road.. Had to hop off in a few narrow and/or very steep sections on the way up, but was on the bike almost the whole way." —
wazoheat • Aug 28, 2023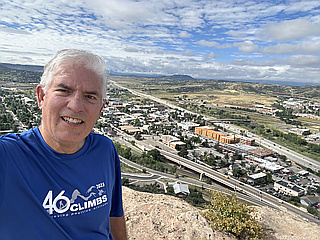 "This was an early #46Climbs hike for me, appropriate as I was in town to attend the memorial service for the son of friends. The hike was easy enough -- less than a mile RT, and the scramble to the top was easily achieved in flip flops. " —
FlagMan • Aug 28, 2023
Popular Colorado mountains