Wetterhorn Peak is Colorado 14er in the Uncompahgre Wilderness of the northern San Juan Mountains.
Named after the famous Wetterhorn in the Swiss Alps.
It's a pointed rock spire slightly resembling its namesake peak, whose shape contrasts with the broad bulk of the nearby higher 14er Uncompahgre Peak.
The standard route on Wetterhorn Peak is the southeast ridge and involves some exposed scrambling Class 3/4 on the ridge itself.
The nearby east face is considered a high-quality advanced snow climb or extreme ski descent.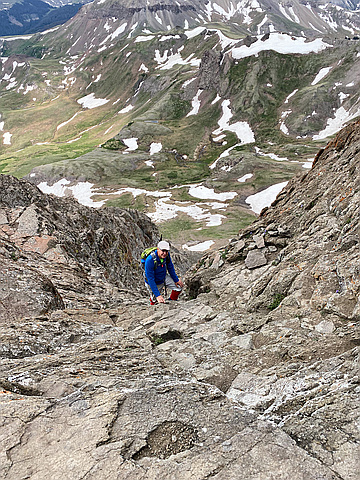 "Summited around 11 am inbetween two thunderstorms. Nice Class 3 final pitch to very large and flat summit. Abandoned attempt to climb Uncompahgre Peak as a result of the weather." —
tlannin • Jun 23, 2021

"4:30 am start from the lower Matterhorn Creek trailhead at 9,700'. Dirt road was just barely doable with 5 inches of clearance. Summitted Wetterhorn at 7:30, Matterhorn at 10:00 and Uncompahgre at 1:00. Got back to the car about 4:30. Wetterhorn crux was more exposed (and fun) than expected and Uncompahgre took forever to get to. Awesome range and can't wait to get there again." —
cheeseishappiness • Oct 15, 2020
"The big day of the trip, started from Matterhorn Creek TH and summited in just over 3 hours. The route is mostly class II slabs with cleaner class III just beyond the prow. Traversed over to Uncompahgre after. Complete TR: http://themtsarecalling.com/wetteruncomp/" —
Christopher • Jul 16, 2016
"The grand finale in an epic day. 2nd peak of the day after Uncompahgre. Heat started to wear me down a bit as hit the summit ridge. The scramble up the ridge was straightforward and staircase-like in the final pitch. Huge marmot on the summit... the true king of Wetterhorn." —
scott • Jul 9, 2013
"Linked up with Uncompahgre Peak. I stashed a pair of Mountain boots on the trail and returned to find that a marmot had run off with both of them. We found them nearby slightly chewed up." —
Yosemike • Jun 22, 2013
"Saw a small moose on the drive up to the TH. There were some clouds as we ascended, but the weather stayed fine. Began hike at 6:25am, peaked at 10:00am, and ended at about 12:45pm. Still a good bit of snow; some fantastic glissading on the descent." —
Globetrotter87 • Jun 8, 2013
Awards
about