Taum Sauk Mountain is the highest point in Missouri.
A somewhat flat ridge rather than a peak.
However, Taum Sauk and the St. Francois range are true mountains several times older than the Appalachians. Geologists believe that Taum Sauk and its neighbors may be among the few areas in the US never to have been submerged in ancient seas.
Lies in Taum Sauk Mountain State Park, a 7,448-acre state park.
There is a paved trail to the highpoint marked by a polished granite plaque and a lookout tower with good views.
The 33-mile Taum Sauk section of the Ozark Trail is considered one of the finest trails in Missouri.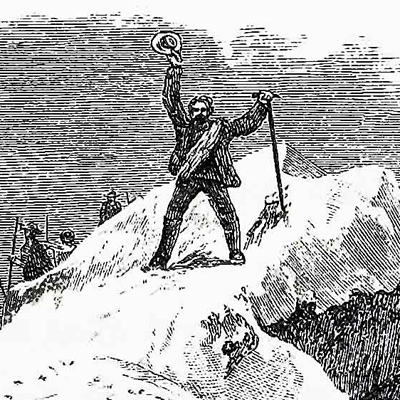 "I left the hotel near St Louis at 2 pm, which I thought was plenty of time. Rain, slow traffic, wrong turn, rain, wrong turn, truck in ditch causing slow traffic, more rain. Finally made it to the parking lot at 6 pm. Sunset it just after 8, and it says the trail is 3 miles. I'll have to hurry, but I can do this. I run a couple hundred metres, and there it is in the grove! The trail to the waterfall is 3 miles, but the peak marker is right by the parking lot. It's a rock. I got some pics of me standing on the rock; skipped the waterfall." —
JethroElfman • May 27, 2016
"Been up Taum Sauk many, many times, but on this date it was special. The park ranger just happened to be going to the top of the lookout tower, unlocking the gate and letting myself and a couple who were there go all the way to the top. The fall colors were in full swing at that time, great views!" —
rshepard737 • Oct 4, 2014

"Traveling with Joan. I enjoyed view from tower. We saw Model T and its owners at Tower parking area. They were all the way from California. We visited official highpoint also." —
barbaratraver • Jul 26, 2013
"Another revisit of the state highpoint. Also stopped at Jakk's Glade just down the road to check on the highpoint signs and install a Highpointers Foundation bench. The Glade offers nice views of Taum Sauk and it's only a short walk from the Russell Mtn. Ozark Trailhead." —
StoneMan • Apr 29, 2012
"Another Ironworker buddy of mine and I decided to hike the Ozark Trail to the Devil's tollgate, via Mina Sauk falls, tallest falls in Missouri. We had done an overnight backpack trip on the Irish Wilderness Trail 20 miler (this isn't a state park, but it is very well kept and has a neat history, trail head, cave and primitive camp ground on the banks of the Eleven Point river), and just wanted to get out in the woods this day. We just did a day hike, but that hike starts at the highest point in Missouri at the Taum Sauk state park. Nice hike, even though I've done it lots of times before as a kid, and with my wife/ wife and kids. A little rough at the beginning, making your way down past the falls from the peak, but a beautiful trail. And close to home if you're in southeast Missouri. " —
leebutcher • Mar 6, 2010
"We used the Ozark Trail starting at Hwy 21 to access Taum Sauk. The trail is very faint in places and we lost the trail twice on our way, once due to a larger trail that we thought was the actual trail, and the second time due to a tree that had fallen in an area where the trail was already very faint. It is worthwhile to note that the USGS topo quad does not show the Ozark trail, as the trail was cut after the quad was surveyed. A trail map is highly recommended, as well as at least a compass or a GPS. We used a map produced from a Backpacker magazine description. Or see the Ozark Trail map page. We encountered nobody else on the trail, despite absolutely perfect conditions, with beautiful fall foliage and abundant broccoli-green moss lining the trail. There were many people at the actual high point, but that is because you can drive to it. Mina Sauk Falls was basically only a trickle, but still worth visiting, as there are very nice views. It added some miles to the hike. " —
wbrouhaha • Oct 26, 2008
"At midnight on July 1, 1991, 5 climbers, Pete Allard, Jim Grace, Shaun Lacher, David Sandway and myself, Dennis Stewart, took their first step off the summit of Mount Rainier and began a climbing marathon to reach the highest point in each of the 48 contiguous states in one calendar month. During the month of July in 1991, the team hiked over 250 miles, climbed over 14 vertical miles and drove over 14,000 miles. Their total time (summit to summit) was 30 days, 10 hours and 52 minutes. All 5 members of the climbing team reached every summit during the month long expedition. Taum Sauk Mountain was the ninth peak climbed on this record breaking trip, which got the team recognition in Guinness Book of Records." —
Stewy • Jul 8, 1991
"When I climbed Taum Sauk Mountain for the first time in 1986, it was on private property and there were no plans for a state park. One approach required a half mile bushwhack to a benchmark that was later determined to not even be the highest point. I never dreamed there would be a sidewalk to this spot someday. " —
Stewy • Jul 12, 1986
Awards
about