The highest of the famous Three Sisters, three volcanic peaks all over 10,000 ft high lying ~10 miles south of Sisters, Oregon
South Sister is the 3rd highest peak and the 4th most prominent in the state of Oregon
Located in the ~287,000 acre Three Sisters Wilderness, the 2nd largest wilderness in Oregon
One of the most climbed peaks in the state; most climbed in late summer but also a popular late spring backcountry skiing destination.
Features a summit crater that holds a small lake known as Teardrop Pool, the highest lake in Oregon. Also features a number of small glaciers including the Lewis, Clark, Lost Creek and Prouty glaciers.
The standard South Ridge climbing route is a non-technical 12.6 miles round-trip with 4,912 ft vertical gain.
32 summits • 6.4 mi • 4,804 ft gain • 7 hr 0 min • Class 2
2 summits • 6.2 mi • 4,906 ft gain • 5 hr 38 min
1 summit • 13.5 mi • 4,866 ft gain • 6 hr 35 min
"Great hike through the morning for a sunrise summit. Not my fastest time but still felt good the entire time. 45 minutes from trailhead to the golf course, 30 across the golf course, another hour to the tarn, and 45 up to the summit rim. " —
oregon-mt-goat • Sep 24, 2021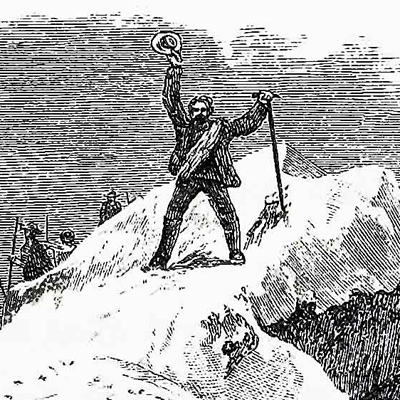 "Solid hike up from Devil's Lake with Dale. Smoky AF. AQI up there around 150+; 100 points higher in Bend though. Perfect conditions for weather otherwise; almost no wind even on the high ridges. Nice circumnavigation of the crater. Still had decent views of Middle and North Sister despite the smoke. A great day out!" —
andrewmadsen • Aug 14, 2021
"2nd time summiting. My sister and brother in law were in town so wanted them to have the experience. Started around mid-morning and hiked at their pace. Hung out at the summit for lunch and rest and made our way down by late afternoon. Excellent day sharing beautiful views " —
Sfitz • Aug 4, 2020
"Spent the night at moraine lake and began climbing at 5am. Since I was with a group it was slower than I generally move, but summited at 8. Wind was moving pretty good so sheltered under the summit block to enjoy a cold beer. Made it back to the car after stopping to breakdown my camp at 11:30. May be my last run at South if the permit quotas hold for next year. Hope the keep the forest free! " —
oregon-mt-goat • Jul 3, 2020
"Started at the trailhead at 4:20am, hit the golf course by 5:09, below devils halfmile at the tarn @6:25, Summited 7:20. 15 minutes past sunrise! Damn it! Hung out for half an hour and dropped back out. No wind and clear visibility all the way north to Mt. Rainier. Back at the car by 10:40. Climbed at 1900 ft /hr. light pack. " —
oregon-mt-goat • Oct 6, 2019
"Camped at Moraine Lake on the 3rd and buzzed up to the summit first thing in the morning. Conditions were good with all the snow gone from the trail and only a slight breeze cutting the temps. Not as much visitor traffic as I was expecting for a holiday. " —
oregon-mt-goat • Jul 4, 2018
"Nice hike up with a decent amount of snow. Insane winds for the last mile or so. Ran up and touched the summit but had to bail instantly from the wind. This area is cool though. Definitely coming back. " —
MatthewWinterberg • Oct 6, 2017
"Finally got a chance to climb this iconic Oregon ultra... along with a few hundred of my friends. Even more popular than expected... Devils Lake parking lot almost completely full at 5:30am. I assume it's all because of Peak Week. A straightforward hike on dirt (and sand) the entire way. The scenic loop around the crater rim was a great reward after the long slog up. Despite smoke haze and overcast skies, the views up the Cascade chain were incredible with sun illuminating the sharp peak of Mount Jefferson beyond the Sisters. Jogged down most of the way and back on the road by noon." —
scott • Aug 6, 2017
"Incredible. This was my first solo summit of a mountain over 10,000 feet high. The scree at the top was so difficult - one step up....slip and slide down. But what an amazing hike and the view is unbelievable. This is a hard hike - no doubt about it. You must be well prepared and in good shape. " —
yosinalissebeck • Sep 28, 2016
"Left green lakes trail head at 7 am and made our way up the mountain under cloudy and breezy conditions. Once we got up to the upper tarn the wind really picked up. Steady 35-40 MPH with gusts up to 50. Lots of people turning around due to the conditions. Intermittent fog rolling across the mountain added to the excitement. Summitted just before 11am and hunkered in a wind break to recover. Did not stay long as the temperatures and wind chill were more than I was dressed for. Took a quick peek to see if the teardrop pool was thawed. Which it wasn't! Back out to the car by 3." —
oregon-mt-goat • Sep 17, 2016
Awards
about