Mount of the Holy Cross is the northernmost Colorado 14er in the Sawatch Range.
Named for the distinctive cross-shaped snowfield on the northeast face.
Has been much celebrated in the past by painters and photographers. It's still much photographed but it's not as well known today as it was in the past.
Holy Cross can be climbed by at least four different routes, with the easiest and most common route being the Class 2 North Ridge.
The Cross Couloir route forms the vertical portion of the famous cross feature and provides an advanced snow climb or extreme ski descent.
5 summits • 14.4 mi • 5,036 ft gain • 14 hr 57 min
1 summit • 17.5 mi • 5,220 ft gain • 12 hr 16 min
"Took the Halo Ridge route to Mount of the Holy Cross, passing over the 3 13ers en route. Took the standard route down. This was a long day. I definitely preferred the ascent to the descent. " —
Kevin • Sep 3, 2017
"Backpacked in Friday afternoon, and set up camp near East Cross Creek. Weather got a bit crazy in the middle of the night, and there was at least one unidentified big mammal outside the tent tramping around, so I didn't get the best sleep. Regardless, ol' Harwood and I summited around 9:30 AM the next day, and after breaking down camp, we made it back to the car around 3." —
LGH-Dan • Aug 20, 2016
"Might be my favorite mountain. Planned to do standard route up and halo ridge down, but due to a late start (7:30am), thunderstorms were brewing by the time we summited, so we opted for the safer (known) route we came up. " —
tylerburg • Jul 21, 2016
"Mountain 1 of 4 for the day. A very dramatic and impressive looking mountain. My fifteenth fourteener So far this year. Afterward we continued along Halo Ridge to Holy Cross Ridge, Point 13,373 ft, & Point 13,248. We also made a stop at the cabin on Notch Mountain. Built out of rocks in the 1920s it is truly an impressive piece of history that still stands. Originally we had planned to climb Notch Mountain as well, but due to time restraints and the fact that the route did not look as straight forward as I had hoped, we decided to save it for another day. " —
IanWright • Sep 2, 2015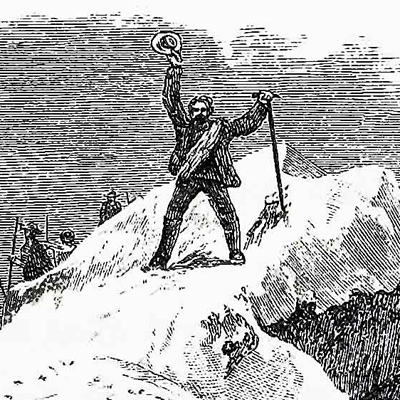 "My ski partner Robbie and myself successfully summited and skied the cross couloir on 4-30-10. We camped in the valley after skinning over half moon pass and left for the summit around 6 am. We reached the ridge by approximately 8am after some difficult skinning through the forest. From there it was a long, but glorious walk to the scree field just below the peak. We reached the summit around 11am stopped for a granola bar, a few pictures, and then got to business. We dug a 36 inch snow pit and did an evaluation of the snow pack, which looked quite nice. Our main concern and our main joy was the 10 inches of fresh powder that blanketed the 50+ degree couloir. After a few ski cuts we decided it was safe, with special attention given to sluff management. From the summit to the exit of the couloir it was absolute nirvana, by far the run of the year. A pleasant ski down the valley to our tent and a tiring but all smiles skin back to the sled and we were on our way back to the boat, having skied one of the classic colorado ski descents. Thanks to Robbie for being an excellent planner and executer, and a special thanks to Chris Anthony, for inspiring me to ski all the 14ers in CO and any..." —
ncfreed • Apr 28, 2010
"My first CO 14er. Definitely started to bonk due to altitude and not enough water. The most northern Sawatch fourteener, known for the signature "cross" snow couloir. Would love to ski it someday." —
scott • Jun 11, 1994
Awards
about