One of only 7 peaks over 5,000 ft in New Hampshire.
Dramatic alpine summit above treeline on Franconia Ridge between Little Haystack and Mt Lafayette
From the summit peer east deep into the heart of the Pemigewasset Wilderness.
Oft overshadowed by neighboring Mt Lafayette, but a terrific summit in its own right.
Not included in the White Mountains 4000 Footers challenge due to low prominence.
"Pemi Loop. 20 hrs, 2 minutes. 4 of us. Flume was the first peak, Bondcliff the last. We also threw in Galehead and West Bond for 10 peaks total. Got some blisters out of this hike. Glad to have finally done one. " —
newenglandwarrior • Jul 1, 2022
"4th summit on the Franconia Ridge hike with Maryellen, Nancy, Chris, Eric, Diane, and Matthew. Breezy hike up from Little Haystack on a beautiful ridge. Clouds blowing in and out. Lots of mountains to see all around. Nothing too sketchy, just up!" —
lfrancois • Jun 24, 2022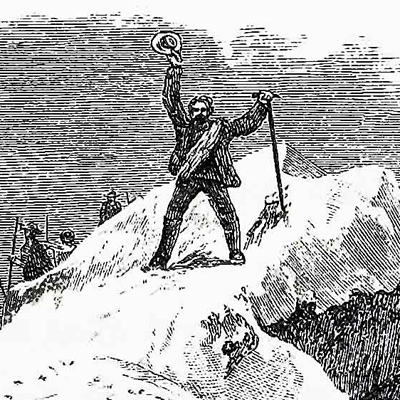 "Haystack Little Haystack Mt. Lincoln to Lafayette To Bridal Trail to Greenleaf Hut ❤️ During an impromptu Sleet Storm on Lafayette With SM killing it! 6.17.2022 6am to 4pm" —
MountainGal1966 • Jun 17, 2022
"A couple of peaks for my Grid for today. It was a mostly cloudy day but the wind wasn't bad. Myself, Molly, Denise, and one other went up Falling Waters Tr to Little Haystack first. While heading up the icy trail, a father son team with no traction were also heading up. Crazy unsafe, but they made it up. We reached the ridgeline and headed over to Lincoln. We then went over to Lafayette. Then came down Greenleaf Tr to Old Bridal Path to the trailhead. I have only one peak left for my April Grid. " —
newenglandwarrior • Apr 3, 2022
"A Lafayette and Lincoln loop. I decided to head up Lafayette first because of the low cloud cover and navigation purposes. But it was also windy up there too. I used my full winter gear and goggles when I was above treeline. Not much to see today being in the clouds. Came down Falling Waters Tr. Picked up both peaks for my Grid and a Calendar Day. " —
newenglandwarrior • Dec 8, 2021
"Lincoln (23), Lafayette (24). Halfway! Solo. Boy, what a day. The forecast called for severe clear skies and highs in the 50's. Well. Disappointment was had. Got the lot super stinkin early even though it is a Wednesday in October. Grumbled a bit noting only 5 cars in the lot when I turned up at 6am. Why did I get up so early?! It was in the mid 40's and I was comfortable in a long sleeve so stuffed my jacket in my pack. Popped my headlamp on and got going around 06:15. The first portion of trail onto Falling Waters was easy going dirt and rocks, lots of interesting mushrooms again today. When I got onto Falling Waters I passed an older couple who told me that after ten years, they would be finishing the 48 on this hike. Awesome! I picked my way up the trail carefully as everything was of course soaked. As the sky lightened I packed away my headlamp and got to take in some nice trail features. The waterfalls were absolutely stunning & numerous, the stream crossings nothing to write home about thankfully. After passing all of the waterfalls the trail became more of a jagged rocky affair as usual, still soaked. I had noticed that the sky was a sheet of white above m..." —
kellieirene • Oct 6, 2021
"Beautiful New Year's Day. About 30 degrees on the ridge. Nice sunny day. And a light wind just strong enough to let you know it's there. Nice 360 views. Great day for a hike. " —
Alohabuffy • Jan 1, 2021
"A good weather window opened up. I reached out to Denise for a Lincoln Lafayette hike and she came along. We made it most of the way up Falling Waters Tr before needing spikes. The ridgeline was icy all over the place. From Little Haystack to Lincoln, there was scattered undercast happening. From Lincoln to Lafayette, we were engulfed in clouds for most of it. We were in the clear when coming off of Lafayette. We passed by a group of 4 with no traction. They were going slowly over the icy terrain. We headed down the Old Bridal Path and reached the cars. Some great Grid gains for both of us. " —
newenglandwarrior • Nov 22, 2020
"Nora and I decided to do a loop hike of Mt. Lafayette, Mt. Lincoln and Little Haystack on the Franconia Ridge. We got to the parking for Old Bridle Path and Falling Waters Trail at about 5:00 AM. It was still fairly dark, so we hung out for a few minutes, then started up the trail around 5:30. After about a quarter mile, we realized we'd left our lunch in the car, so we had to go back for it. After that, we started for real at 6:00 AM. Decided at the split to take the Old Bridle Path up, since I had taken Falling Waters Trail up last time and remembered how grueling it was. The Old Bridle Path was more varied, with flats, downs, moderate ups and steeps all mingled together, so it was a lot easier, even though about a mile longer to reach the summit. We stopped at the Greenleaf hut on the way up. It was open for water refills and snacks, as long as you wore a mask. We passed by quite a few people on the way up, and saw a lot of people on the summit of Mt Lafayette. We'd tried really hard to choose a clear, sunny day for it, as it was Nora's first time on this ridge and I wanted her to get the full magnificence of it. We succeeded. The views were amazing in every direction..." —
Hufflepuff • Aug 13, 2020
"The plan was to be on Franconia Ridge for sunrise. We woke up at some stupid early time (3:30 I think), and was moving in 45 minutes time. A top of Little Haystack, there was some cloud cover. We were unable to see the sunrise since some clouds blocked the actual event, but we were able to watch the day continue to brighten, which was beautiful. I made sure to tag North Lincoln for my TW72 list, but I have been over it many times before. Lafayette was in a thick cloud cover so we had no views from there. It was pretty awesome coming off of Lafayette before 8 am. We came down Old Bridal Path then walked the Bike Path back to the car. I gained 2 more peaks for my August Grid. " —
newenglandwarrior • Aug 6, 2020
Awards
about