Wright Peak is in the High Peaks of the Adirondack Park of New York and the northernmost peak in the MacIntyre Range.
Known to have one of the windiest summits in the park.
The usual approach to Wright Peak is from the Adirondak Loj up the Van Hovenberg Trail to the steep MacIntyre Range Trail to the junction for Algonquin Peak; a left turn takes the climber up the last few hundred feet of elevation through the alpine zone.
Wright is often hiked in conjunction with Algonquin and sometimes Iroquois Peak by pursuers of the ADK 46ers challenge. Many of these pursuers search for B 47 bomber wreckage and the bronze plaque just north of the summit, which memorializes the four airmen who lost their lives in the crash.
Backcountry skiing is popular on Wright Peak.
There are long slides from the summit that lead to Marcy Dam and are often skied in winter.
Also, the Wright Peak Ski Trail, cut by the CCC in the 1930s, descends the northeast side of the peak in a series of switchbacks.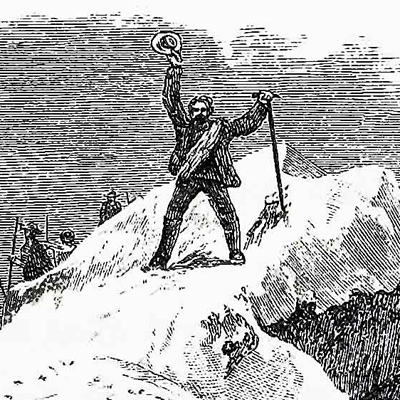 "Moderate to difficult climb in great weather. Algonquin easily the most difficult with multiple steep slides and a few false summits. Boundary and Iroquois are moderate via the herd trail, the toughest part being re-summiting Algo. Wright peak was moderate as it is very steep at the top. Great 360 views from all peaks. Finished in 4 hours 52 minutes. Recommend taking your time as it can be exhausting." —
markfilliter • May 29, 2022
"An easy paced hike of Algonquin with Dianne, her husband Mike and Ed. Dianne needed the peak for her 46R challenge but unfortunately as we entered the exposed top she lost mental game and bailed on summiting. While she and her husband ate lunch Ed and I headed for the summit. We ran into two friends who were returning from doing an out and back of the whole range. While chatting Diane and Mike showed up, she had rallied and was now game for the top…woo Hoo! Quick chat with the steward and a group photo then it was time to head back to the Loj for happy hour. At the jct with the Wright Peak side trail I couldn't resist running up to the windier summit with no view again do to low cloud cover. Quick chat with the steward then try to catch to my three companions." —
Nimblefoot • Oct 9, 2021
"Wright is considered to be one of the "easier" peaks in the Adirondack High Peaks. It's still a high peak, though, and should be given respect despite its relatively short mileage. On this day, the scrambling was tougher below-treeline than above-treeline because of the iciness. I might've decided to turn around if the steeper rocks above timberline were similarly ice-covered. Thankfully they were not, so I was able to make it to the exceptionally windy summit okay. " —
theascent • Nov 6, 2020
"One of the busiest days in the High Peaks on record - hundreds of people on the trails from the Loj. Parking at Adirondack Loj full; parking >2 miles from trailhead. Hiked straight up to Algonquin, over Boundary Peak to Iroquois, then back over Algonquin and down+up to Wright. Beautiful day for a hike; peak foliage and high winds on the summits. " —
hunterjfrost • Sep 26, 2020
"Loop hike out of the ADK Loj through Avalanche pass and back via the Algonquin trail tagging the last three peaks of Tom's 46r quest. On top of Iroquois the low cloud bank cleared giving us great views which we enjoyed for the rest of the day. There was some wInd, quite gusty at times, giving Tom and Kathryn a good taste of mountain weather and a new perspective of extreme conditions. At least half the folks attempting Wright failed, got turned back at tree line, do to the strong gusts. Donated an Ex-Officio sun shirt to Iroquois when the main compartment of my pack got unzipped and it blew out in the ~40 mph gusts. " —
Nimblefoot • Sep 7, 2020

"Left camp at about 9:20 am. Summited Iroquois at 12:19 pm. Rained in the morning. Made the hike kind of suck. Summited Algonquin at 1:15 pm. Windy. Had lunch on top of the Mountain. Can see many other mountains, very cool. Summited Wright at 3:15 pm. Also windy. Nobody was there except My dad, brother, and two friends. We tried to fly a kite but didn't have enough time. Took the loop instead of going the steep way down." —
mmeyerpflug • Jul 23, 2020
"Hike with Meenu and Mike, total time of 10 hrs 5 minutes and 11.22 miles. We stayed the night before in Lake Placid and it was so nice not to do the 2 am drive. We started the hike at 6 am from Adirondack Loj. The trail seemed to start going up right away for this one. It seemed to take a while to get to the junction to go to Wright. It took about 2 ½ hours to get from the trailhead to the summit of Wright and the view up there was amazing on this beautiful day. It was a warm one so we were definitely sweating, but the breeze felt so good at the top. There was a steward up there and he told us some interesting things and answered some questions. We ate some snacks and rested then headed back down to the junction and over to Algonquin. This was a tough but interesting climb. A few boulders to take on. The last part to the summit seemed to go on and on – it had looked so close from Wright! Another just fabulous view on this 2nd highest peak, and I was now oriented to where Colden and Marcy were so I could easily identify them. There was another steward up here and we asked about whether we wanted to do the longer loop trail or go to Iroquois and come back the same way, over Algonquin..." —
kvander • Jul 10, 2020
"On October we had set out to do Algonquin, Iroquois and Wright. Unfortunately, parking and logistic allowed us only to do the first 2. Today we did Wright and advanced to 41 on list. What a fantastic day it was. We wanted to go on Saturday but the weather was too cold. So today was perfect. It was quite windy at the top but still what a great view. This is one peak that I would do again in the winter. Not too hard with a beautiful reward at the top. Looks like we now have 5 left for next year. This will be our last High peak for 2019. https://www.alltrails.com/explore/recording/wright-peak-via-van-hoevenberg-trail--163" —
CPaquin • Nov 17, 2019
"Halloween themed hike with my hubby Dave. Full trip included Algonquin, Boundary, Iroquois, and Wright Peak. The morning was pretty socked in but we were lucky to get a view on each peak during our return trip :)" —
pandyabear • Oct 26, 2019
"Fell in love with the ADK on this hike. Such a beautiful day in the ADK. Windy on Wright and in awe of how big Al looked dead ahead. Got to the summit of Algonquin and was astonished with the view of Marcy and especially how gnarly Colden looked. Over to Iroquois for fine views. Stiff descent to Avalanche Lake via the Algonquin Trail. First time through Avalanche Lake and I was sold! Looking at the Trap Dike and walking on the Hitchup Matildas...there's nothing like it!" —
JMindlin12463 • Jun 17, 2019
Awards
about