Whiteface Mountain is the 5th highest mountain in the High Peaks of the Adirondack Mountains.
Set apart from most of the other High Peaks, the summit offers a 360-degree view featuring the Adirondacks.
Home to a ski area with the highest vertical drop in the eastern United States (3430 feet).
Unique among the High Peaks, Whiteface features a developed summit and a seasonal motor road almost to the summit.
Whiteface Castle, built with granite excavated during the road construction, dominates the summit area.
A tunnel into the core of the mountain leads to an elevator which rises 276 feet to the summit.
For these reasons, Whiteface is sometimes called the "sacrificial lamb" of the Adironondacks, but great hiking trails lead to its summit.
"An Esther and Whiteface hike with friends. It was Denise's and Marielle's ADK46r and NE111 finish on Whiteface for them. The weather wasn't the greatest. We had limited views when the cloud cover drifted the right way. We were socked in on Esther. " —
newenglandwarrior • Jul 9, 2021
"Great hike with Dan DeMarsh, Tommy Russell, and Scott Wells. 20s to start about the same all day. Spikes to Esther and Whiteface just fine. Today I Hok skied the toll road from the turn. It wasn't as epic as I was hoping but still fun and would come back to skin with my AT gear. Great views all day, a tad windy on Whiteface, maybe 30-35 gusts which made the cirque traverse a 'don't look down' for me. About 6.5 hours " —
davelaurenty • Jan 9, 2021
"A bluebird day atop Whiteface. Trail conditions were very manageable, clear skies, and some pretty views of Esther on the ascent. A gorgeous day it was to be in the mountains. This makes my 6th summit of Whiteface. Jen was happy with this one as we tried last October but weren't prepped for snow squalls and just nabbed Esther the last time out. Jen now has 5/46 and is chipping away at her own pace, seeing the enjoyment, peace, and the challenges the mountains offer. " —
scottturner • Nov 29, 2020
"Parked right at trailhead, first 0.5hr in dark. Straight up to Whiteface (alone on summit, observatory closed due to COVID), then doubled back for Esther, and descended to trailhead. Very muddy, and icy for last 0.5mile to Whiteface. Left knee troubles made for tedious ascent of Esther." —
hunterjfrost • Oct 18, 2020
"Attempted a sunrise hike with Jeff and Meenu. We left home at 11 pm Saturday, after maybe two hours of sleep (plus a short nap earlier in the day). We arrived and were the only car in the lot at 3:15 am. Jeff warned us that the trail starts getting steep fast and the first couple of miles were about the steepest - to get up Marble Mountain. And he was right, it was definitely a challenge. It said it was 48 degrees when we left the car but I quickly became very warm and took off my outer layers. After we made it up the 2 miles it leveled off for a bit. The darkness was hard, only seeing a few feet ahead, and we could see the clouds and fog gathering. As we started up again towards the summit of Whiteface it was definitely getting foggy and we knew our sunrise view was probably not going to be great but we still hoped. We caught a glimpse of a beautiful fiery red in breaks of the mist as we got closer. When we got to the wall that was to the highway above us, it was starting to get lighter. We were tempted to climb that wall but it seemed like a risky idea. I was tired and hungry but kept pressing on, knowing that we were probably running a little late and the fog was getting worse. ..." —
kvander • Sep 6, 2020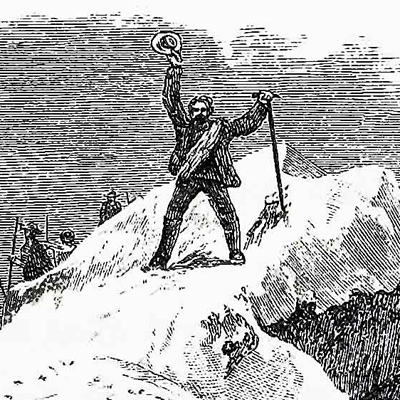 "Hiked here after Esther. It was a bluebird day with hardly anyone at the summit. Just us, a mother and daughter, and some guys working on the weather station. We couldn't go inside due to covid, but we had fun exploring the top and eating lunch. " —
hanawalton • Jun 23, 2020
"Great day for my second round of Whiteface and Esther all its surrounding Mountains, Got to meet up with a new bunch of friends today doing what we love and experiencing another fellow hikers 46er finish as well as his 54th birthday atop of Whiteface summit, A victory celebration followed with sandwiches, beer and brownies,, Trails where dry for most of the trails ,No bugs, cloudy with sunny periods made for an interesting day with limited views, Love the Adventures and all the Friendships made along the many Trails that make up the ADK!" —
ramjet1963 • Sep 21, 2019
"Beat the heat today up Whiteface. A pleasant 62 degrees at the summit. Waited patiently for the skies to clear and were rewarded with some pretty views after the rain clouds passed." —
scottturner • Jul 21, 2019
"Glad Dave and I got a early start to our adventure today. It was 98 degrees by the time we finished. The trail was very muddy and I lost my shoe in a kid pit (no worries! Hubby was able to retrieve it) " —
pandyabear • Jul 20, 2019
"Was a dreary cloudy with light showers on a muddy and rocky accent , Climbed Marble Mountain, Esther Mountain and Whiteface Mountain with friends, No views on the summit but all the more reasons to return one day, Down pour on the summit but sun came out near our completion of the hike, All and all a great day on the Mountain with Great friends , Loved Whiteface" —
ramjet1963 • Jun 30, 2019
Awards
about