3rd highest peak in California, one of the 14 California 14ers, and the highest in the White Mountains
The White Mountain Research Center located on the peak studies the effects of altitude on physiology
California's easiest 14er to climb. Most of the way is via the jeep road popular with mountain bikers.
White Mountain Peak is the highest point in Mono County.
"First summit of White Mtn Pk. Camped at Locked Gate what a beautiful and peaceful experience. The hike itself was rather dull especially after hiking Mt Whitney 2 days prior but still a noteworthy climb and phenomenal views along the way. 100s of marmots populate the trail so definitely hang on to your pack lol. The drive was easy but long and fantastic. Spare tire 100% required (one person at Locked Gate had a flat) and also recommend tire plug kit just in case. 4wd not required but highly recommended. There's some steep hills coming up about 1-2 miles from the TH and you will struggle with 2wd but I think it's doable. Fun drive, possibly more fun than the hike LOL." —
DudeAlmighty • Jul 8, 2021
"Via the West Ridge, South Spur. This remarkable route ascends 9,000 vertical feet in less than 7 miles through sagebrush scrubland, Juniper-Pinyon Forest, and into the alpine. I did it as an overnight trip, camping on a flat spot on the ridge at ~9,000 ft. The camping is great, with spectacular views a mile above the Chalfant Valley and across to the Sierra escarpment. I started a little after 5a on Day 2. Much of the route climbs steep, loose, talus/scree slopes, making one appreciate any bit of solid ground. Above 13,000 ft there are a few sections of class 3 climbing that is solid, fun, and not very exposed. I topped out 5:45h after leaving camp. It was cold and windy at the summit with growing clouds, so I only stayed 15 mins. The summit cabin was locked. The descent back to camp was a trial. Whereas climbing the loose scree/talus is something of a fun exercise in foot placement, descending the same slopes is tedious, clumsy, and treacherous. By the time I reached camp, my legs and spirit were fatigued and I was stumbling a bit too often for my liking. At camp, I had a well-deserved lunch, packed up, and made the pleasant hike down to the car. This route has a lot of g..." —
klotito • May 2, 2021
"My first 14er of the year! Also, my 20th peak in the Las Vegas Mountaineers Club Classic 50 Peaks challenge. What a beautiful, if strange, area. Nothing technically challenging about this peak, but it is a 14er, it's a 15 mile round-trip hike, and you also need to watch for the mountain bikers (!) who come screaming down the mountain at high speed. A busy day on the trail - we saw many other hikers out on the trail, and the parking lot was crowded with all of us pitching our tents right outside our vehicles. The roads to the locked gate (trailhead) were in pretty good condition, but the rocks are sharp - there was someone on a donut (spare tire) at the trailhead when we arrived the afternoon beforehand, and as we left we saw two vehicles that had just gotten flat tires on the trip out (pancake flats...). Gorgeous weather. You can't ask for a simpler, easier, more-findable trail to follow: you are literally following an old 4WD road up the mountain. This makes for not-too-awful of grades and lots of switchbacks. Some elevation loss and re-gain throughout the trail: it is uphill both ways. Saw lots of bighorn sheep (two rather large herds, 12-15 in each group), marmots a-plenty, and ..." —
psychikingjes • Aug 22, 2020
"7.21.2020~White Mountain Peak, CA~solo (14,252') 15 miles, 3,500' gain, 6:53hrs. 3rd Highest peak in CA. This accomplishment was satisfying but the loneliness was devastating and the storms all around me were terrifying. On the highest ridge in the range with lightning striking close to me and nowhere to hide had me summoning all the courage that existed in my soul. Marmots and sheep kept me company. The views of the Sierras were next level. My adrenaline amped from fear for hours wore me out. The storms started a lightning fire across the way in the Sierras near Bishop. The 32 mile dirt Mtn road drive to (and from) the trailhead in my little 2WD Kia Soul was stressful, but she did it!!!! Great Quickie trip. https://youtu.be/9enQM-DAz1k https://youtu.be/g0vVxzFTTPg https://youtu.be/E06s6mwda_4" —
paula.raimondi • Jul 21, 2020
"I chose to do the long drive from LA in the morning to capture the better weather window. I would have loved to have camped at the trail head and been a bit more fresh. The hiking itself is not technical, but the altitude is no joke coming from sea level that morning. I didn't see any other hikers until my descent. Happy to finally get this peak off my bucket list." —
kerryscott • Sep 27, 2019
"My first 14'er! Took advantage of Open Gate Day (along with a ton of other hikers and mountain bikers; a ranger said he'd never seen so many cars gathered at the gate the night before), and started from the Bancroft Research Station. I ran out of gas around the last 1/2ish mile up to the summit, but slow n steady and frequent breaks allowed me to summit in 4 hours. Lots of others at the top, all taking in the incredible views. A very memorable experience." —
marc • Sep 2, 2018
"We got up at 2 am to make the long drive to the trailhead. Great hike. Easy grade with switchbacks, and no trees on the way. Altitude sickness was the biggest issue. It affected 3 out of 4 of us. The longer I was on the summit, the more I felt sick, so I left early. The views were incredible but it was hazy which helped destroy the views. Also saw marmots." —
newenglandwarrior • Jul 17, 2018
"Took advantage of the long weekend and open gate day--drove from Sac to the locked gate on Saturday, camped at the gate. On Sunday we drove the two miles up to the research station and started our hike at 7:20. Aside from some altitude-related nausea and fatigue, the hike was easy. Had quite a bit of haze over the Owens Valley, but the views were still impressive. After spending about 30 mins on the summit taking pictures, we started down. After a couple miles we got caught in a very cold hail storm and heard thunder. Brrrr! We high-tailed it back to the car, wet and cold. We saw a lightning strike once we were in the car. A great reminder why you should start early and always carry a rain jacket! We saw a lot of people going up the mountain after 11 am. Hope they all made it down ok! The Whites are beautiful and I definitely want to go back!" —
kaylam87 • Sep 3, 2017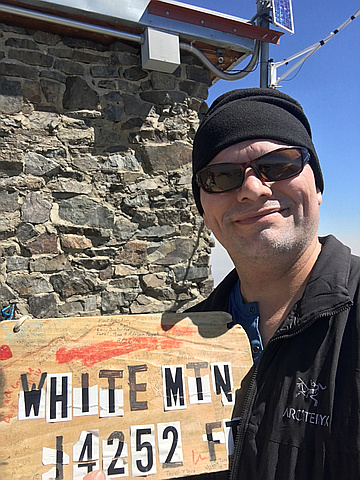 "Reached summit via fire road. Scrambled to top due to snow covering trail. Please note: The road to the trailhead is very rocky and can cause flats if you drive to fast. " —
Zardoz • Aug 13, 2017
"Pretty sore from doing Russell the day before but the road was easy. Insane views of the Sierras and of the Great Basin. On the way down I saw a group of 11 Bighorn sheep. After the hike I went to Mountain Rambler Brewery. Super good grub n grog. Not a bad weekend. " —
MatthewWinterberg • Oct 12, 2016
Awards
about