Wheeler Peak is the highest peak in the state of New Mexico.
Lies in the Sangre de Cristo Mountains, the southernmost subrange of the Rocky Mountains, in the Wheeler Peak Wilderness. Taos Ski Valley lies to the northwest of Wheeler Peak and the town of Taos is about 15 miles to the southwest.
The standard route on Wheeler Peak is along the north ridge.
Big horn sheep are common in the area.
"View from the top was gorgeous and it was definitely worth the hike. Came out here and started on the trail at 4:30AM and got up quick enough to see the sunrise from (almost) the top. There were no other hikers until atleast an hour or two after I summited at around 7AM. I will say though that the wind in the morning during this time of year is brutal at the saddle between Wheeler and Walter and you'll definitely want to remember to bring something to protect against the wind." —
paandooo • Oct 1, 2022
"I have not been hiking many peaks recently because there are not many more peaks that I am interested in hiking. I do a little mountain jogging each week to stay in shape. In the Book "New Mexico's High Peaks," by Mike Butterfield, he lists the Peak 12,728. He shows it with a prominence of 150 feet. This is a great NM peak informational picture book and lists all the 80ish 12K and 13K peaks. I decided to get that peak and maybe something else in the area. So that I would be able to get an earlier start I drove to Red River, New Mexico to spend the night. I got up at 4:00 AM, July 16, 2021, and drove an hour to Williams's Lake parking area south of the Taos Ski area. You do not need a 4WD vehicle to get here. There were no clouds in the sky and the temperature was in the upper 40s. I started hiking at 5:45 AM at an elevation of 10,253 feet. It is a 2-mile hike on a very nice trail to William's Lake, from there it is bushwhacking until the timberline. There were deer in the meadows going up. I knew that it was going to be very hard climbing up the hill on all fours so I was kind of kicking myself the night before for what I knew I was getting myself into. It was a chug getting to the..." —
Phil-Robinson • Jul 16, 2021
"Came up from Williams Lake and once above the tree line the views were amazing. Saw a couple bighorn sheep on the trail. Made good time up to the summit and back down before rain came in. " —
daviddeang • Jun 25, 2021

"Made it as far as Frazer before the fatigue from climbing the day before really set in. A long section of unavoidable deep snow at treeline that was already starting to soften at 8 would have been pretty dangerous by the time I got back. Also my phone battery somehow drained from 60% to 18% while turned off overnight so there were many signs not to summit. Hope to return this summer!" —
cheeseishappiness • May 29, 2021
"Hiked up to Williams Lake and set up camp in the area. We decided to go for an early evening summit instead of the next morning since weather cleared up, and it was the right move. Beautiful up on the peak with nobody around except a family of big horn sheep. Did the short trek up to Mt. Walter as well before heading back down to camp for a relaxing night." —
jodola • Jul 15, 2020
"This hikes starts among all the houses up past Taos Ski area. Follow the trail to Williams Lake and then take a left up the Wheeler Trail. Marmots and Big Horn Sheep were visible. Lightning prevented a summit that was 100 yards away. I was the tallest thing around and could have been easily struck as the Thunder and Lightning was moving in. " —
UP • Oct 27, 2019
"Another sweet peak victory with LGHTom and our friend Matt from NY. We were socked in pretty much the entire way up, but things cleared up as we went over to Mt. Walter. Tons of wildlife up there! " —
LGH-Dan • Aug 20, 2018
"Last year this same group hiked to the top of Mount Elbert, Colorado state highpoint, so this year during our trip we decided to head south to New Mexico and hike Wheeler Peak. Luckily, we didn't get an early start since we dealt with some clouds and wind on the ascent to the summit. We saw plenty of pika, marmot, and mule deer on the trip. Summit was socked in while we were on top, but cleared up as we headed over to Walter. During the descent we got our best weather of the day and great views before we got down below treeline again. Back to the car by 1:30pm If I remember correctly." —
LGH-Tom • Aug 20, 2018
"Day 1: My daughter Christina came to town for a 2 week visit and we made plans to have a 3 day peakbagging and backpacking adventure. I originally planned for us to peakbag in the Pecos Wilderness, but fire restrictions closed the area. We decided to go to the Wheeler Peak Wilderness, home of the highest peak in New Mexico. We left the house at 5:00 AM, June 15, 2018. We drove to the town of Red River then went south on Highway 578 to the East Fork Parking area. We arrived at 8:20 and were hiking by 8:40. The starting elevation was 9630 and it was a cool clear morning. Christina brought her dog Bane along for the trip. I had a 34 pound pack and Christina had a 29 pound pack and Bane a little pack with food. New Mexico was in the middle of a drought, so I was surprised how lush and green everything was. We could hardly find a square meter that did not have wildflowers in it. We started hiking on Trail 56, later this turned into Trail 91. I have 2 speeds of hiking, one is a slow a pace, but I can do it all day without stopping. Then I have a "let's move it" pace. I used the slow pace, and except for some standing pictures stops, we did not stop all the way until we reached our cam..." —
Phil-Robinson • Jun 16, 2018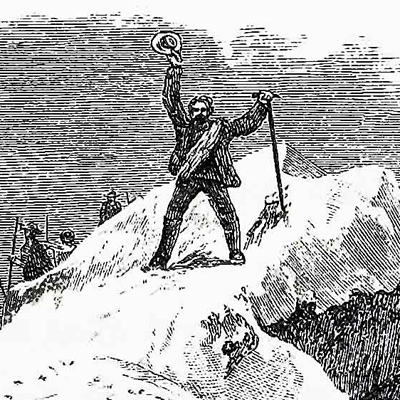 "Unseasonably warm conditions. Busy on the mountain. Started at daylight. Bitten by a dog in the parking lot, but all uphill after that. First stint through the woods was peaceful, long slog up switchbacks in canyon shadowed the sun (and wind). Very clear why this route is not suited for winter. Once you break over the ridge, beautiful view, sunlight - and wind. Lots of it. Easy saunter along the ridge to the summit. Car-summit-car in ~4 hours." —
fish • Oct 14, 2017
Awards
about