Spruce Knob is the highest peak in West Virginia and the summit of Spruce Mountain, the tallest mountain in the Alleghenies.
Its summit has a definite alpine feel, much more so than other mountains of the Southern Appalachians.
The upper few hundred feet of the mountain are covered in a dense spruce forest, a relic boreal forest environment similar to forests found in northern New England and Canada.
The summit is accessible via a paved Forest Service road, and is crowned with a stone lookout tower amid a mixture of boulder fields, meadows and trees.
Spruce Knob is within the Spruce Knob-Seneca Rocks National Recreation Area, which in turn is part of Monongahela National Forest.
"Cool drive up the narrow, windy road with nice views along the way to the parking area. Walked around the Whispering Spruce loop trail and went up the observation tower at the high point. Also hiked down the Huckleberry Trail a bit for fun, but got out of there before the weather came in." —
jodola • May 3, 2022
"Took us a while to find the road to the summit. But ended up on the right path. Fall colors were fading but still an awesome view from the top.This made #5 for Finn and I and completed a three point trip." —
CravinoCrew • Oct 24, 2020
"This is my third visit to Spruce Knob and my second "summit." I've now been here in winter snow (and got the car stuck in said snow, badly), summer heat, and this time in fall color. This was part of our epic adventure to show Ken the area I grew up in (sort of; I didn't grow up in West Virginia, but the Appalachians are part of my blood), to take Mom back to these three high points now that she's feeling physically and mentally better, and to see some fall color where the majority of the trees are deciduous. It was BUSY up on Spruce Knob! Passed plenty of cars coming down as we were going up (which was *not* fun - it is a one-lane road and often has steep drop-offs on one side; not fun to pass on), and the parking lot had 15+ cars in it! Because the weather was nice, we did the whispering spruce trail around the high point. Maintained appropriate social distance from parties not our own, etc. etc. It was nice to see so many people out recreating in public lands!" —
psychikingjes • Oct 21, 2020
"Hiked with Kim. Third highpoint of a long day of driving. Parked at the summit lot and walked out to the tower. Weather started to get windy and overcast, so we didn't spend much time up there. " —
LGH-Tom • Aug 29, 2020
"As part of a 16 or 17 state highpoint blitz of the Northeast this August while working remotely 8 hrs a day from various Starbucks. After bagging Mt Rogers (3h) before work in the morning, I drove 4 hrs after work up to Spruce Knob and walked the short trail to get it done at 11pm. A few vehicles in foggy, dark parking lot made for added excitement along with the lookout tower by headlamp. After that an hour north on the way to Maryland and Pennsylvannia." —
alexjoseph • Aug 7, 2019
"This final summit push finishes a long day of driving, and hiking; especially after just summiting Mt. Davis & Hoye-Crest. I drove down another 70 miles to reach Petersburg, which is right outside of Spruce Knob/Seneca Rocks Recreation Area. It took about an 1 1/4 hours to drive to the forest road at the base, and then another 30 to climb the 12 miles to the top. However, the drive was worth it. Just for future knowledge, Forest Road 112 to the summit is quite curvy, and is only one lane wide." —
sklarguy • Jun 22, 2019
"This was the redux, the return, the revenge of Spruce Knob! After being thwarted by 12-15" deep snow two months earlier, we returned to claim the West Virginia high point! :) Spruce Knob still had the last laugh, as the valley was beautifully sunny but the summit was covered in clouds. (The view from the summit was identical to my view from the summit of Mount Mitchell in NC, imagine that...) A nice drive, a pretty walk through the clouds, a deer that hissed (?!) at me on the trail, and a cute observation tower. Very nice!" —
psychikingjes • Jun 1, 2018
"We got stuck in the snow. Turns out a Kia Soul (2WD, low clearance) can't drive through 10-15" of unplowed snow. Who would have guessed...? I had to push a car out of the snow not once, but twice. What a workout! Defeated by weather and inadequate vehicle. :( We are planning to come back for this one in June 2018." —
psychikingjes • Mar 25, 2018
"The summit was obscured with some amazing mist - quite beautiful to see the spruce forest but wasn't able to see much else. The bike ride up the mountain had some great views just below the summit. " —
micklongley • Nov 18, 2015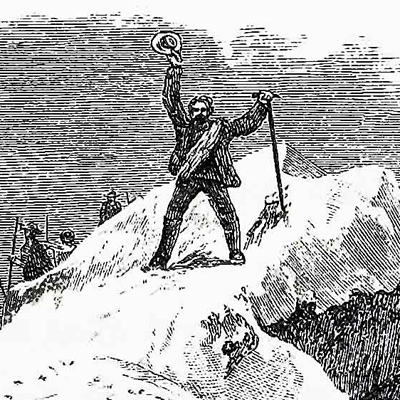 "Awesome trip to the top! Took my wife and two sons up to the knob after leaving The Homestead Resort in Hot Springs, VA. Took about two hours to get up there from the resort. My 12 year old and I passed baseball at the USGS marker. This was our first peak we have bagged!!!" —
praterdon • Oct 8, 2015
Awards
about