Snoqualmie Mountain is the tallest peak in the immediate vicinity of Snoqualmie Pass in the North Cascade Range of Washington.
Its shape is often described as "amorphous" or "blob-like", although it does display a steep north face dropping down to the Middle Fork of the Snoqualmie River.
The south ridge, ascending from Cave Ridge between Snoqualmie Peak and Guye Peak, is a non-technical hike.
To reach Cave Ridge, either ascend from the Snow Lake Trailhead near Alpental to the west, or ascend from the Commonwealth Basin to the east.
35 summits • 3.4 mi • 3,113 ft gain • 3 hr 49 min
1 summit • 5.3 mi • 3,947 ft gain • 3 hr 44 min
1 summit • 4.4 mi • 2,964 ft gain • 3 hr 42 min
"Took advantage of a weekday off (COVID furlough) and a poor weather forecast to beat the crowds in the Snoqualmie area. Put on microspikes for the snowdrifts starting at ~5200 ft, but these ended up being discontinuous." —
TynanRammGranberg • Jul 2, 2020
"Day trip with the Mountaineers. The trail up to the junction for Guye peak is now completely snow-free. The stream bed is also mostly dry and the trilliums are blooming! Continuing up and to the left, the stream crossing is easy and the water is flowing beautifully. The trail continues up the steep tree gully and some intermittent snow persists. Once you clear the forest and gain the subalpine terrain, there are snow patches to cross. We used ice axes to assist with the ascent and aid potential falls. Snow is at the summit. The day was cloud free in the early AM, but afternoon clouds began to blow in. Perfect 360-degree views everywhere! Most of the Home Court 100 was visible as well as the Alpine Lakes area. Amazing to see Snow Lake, frozen and still covered in snow." —
markhadland • May 27, 2019
"Excited to hike Snoqualmie Mountain as it is on the Mountaineers Snoqualmie Pin list and Home Court 100. Started out on the trail about noon. Was expecting a hard hike, but have seen some great trip reports, especially by Gobazov who completed and wrote about an epic traverse. Upon starting the trail we met three gentlemen who had descended, we thought from either Snoqualmie Mountain or Guye Peak. They said it was a stair climb and asked if we had hiked or known the mountain. It's our first time, but Joe and I have done a few things. I'm in decent shape, yet found the trail a bit challenging. The early trail quickly steepens and ascends into an unrelenting climb over rocks, roots, and streams, for nearly a 1000 feet - as clearly indicated by the topo. The trail is rough at times, yet most of the rocks and stones make for good steps and footing - clearly a stair climb. The weather was very foggy and cloudy, so our visibility the entire was up was very limited. At about 4000 feet the forest canopy opened up revealing strewn rocks and boulders from a rock fall long ago. Cliffs are looming in the distance and we approached the fork to Guye Peak. We kept left following the..." —
markhadland • Aug 3, 2018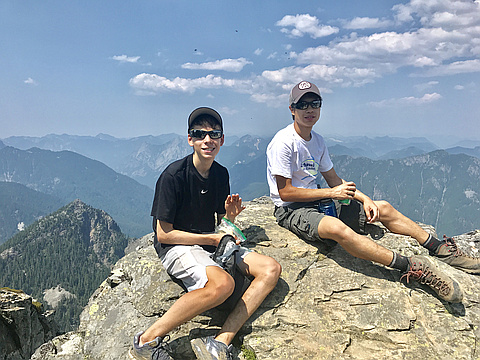 "6th time up the mountain, but first time in the heat of summer - 90 degrees plus and the water fall was dry so no fresh water or anyplace to cool off. Only a slight breeze up on the ridge and pretty bad bugs at the top - also pretty hazy. As always a good training hike when we only had a half a day to get out to the mountains. Alpental lot was completely full upper and lower and we only saw 5 people on Snoqulamie, meaning those hundreds of people were heading up to Snow Lake. " —
BryHong8 • Jul 29, 2018
"Great short and steep hike! Easy access to the Alpental Parking lot and only passed 10 people on trail. Pretty easy to follow the trail, think old trail on Mailbox but with more rocks and exposure. Best view I've had on a mountain along i90! You can see hundreds of mountains like Rainier, Baker, Glacier Peak, Adams and even the Olympics! It also makes Guye Peak look like an anthill. Wonderful torture!" —
Happyjoecappy • Jul 22, 2018
"Great day to be scrambling around in the mountains! We hit Snoqualmie Mountain, Snoqualmie Snow Dome, checked out the 2 high points in between them, and finished with Guye Peak." —
Al-Rashid • Jul 21, 2018
"Started from the Alpental parking area and used the steep climbers trail up about 2.2 miles. There was still a large amount of snow here and I was putting on my micro spikes when there were two loud thunderclaps. Sky was getting pretty dark so I abandoned my summit bid and headed back down. This is an extremely steep trail which is class 2 with a few class 3 sections." —
Zardoz • Jun 20, 2018
"Up Snoqualmie Mtn trail from Alpental lot, went to Snow Dome, then down a rather steep slope, following a stream 1000 ft down to Cave Ridge, then the normal trail down. Perhaps the last warm-ish day of the season, 55 F in the morning with wind toward the summit. Much warmer later in the afternoon. Very nice." —
markgarrett • Oct 27, 2015
"We managed to pull off a two-summit day on this beautiful Saturday, which was a first for us. We started with Snoqualmie Mountain, which is exactly as described in the hiking guide and trail reports: Pretty much straight up with boulders, roots and an eroding trail. The high point of the climb up were the falls just after the trail split - beautiful! We hit snow at about 5,700 feet, and I expect if anyone tackles the mountain after the next week or two, the snow will be almost, if not completely gone. No need for micro-spikes, although the ice-axe was nice for balance. We didn't even bother putting on gaiters either, as we just followed the tracks all the way up. Spectacular views in all directions from this summit, and we were lucky enough to have the true summit to ourselves, as one pair was just leaving, and the next pair was just arriving after our half-hour lunch. We saw about 18 people in total on the trail (one group with a lot of people in brand new running shoes - not sure if they made it) , which wasn't bad for such a nice day, and being on a trail so close to I-90. We made it to the summit in about 2 hours and 15 minutes from the Alpental parking lot. After heading b..." —
BryHong8 • May 9, 2015
"Solo ascent to Snoqualmie for the first time. Just wanted a new hike, and do it before thunderstorms rolled in. :) Super hot and humid. No views at the top. Got down just before the downpour. " —
aimk13 • Aug 10, 2013
Awards
about