San Jacinto Peak is the highest peak of the San Jacinto Mountains.
One of the "Three Saints," the highpoints of the three tallest mountain ranges in Southern California: San Jacinto Peak, Mount San Gorgonio (high point of the San Bernardino Mountains), and Mount San Antonio (high point of the San Gabriel Mountains).
One of the most prominent peaks in the US, ranked 6th among peaks in the 48 contiguous states.
To the east, the peak towers over the city of Palm Springs; to the west, it borders the mountain community of Idyllwild.
The steep escarpment of its north face climbs over 10,000 feet in 7 miles, one of the largest gains in elevation over such a small horizontal distance in the contiguous US.
The most popular route starts with a ride on the Palm Springs Aerial Tramway from Valley Station at 2,643 feet near Palm Springs up to Mountain Station at 8,516 feet.
The Cactus to Clouds trail involves an arduous climbs of over 10,000 feet from the Palm Springs Art Museum to the summit.
Another route is hike the Marion Mountain Trail from the nearby mountain town of Idyllwild.
Mountaineers tackle the mountain's steep north face from the town of Snow Creek. This route is a challenging mountaineering route that gains nearly 10,000 feet in less than 7 miles and involves hiking over rough terrain, climbing or scrambling on steep rock and long, sustained snow climbing with crampons and ice axe.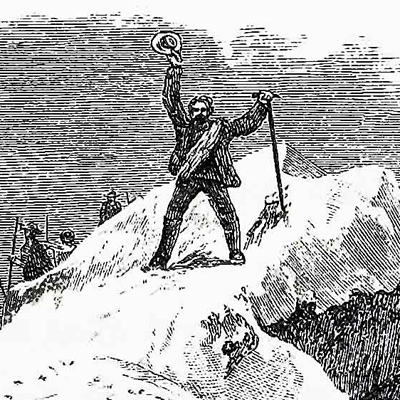 "I clibed this peak earlier in July. I used the Marion Mountain trail. Then I passed through some pine forests and some meadows with springs. Then I climbed up a steep trail and saw some small waterfall. After a while and and some scenes of more meadows, I reached the PCT. Then I went through a meadow of manzanita and climbed up through some sparse pines and Little Round Valley. And after a food break at the valley I went up the trail towards the peak. Then I went to the summit hut and saw the first large patch of snow. Then I summited the peak. There was insane views and some signs and survey benchmark" —
lc4441 • Jul 28, 2023
"This was a hell of a day! Tough climb in the heat of the desert to San Jacinto another Ultra Peak. This route is nuts! Just to climb the peak you gain over 10k ft but afterwards you have to descend the same route🙈" —
nandorszotak • Sep 24, 2022
"112 F in the valley, so had to find some elevation for our weekend sanity hike. Didn't get started from the trailhead until after noon. Surprisingly few people on the trail for the holiday weekend, but maybe the heat was keeping everyone indoors. The El Dorado fire broke out this morning, so we got some interesting views of the smoke towers from that as well. Summited about 3pm." —
Sierrawildflower • Sep 5, 2020
"May 17, 2020. Summitted from Humber Park. Some patchy snow in the tree shadows at 9,000 feet and several larger snow patches after Wellman Divide, but I did not need my microspikes or gaiters. Beautiful day and my third San Jacinto summit. 16 miles total and 4,278 feet of climbing. " —
runningvegan • May 17, 2020
"February 15, 2020. Hiked from the tram to the peak and back. I brought my snowshoes, but I only needed microspikes and my hiking pole. The trail was well established through the snow and was packed down about 85% of the time. Great weather and not a lot of traffic on the trail. When I was summiting four people came down from the peak and when I reached the top I had the peak to myself. The new peak sign that was put up last year is broken, but it is still there so you can hold it up. It was a great day on the trail. " —
runningvegan • Feb 15, 2020
"Back to one of, if not my most, favorite mountain to climb. Peak #10 of the 2020 SoCal Six (18) Pack of Peaks Challenge and my 2nd overall of the Original Six Peaks. Today I headed up to Long Valley via the tram. Normally an easy 11 mile hike to the summit from there, but today had an added challenge. Snow! So, with snowshoes, crampons, axe and helmet in hand I headed up to the summit. Lots of off trail hiking today. To my surprise there were several hikers heading up including a group of ladies sporting their snowshoes for the trip. All five of these ladies were in the their late sixties and early seventies. Impressive!!" —
Philip-Yoho • Jan 18, 2020
"Nice day and a good escape from the heat in Palm Springs. The trail was well marked and was easy to follow. I made a small loup by going through Tamarack Valley campground on my way to the peak. There was a lot of trail traffic, but not nearly as busy as Mount Baldy. Great views from the summit and the State Park put in a nice peak marker sign at the top. Obtaining a wilderness permit was no problem. I just filled one out at the Long Valley ranger's station and returned the carbon copy on my way back to the tram. Peak #4 of the SoCal 6-Pack Peak Challenge. July 27, 2019. 10.74 miles; 2,566 feet of elevation gain; 4 hours 15 minutes of moving time and 5 hours overall. " —
runningvegan • Jul 27, 2019
"First Cactus to Clouds with 100 Peaks Section. This monster hike is totally doable with enough water, the right weather, and a very aggressive alpine start. We hit the trail at 2:30pm. The notorious Skyline trail was in far better shape, and offered better views than I imagined. An absolutely worthy hike on its own." —
JustinB • May 5, 2018
"Yes another climb up San Jacinto Peak. My second trip up the Skyline Trail. A grueling 15.5 miles to the summit with over 10800 feet in elevation gain gain. Today I was joined by my favorite Trail Angels as we made our way up to the summit. " —
Philip-Yoho • Nov 18, 2017
"I started at the Ramon trailhead at 3:12am. I made it to Flat Rock at 7:24am, Grubb's Notch at 8:46am, Wellman's Divide at 10:40am; the peak at 11:39. On the descent, I made the short detour to Miller Peak, which I'd never climbed before, then made it down to the tram station at about 3pm. " —
HikerMark • Nov 4, 2017
Awards
about