Owl's Head lies in the Pemigewasset Wilderness between the Franconia Branch of the Pemigewasset River (to its east) and Lincoln Brook (to its west and south).
Best known as one of the 48 White Mountain "4000 Footers" and stands out as the only one of the 48 without an officially maintained path to the summit.
An unofficial, unmaintained herd path up a slide comes within 0.2 miles of the viewless summit.
It receives (as does Mount Isolation) a disproportionately frequent role as the last 4000-footer to be climbed in the NH 4000 Footers Peak Challenge.
In the fall of 2005, it was (re-)discovered that the traditional summit of Owl's Head (reached by the unmaintained beaten path) is actually a lower peak, and the true summit is approximately 0.2 mi north along the ridgeline.
"Hiked with Molly today. We both needed it for our Grid. Hiked up Lincoln Woods, then Black Pond bushwack, then up the slide. We had to wade the river crossings. The water was really cold. It hurt getting back out of the water. Headed up the slide and came down the Brutus bushwack. We encountered monorail higher up and along the summit ridge. We managed to not use spikes today. Beautiful mostly sunny day and windy. " —
newenglandwarrior • May 13, 2023
"A hike to Owl's Head for Molly's Grid. We barebooted all the way to the Brutus Bushwack. Then snowshoes up to the summit. I took a tree branch to the eye near the summit. We came out with our snowshoes on and took them off at the end of Black Pond Tr. Lincoln Woods Tr was pretty firm. " —
newenglandwarrior • Feb 11, 2023
"Third attempt up this mountain. Spent the first night at a campsite along the Pemigewassett, woke at seven, then headed for the peak. Mud everywhere. Lincoln Brook Trail was a muddy mess. There were more people along this area than I expected. Dropped my pack at the foot of the slide up Owl's Head and along the slide found a very nice 38-year-old male Gridder who brought my pack to the bushwack for my return. Near the top ran into a 63-year-old man who was on #17 of his _third_ completion of the 4,000ers! Took the Brutus Bushwack down and ran into a 71-year-old woman for whom Owl's Head was #45. She said she was going to complete all 48 that weekend (and it was already Sunday at 1400.) Setup camp to eat after my descent, and then took the long trek back to my car. Mud, mud, mud. Twice my foot got caught so deep it made that sucking sound when I pulled it out!" —
NHClimber • Aug 1, 2021
"For Grid needs, I did Owls Head today. I went up the trailed way, then up the slide. Crossed paths with Hiker Ed today. I then came down the Brutus bushwack and out Black Pond bushwack. " —
newenglandwarrior • Jun 18, 2021
"Molly and I took advantage of the low water levels to grab Owls Head. We went up Lincoln Woods Tr to Black Pond to the herd path. We were able to follow the herd path despite the lack of snow. We hooked up to Lincoln Brook Tr and made the river crossing. We then went up the Brutus Bushwack. Higher up, around 3700 feet, is where we put on microspikes. We reached the ridgeline and guessed on where the summit was underneath the snow. A good Grid peak gain for both of us. " —
newenglandwarrior • Apr 24, 2021
"Day 2 of a quick 4-day trip to the Whites. We took the Black Pond herd path to shorten the milage a bit and avoid two water crossings on the Lincoln Brook trail. Another day of low clouds that would occasionally lift and clear for views but most of our time on the slide was view less. Now there is a beaten path to the true summit unlike my first time back in '02 and a small cairn but no sign. In '02 there was a faint path leading to a small sign. On our descent we chose to take the Brutus route which was fantastic once we got on it properly as the beginning was a bit fuzzy. Definitely a good route for the ice/snow season." —
Nimblefoot • Oct 2, 2019
"Solo. 10/48. My first outing of this years' NH adventurecation. Started out from Lincoln Woods trailhead at around 0615. It was vaguely gray and semi-dark but no need for a headlamp. It was around 45° to start, and only warmed up to the low 60's during the day. No rain or nonsense though. Breezed over the suspension bridge at the start & suffered along the "trail" for what felt like eons. Very reminiscent of hiking on Lake Road in the Daks. Super flat, super wide, super. boring. Eventually I was finally in the woods proper, on Lincoln Brook Trail, also pretty flat, but at least more of a trail than a road. Around mile 5 I hit my first water crossing. And by water I mean "river" and by crossing I mean "wading" because I got about halfway across it, realized I had marooned myself, and decided to just send it. At its deepest it was up to my knees. Semi cold but tolerable. Continued on, and by the time my feet and legs were drying out, it was time for another crossing. The trail alternated between spongey mud and downright slop, narrow in some areas, 10' across in others. I lumbered on making good time and crossing water two more times before I hit the bottom of the slide w..." —
kellieirene • Sep 9, 2019
"3 days in WMNF. First two days included a nice overnight backpack of the eastern Pemigewasset Wilderness. On day two I broke camp on the ridge line and descended in light rain down Franconia and Lincoln Brooks trails. The weather cleared in time for a jaunt up Owl's Head, before heading out of the woods for a much-needed shower and beer." —
wacbravo • Sep 8, 2019
"A very long hike in from Lincoln Woods. Black Pond Bushwhack saved a little on mileage but not time. Water crossing were easy. Easy hike up to the slide. What makes this one rated as difficult is the distance and the slide trail up to the summit. Otherwise it's a very long nature walk. Not much of a payoff for this summit. Beautiful wilderness though. Number 31 of 48." —
dmcosker • Aug 31, 2019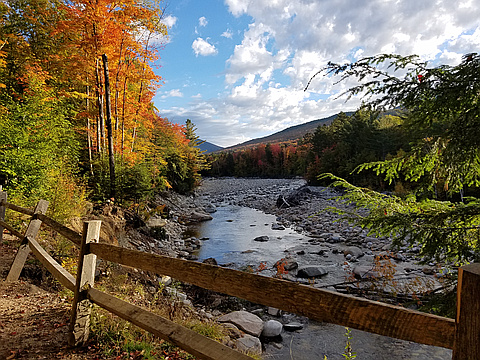 "My 30th NH 4,000-footer the week of my 30th birthday! I had performed in a chamber music concert in CT Friday night, and was running on a maximum of 4 hours of sleep when I met Jessica at 4:40am Saturday. We took our standard 3+ hour drive to our mountain of choice, all the while bemoaning our mutual exhaustion and agreeing we had probably made a terrible decision, but were doing it anyway. The clouds rested below the mountains that morning, and the vibrant autumn colors assured us the trip ahead would be worth it. It was! 39 degrees to start. Varied and pleasant terrain. Two new trail friends with whom we could survive three major/mildly frightening brook crossings (each way) and the infamous/mildly frightening slide trail to and from the summit. 18.5 miles and 11.5 hours later, we had taken one unnecessary detour, given my food a short soak in the brook (don't worry, that's what Ziplocs are for), watched Day cross over Night's threshold with about 5 miles still to go (oops), heard and felt the soft pitter-patter of unscheduled weather ("Is that... rain?"), met multiple groups of night-hikers, wondered if shadowy plants were creeping animals, and finally made it back to the parkin..." —
gooner • Oct 6, 2018
Awards
about