Overlook Mt. has one of the Adirondack/Catskill Fire Towers. It was built in 1927 on Gallis Hill, moved to its present location in 1950, closed for safety reasons in 1988, and reopened after renovation in 1999.
The hotel ruins near the summit are from one of the Mountain Houses popular in the Catskills in the 1800s. Byrdcliffe Colony, a utopian settlement with a focus on arts, occupies the southern slope.
Timber rattlesnakes are quite common on Overlook Mt. trail and summit.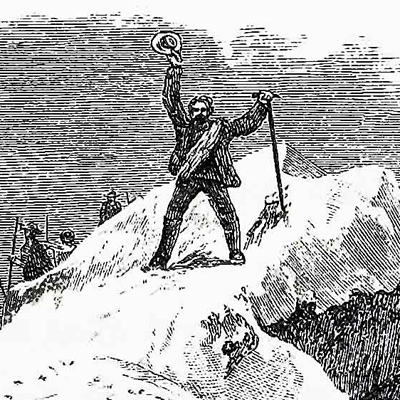 "Rained on the way up. A steady gradual climb on a gravel road. Ruins were spectacular. Very windy in the FT and pelted with snow as we came down. View of the Hudson Valley from the cliffs beautiful. " —
Fitgrandma • Apr 27, 2022
"Getting Friday and Balsam Cap for the month of February. Ran into two friends, Yong Ae and George, on my way up Friday. George had already done BC so was heading out then I caught up with Yong Ae again on BC. As always she offered me half her sandwich, smoked salmon/avocado/jalapeño peppers on a bagel, and her warm tea. Dull Hillsounds were just barely enough on the ice at upper elevations otherwise mostly bare ground or patches of old ice. Had time to do a quick ascent of Overlook afterwards and get home at a decent time prior to the big storm. Plenty of ice on the trail but was able to dodge most of it so the Hillsounds stayed in the pack." —
Nimblefoot • Feb 24, 2022
"Left a car at the Woodstock Overlook lot, then drive a second car up to the Platte Clove trailhead, to do the traverse hike. 9.39 miles & 1497 feet of elevation gain. The Platte Clove trail is gorgeous, lots of streams & waterfallls, tons of cool mushrooms, & great views overlooking the old quarry. By the time we reached the fire tower, it was cloudy & no view, but the clouds definitely added to the atmosphere by the old hotel ruins!" —
EmilyDoucet729 • Sep 14, 2021
"Long 3 mile trek up, but those creepy hotel ruins & the beautiful view at the summit made the jelly legs worth it! Lots of passing hikers mentioned seeing rattle snakes, but we didn't see any. " —
EmilyDoucet729 • Sep 22, 2020
"A nice quick hike up and down before the day really hots up and the PA fills up. The view from the ledge was diminished do to the heat causing haze. Next I finally got a chance to ride the Ashokan Rail Trail which was mostly shady so a nice treat. A bit of change to get out on the mtn bike after spending many days on the roadie." —
Nimblefoot • Jul 2, 2020
"Hiked up to the top of Panther for the month of August then up Overlook for the recent fire tower challenge from the DEC. During my Giant Ledge and Panther hike the partly cloudy sky kept the heat/humidity at a more comfortable level. Variety of folks using the trails from those out for a stroll to multi-night campers, or at least I hope considering the size of their packs and the strain of humping the load in. On my return I had a nice chat with one of the assistant Forest Rangers on Giant Ledge. A unique experience for me as I rarely see the Rangers or Assistants in the woods, usually just in the PA. On my way to Overlook the sky darken considerably and dropped a few stray rain drops. Fortunately I found a spot in the usual PA on Meads road and headed hoping for any rain to hold off. About half way up a steady but very light rain set in for the remainder of the climb. After I took the obligatory selfie at the tower the rain ceased with the sky mostly cloudy and less threatening. Some blue patches and a few winks of sun brightened up my descent as I passed folks enjoying a more casual stroll downhill. Next time I want to do Overlook without the threat of rain for a change." —
Nimblefoot • Aug 22, 2019
"Watched the sunset from the top of the fire tower. The clouds were low and covered the summit when I arrived but just as the sun was setting they lifted up and I was treated to an amazing show." —
Right-On • Apr 20, 2019
"Saturday was simply beautiful! We started out the day enjoying coffee on the patio for the first time in months! We enjoyed it so much we got a very late start hiking - as in on trail at Tremper just after 12:30! But the day was warm and sunny and our late start gave us the advantage of missing the clouds. Throughout the day we would climb our last 2 Firetowers ~11 miles and 3400' of gain." —
deb-and-rob • Mar 30, 2019

"Uneventful day - lots of people, many in jeans and street shoes despite the trail being snow covered and very icy. The ruins of the old resort were very cool and the views from the tower and the ledge were pretty rad too. " —
ne4kclimber • Feb 16, 2019
"My first hike in the Catskills, excluding a short walk to Kaaterskill Falls ten years ago. This was also my first time wearing my new microspikes. They functioned extremely well on this hike and the others I did. Neither the ascent nor the descent were too challenging -- even on a cold winter morning in the predawn hours. Exploring the abandoned Overlook Mountain House ruins in the dark was a pretty cool experience and the views from the tower were glorious in all directions. The scariest part of the morning was standing on top of the firetower, waiting patiently for the sun to rise, while battling relentless wind gusts that were equally fierce and frigid. If the windchill in Buffalo was -30F to -40F at the tail end of January, than it must have felt no warmer than -50F atop that firetower. My new winter clothes (balaclava, thermal gloves, winter hiking pants, and wool socks) kept me reasonably warm until I idiotically took off my gloves to take photos and videos with my phone. Even leaving my hands exposed for a few seconds at a time, in those extreme conditions, put me at great risk of frostbite. My hands became so dangerously cold that I instinctively ran down the windy ..." —
theascent • Feb 9, 2019
Awards
about