Mount Temple is located in the Bow River Valley between Paradise Creek and Moraine Creek and is the highest peak in the Lake Louise area.
Dominates the western landscape along the Trans-Canada Highway from Castle Junction to Lake Louise.
Several routes for climbers and the normal route on the southwest side offers a moderate class scrambling route.
"An interesting day on a classic big mountain. We did an alpine start to get a spot at Moraine Lake (2am wakeup) and did approach in headlamps. The weather was blustery despite the forecast for blue skies. The scramble was fun but mostly a grind. The final 300m to the summit was icy with a light dusting of snow. Just as we reached the summit clouds moved in so we got no view :(. The descent was quick and the clouds opened up later on. Overall a great day bagging an easy 11000er despite no summit views." —
yurilemermeyer • Aug 9, 2021
"Stephan missed out the last time we did this, so asked me if I'd go again with him. It was completely dry and quite the slog.. I mich preferred descending the final ridge with snow the last time, but liked it dry and safe everywhere else. Views were quite similar as we had smoke from the MT forest fires that year too. " —
leigh-annewebster • Jul 28, 2021
"Got asked to take a friend up temple as a birthday wish... Cant refuse that on a day forecasted to be bluebird! A fellow insta peakbagger recognized me while working at the canoe rental and gave us a canoe to finish! sweet" —
ken_hercules • Aug 26, 2020
"Mt Temple Sunrise - Aug 3 2019. Having been up here before I felt OK to try it in the dark - it was better than expected, the track is easy enough to follow via headlamp. No problematic snow remains on the route (though there was about 5cm of fresh snow overnight above 3200m and I actually fell a few times on the way down!). No microspike. It was -4c at the summit with consistent moderate winds. I assume the folks heading up wearing shorts had a short summit stay. 8hrs20mins RT (descent slower than ascent). 1691m gain 16.3km. 2:20am start time. Parking lot full at 5am according to the folks we spoke with heading up!" —
jakefinnan • Aug 3, 2019
"Labour day trip up Temple. Cloudy and cold on summit with some fresh snow. One crack of thunder/lightning on the descent just below the yellow cliff band. Some members of our party felt "electricity" through their trekking poles, needless to say we quickened our descent to the relative safety of Sentinel pass although experienced no more lightning. At least a dozen other adventurers on the mountain that day." —
frankvan • Sep 5, 2016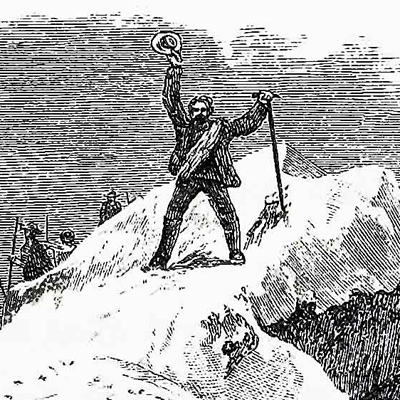 "Nice weather, partly cloudy. The views would come and go from the summit. Lots of people on the mountain of all levels of experience. Helped some people down the crux. They were unsure of were to go, but so was I since I had climbed up a more difficult section to the left of the gully so I was looking for the easier route down, we made it. Glad to finally get to the top of this 11,000er " —
Randy • Aug 26, 2016
"2014/SEP/20 TL;DR: Easy Climb in some parts, Crampons/Helmet/Ice Axe strongly recommended. Moderate + Scramble. It rained hard on the many switchbacks right up until I reached the Col above Sentinel Pass where I was greeted by a German family (I took their family photo). Then the weather turned to wet snow. This was my first real attempt of a Mountain this Size, so needless to say the `gear`I packed was not very suitable for Mountaineering. I ended up crawling on my hands a knees to get off the snow capped summit, and I have not the slightest clue as to how I survived the descent of 2 fairly moderate cliff bands.. Took me 6 hours start to finish and served as my Baptism into Mountaineering. The climb is marked with multiple Scrambling Routes to the Summit. I strongly recommend an Ice Axe, Crampons, Helmet, and Rope if the snow covers the cliff bands. This Moderate Scramble certainly could be classified as and easy climb, and has the potential to turn into a serious climb if the weather turns on you." —
AskTheMountain • Sep 20, 2014
"From what I know it was a rather late time to attempt Temple. But the weather forecase was really good that day. It lasted over 3/4 of the way up....then the snow came and the COLD!! And almost any view whatsoever was gone! My clothing was marginal--could have been worse, could have been better. Only spent 10-15 minutes at the top because of the cold--finers were froazen, both sets of gloves were wet. Was nearly blineded going down-the high winds were pelting my face with snow/ice pellets. But the whoile experince was awesome. I just have to go back on a nice day a get the views. My camera died nearly the top, I took too many videos, which killed the batter. Great hike and fantastic scenerey." —
mike.buenting.7 • Sep 9, 2012
"Easy (but for tragic reasons) to remember the date of my first climb on Mt. Temple. Went with a large group from the CORE club - via Sentinel Pass - to the summit. Sunny dry weather. Minus-7 at the summit, plus-7 in the valley bottom. Phenomenal experience and scenery!" —
geoffc • Sep 9, 2001
Awards
about