At 4,003 ft, Tecumseh is the lowest of the New Hampshire 4000 Footers.
Considered one of the easiest 4000 Footers. Trails up Tecumseh are the Mount Tecumseh Trail, Sosman Trail, and Waterville Valley Ski Slopes.
Mt. Tecumseh is named after the Shawnee leader Tecumseh, who formed a large confederacy which allied with the British during the War of 1812. He was killed by the Americans in 1813.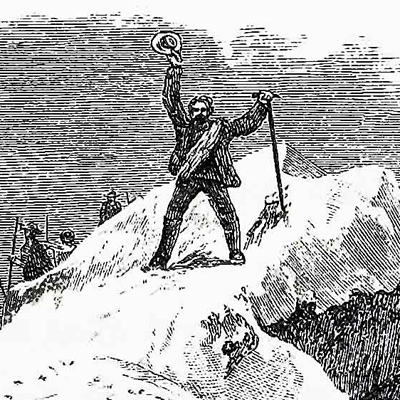 "Cold day (negative temperatures), but lack of wind helped. Began at the Waterville Valley Ski Resort parking lot. Trail was pretty packed down, no snowshoes needed. We decided to use microspikes to get a little more traction. Gradual climb for 1.2 miles until you get to a lookout alongside the ski slope. Next was a steep mile to a short flat area before a small climb to the summit, where there were great views of the nearby ranges, especially of Mt. Washington in the background. A few chickadees joined us on the summit. Easy trek back down in the snow. Overall, climbed 2,360 ft in 3 hours over 4.85 miles. " —
gregoryskiba • Feb 25, 2023
"Molly and I had a late start on this mountain. We headed up around 11:30 or so from the ski slopes. We slowly made our way up to the summit. Due to how late it was, we didn't stay long despite the beautiful day. I needed to use the restrooms, so I darted down the trail back to the parking lot. " —
newenglandwarrior • Feb 12, 2023
"An Osceola and Tecumseh kind of day. I needed all 3 for my May Grid. Tripolii Rd was open and I headed up Osecola from that side. I made quick time and tagged the summit. Overcast day. I then headed over to East Osceola and tagged that summit. On the return, I went up the chimney. I also saw the butt end of a snowshoe hare before the Osceola summit. I quickly reached my car on the descent. For Tecumseh, I went up the back side. It is longer but more mellow. I got to use my silky saw for the first time and delimbed a blowdown on the ascent. I tagged the summit and came back down. " —
newenglandwarrior • May 26, 2022
"After hiking up the Kinsmans in the morning, I drove over to hike Tecumseh next. There was a part in the skiing parking lot. Someone became the first Grid finisher over age 75. Hiked up Tecumseh and came back down. It took me awhile to get up the mountain since i was feeling it from the morning. Stopped at the Dam Brewhouse in Campton on the drive out to pick up a Brew and View. 5 miles" —
newenglandwarrior • Jul 24, 2021
"Molly and I both needed Tecumseh. We came up the Tripolii Rd side and went over West Tecumseh before hitting the peak. On the way out, we were hit by a good rain storm. I closed out my June Grid today. 6.2 miles." —
newenglandwarrior • Jun 19, 2021
"Not great weather, but ok. Around 30 deg., snowed all the way up. Howling wind at the summit, blowing ice pellets out of trees at you. Zero visibility at summit. Stopped snowing soon after we started descending. Super busy on the trail today. Saw close to 90 hikers. " —
Alohabuffy • Jan 17, 2021
"Flags on the 48s day. Lots of people on the the trail from Tripoli Rd heading up the North Tecumseh trail. Very crowded summit, but the weather was perfect for a hike. First time up Tecumseh via the North trail." —
Alohabuffy • Sep 12, 2020
"Just getting around to logging some of our climbs. This one was the last of a 3 day weekend in the area and was a nice quick run up the mountain before heading home. We chose the Tripoli RD TH - a little longer but we heard it was a great trail ... and it was. Its a nice hike up that is steep in a few places and gentle in others - with a few col drops in between. Quick little hike." —
deb-and-rob • Jun 23, 2019
"It has been awhile since I combined both of these hikes into a day. But I needed them for my Grid and didn't have much time. This was my last hike in October in NH. Tecumseh was quick. Same with the Osceola's. Didn't feel to bad after hiking the Osceola's. Picked up 3 peaks today. 5 miles." —
newenglandwarrior • Oct 5, 2018
"Solo. 6/48. With a promise of thunderstorms in the forecast, I decided on this last minute so I wouldn't be too exposed to slides or difficult scrambles, or exposed on a summit. Kim left this morning, so I got up early & headed out with a hope of beating possible crowds as well as beating possible awful weather. I started on trail around 0815 with a few other cars in the lot & bright sunshine with moderate temperatures. This hike was beautiful! Very well cared for short and somewhat steep trail with a lot of lovely natural stone steps. A LOT of them! I made good time and passed a few folks on the way up. At the summit there was one other solo woman and we talked about hiking while a curious and clearly hand-fed small red squirrel scurried around us, begging. I offered him some of my summit beer but he didn't seem interested, lol. After a little while more folks started showing up, the highlight being two exhausted looking young men who were doing an unsupported trek of all 48 Whites in a week. One of them was wearing a flamingo print button up & introduced himself as Andrew Soars, "like the eagle, not the thing you gotta put cream on, people don't shake your hand if they think it's..." —
kellieirene • Aug 26, 2018
Awards
about