Mount Sneffels is a Colorado 14er in the Mount Sneffels Wilderness of the northern San Juan Mountains.
This grand, symmetrical peak is one of the most photographed mountains in Colorado, probably only second to the Maroon Bells near Aspen.
The standard Class 2 route to the summit follows a creek bed up from Yankee Boy Basin.
A secondary, Class 3 route follows a ridge line to the summit from the saddle of Blue Lakes Pass.

"Southwest Ridge up, south slopes down. Ridge had some loose rock and several short scrambles, slopes had one short class 3 down climb and a long loose gulley. Bring a helmet for either one! https://youtu.be/JXRoExhq7-w" —
cheeseishappiness • Sep 26, 2021
"Great spring conditions, crampons and ace required. V notch impassable due to snow so I exited the couloir early to the left and scrambled to the summit. Amazing views. Complete TR: https://TheMtsAreCalling.com/sneffels" —
Christopher • May 20, 2020
"Beautiful damn day! Loved this 14er aside from the steep scree approach. The technical bit at the top was pretty fun. It was not as bad on the way down, but Would probably ascend via the ridge if I had to do it again. " —
LGH-Dan • Jun 24, 2018
"I approached from the Blue Lakes trailhead and decided to summit via the standard route instead of the west ridge. The Lavender Col was pretty much snow-filled and my ice axe and crampons came in handy. I left my backpack (and GPS) at the notch before proceeding to the summit. The notch was dry and there was one small snowfield to cross before the summit. On the descent I became dehydrated and sick. I took some long breaks and eventually nursed myself back to health and returned to the Blue Lakes trailhead." —
WaxDr • Jul 1, 2017
"Waited around in the car until the rain mostly stopped. There were a lot of high clouds but good visibility. I really enjoyed the southwest ridge and it is my favorite Co 14er route I have done so far." —
Yosemike • Jul 24, 2013
"Perfect weather and stunningly clear views from the summit. SW Ridge route crux a bit sketchy with wet rock but otherwise very straightforward. Almost no snow left in the SW Ridge gully. Opted to go down the standard route; only a few hundred feet of snow left there. Used an ice axe but many people just gingerly stepped down the soft snow steps. The upper 4WD TH looked like an ad for Jeep Wrangler." —
scott • Jul 7, 2013
"Began at 6am, peaked at 10:20, finished at 12:45. There was still quite a bit of snow... Particularly in the couloir; the section heading up into the "V" notch was especially steep, and I desperately wished for crampons and an ice axe. I took a slightly different route on the descent to avoid that area. Also heard a 30-40 second rockslide... I couldn't see it, but it sounded like it was just over the western ridge." —
Globetrotter87 • Jun 22, 2013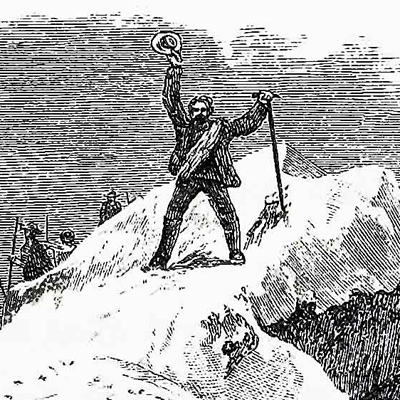 "Dad and two brothers summited and mother read in the truck. Beautiful day of climbing. Gnarly scree descent that definitely sped up erosion. Great food afterward in Ouray. " —
looscontrol • Jul 9, 1997
Awards
about