Mount Rogers is the highest peak in Virginia.
Most easily accessed from Grayson Highlands State Park by following the Appalachian Trail southbound for 3.5 miles to a blue-blazed trail leading to the summit, which is covered by trees.
The Appalachian Trail passes within a half mile of the summit, making the area especially popular with hikers.
"This was an incredible highpoint!!! My 8th one so far, and it might be my favorite. Climbed over 4 mountains to reach the summit of Rogers. The ponies were so cool!! Took us about 3.5 hours to complete. " —
emkabalka • Oct 23, 2022
"Started at Massie Gap trailhead taking the Rhododendron Trail to the AT south. Reached our first group of wild ponies about 15 min later, with several more to follow. Some were curious but they mostly minded their own business, which was eating. At one point we saw a group of 4 ponies heading down the trail in full gallop, we got out of the way and watched in awe. The hike was beautiful with sprawling views of tree covered mountains highlighted by fall colors. Closer to summit we entered a dense forest with mossy trees, eventually arriving at a small clearing with large rocks protruding from the ground. Benchmark is set in the tallest one, also a great seat for a summit break. Really nice fall day for a very enjoyable hike." —
jodola • Oct 3, 2022
"Holiday weekend trip to snag my last Southeast high point that I didn't get to in 2020. Hiking with the ponies oh yeah. Extra bonus points for avoiding the horse dropping piles." —
SteveM_StickMan • Sep 4, 2022
"This was the most interesting highpoint in the Southeastern U.S. for me. Even the suboptimal weather couldn't put a damper on my experience. It was a rainy and rocky trek into the Grayson Highlands from the Massie Gap trailhead. Surrounded by mountains on all sides, my camera got nearly as much of a workout as I did! I scrambled up slick rocks on the blue-blazed Wilburn Ridge trail, followed that up with easier scrambling on Pine Mountain, joined the busy Appalachian Trail where the open views continued, and then hooked a right onto the Mount Rogers Summit Trail in pursuit of the big prize. The lush forest leading to Virginia's highpoint made me feel like the protagonist of an epic fantasy novel. Very cool! It was also a nice respite from the hordes on the AT. The most memorable part of my trip was seeing all the "wild" ponies in the open meadows. Like the rabbits in my backyard, they were fully habituated to humans. As such, photographing them was easy. I got some really good shots of a mare and a foal bonding near the end of the hike. " —
theascent • Apr 26, 2022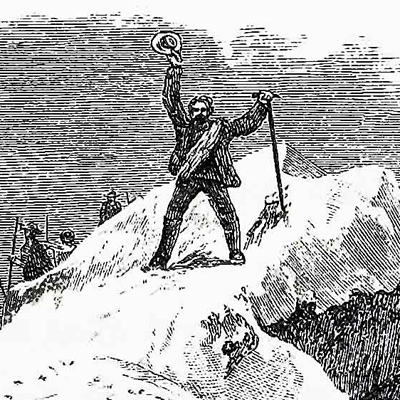 "With my 10-year-old. Pretty cold and windy, but loved seeing the wild ponies. Trail in decent shape, with more snow and ice as we got further up. The last spur trail in particular was mostly snow covered. Trail very muddy on way down as day warmed up. Great day out and first significant hike/highpoint for Henry!" —
andrewmadsen • Mar 29, 2022
"The highest point in Virginia was covered in slick ice and snow that made the Eastern White Pine forest even more charming. The views and ponies along the way were spectacular, but having the roof of Virginia to ourselves was pretty priceless. " —
runshigleyrun • Feb 19, 2022
"Hiked with Tommy. Super fast summit. 9ish miles. Saw some wild ponies, not as many as the longer route I took years ago. Pretty sunrise on our drive to the trailhead. Colder than anticipated. Second out of ten highpoints we hit on this road trip. " —
kellieirene • Nov 21, 2021
"Camped overnight near by. Our first hike out to a HP. Started off at car park. Was awesome to be on the AT trail, so much history. Easy hike, planed to be out a slow easy day, had lunch at high point, then took a different rout back to the car park." —
CravinoCrew • Apr 8, 2021
"As part of a 16 or 17 state highpoint blitz of the Northeast this August while working remotely 8 hrs a day from various Starbucks. After working from Cinncinnatti, OH yesterday for 8 hrs, I drove across Kentucky via Red River Gorge (my favourite climbing area) to Virginia via Hazard from the Dukes of Hazard. Slept in the car and bagged Mt Rogers this morning in the fog. It took its toll perhaps due to my lack of sleep the last month or so...and my hiking shoes are way too grippy causing me to faceplant after tripping on a rock running down the trail. 2 minor knee scuffs and some laughs later, I bagged the 4 mile approach in 1h 30m and was surprised it was in the trees. Fog lifted a bit on the way out making for easier following of the white Applachian Trail markers. Back at work an hour down the road at Starbucks. On to Spruce Knob tonight and further north and east." —
alexjoseph • Aug 7, 2019
"Wild horses galore on the hike, fairly easy hike with great views headed to summit, but tons of flies and tries surrounding summit to make anyone want to grab a photo and dash. " —
mchikes • Jul 16, 2019
Awards
about