Mount Ritter is located in the Sierra Nevada Range and is made of a strikingly dark rock.
Ritter is quite prominent due to its height (over 13,000 feet) and isolation.
Lies in the middle of the Ritter Range, which includes Banner Peak and the Minarets. The prominent and memorable shape of the Ritter-Banner pair is visible from high elevations far to both north and south in the Sierras.
"So happy to finally tick this one after storms kept me from linking it with Banner 5 years ago. 11 hours from Agnew Meadows. Probably only needed to be on the glacier for about 100 yards. Complete TR: https://themtsarecalling.com/ritter/" —
Christopher • Aug 23, 2021
"Started from Agnew's Meadow. Followed PCT/JMT/Shadow lake trail to Ediza Lake. Took Clyde Variation Route for Banner Summit. Encountered heavy Winds and turned back at 11,400 feet at the snow field. Our retreat route avoided the earlier class 3 sections by descending into the Basin near Iceberg Lake. This was class 2 and did not cliff out. Then proceeded to retrace our route back to Agnew. Storm clouds came in shorty after. " —
Zardoz • Sep 14, 2018
"California Mountaineering Club Outing led by yours truly- After ascending Banner Peak via SW slopes, we descended to key saddle. We climbed a steep snow field where we accessed start of North Face route. We had almost 1,000 vertical feet of class 3 climbing. The last 30 ft before the ridge was the crux of the route; I would describe it as "old school class 3". We then followed the ridge to a ramp which crossed under the summit. Asaka dropped her backpack 200 ft down the north face. I descended the loose sketchy face and retrieved the backpack. We followed the ramp to a chockstone, which we avoided by climbing the rocks to climber's left. After summitting we descended via "The Maki" route along the Southeast Glacier (this route is marked in Google Street View). 7/7 made the summit. We hiked out the next day. " —
seancasserly • Aug 25, 2018
"A stunning area. Camped at Lake Ediza and climbed Mt. Ritter fresh the next day. This was a hard climb with solid class 3 up the cliffs to the base of the SE glacier. Tried to climb Banner Peak the next day from the Ritter-Banner Saddle, but the glacier was so slushy that upward progress was too difficult." —
klotito • Aug 21, 2016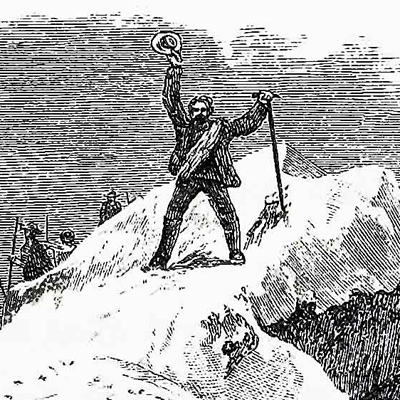 "Probably my proudest peak ever. The first real California peak that I researched and planned the routes for. Lots of exposed rock, cool glacier travel. We got some lightening storms in the summit and got pretty close to bivying when the descent route wasn't obvious. " —
paperpanther • Jul 12, 2008
Awards
about