Mount Princeton is a Colorado 14er in the Collegiate Peaks of the Sawatch Range.
This distinctive peak stands by itself. While not one of the highest peaks of the Sawatch, it is perhaps the most dramatic as it stands separate from other peaks and rises more abruptly from the Arkansas Valley than the other peaks of the range.
To the constant annoyance of those affiliated with Yale University, Mt Princeton is one foot higher than neighbor Mount Yale.
"It was a spectacular day to climb. September is my favorite month for climbing in Colorado. I estimate that 8 people summitted on this Friday. Traverse across big, jagged boulders on the SE ridge via the main route. There was some steep climbing with some slippery scree near the summit push." —
tj-burr • Sep 9, 2022
"Hiked over Tigger and on to Princeton. A winter storm moved in by the time I made the summit. Was so exhausted decided to go across the snow banks on the north side. Very tedious , but solid. " —
Brandon-Shinsplint- • Mar 18, 2018
"Our final 14er for this trip. A nice rocky/bouldery trail with a very short dirt section. Fortunately on the 3+ mile road approach we got driven up by some nice folks with a pickup almost to the beginning of the actual trail. On our way back the road was a bit tedious and no offers of a ride from the vehicles heading down. Clouds occluded most of the views from the summit but we did some glimpses of other peaks as the clouds parted for a few minutes. Back to BV for pizza and beer before the pm showers started." —
Nimblefoot • Jul 14, 2017
"No snow encountered the entire route. We were able to drive up to 11.6k before the road became too sketchy. Crystal clear views across the Sawatch, the Aspen area and even to Uncompahgre in the SW. Complete TR: www.themtsarecalling.com/princeton" —
Christopher • Nov 26, 2016
"I climbed this one with a group of people. Some of the people I knew and had climbed with before, some I had not. We drove as far up the 4wd as we could till we encountered some snow drifts that were impassible, then continued from there. Almost the entirety of the route was clear of snow, except for just a few sections. After we made summit, the weather was really nice so we decided to hang out there for a while. After spending an hour or so up there, we decided to continue on to Tigger Peak, an unranked 13er. Right as we reached the summit of Tigger, some light rain and hail came in. We continued down the ridge of Tigger. The decent of that ridge was a loose rock boulder field nightmare that took way longer then you would have guessed it would by looking. At one point I stepped on a large boulder and it rolled over on top of me. I put my hiking pole in the way at the last second and it diverted it's course just enough to miss me mostly. It rolled over my leg just a bit, but nothing causing any major injury. My hiking pole took the worst of it and was bent at nearly a 90 degree angle. Good times!" —
IanWright • Jun 11, 2016
"Today's goal was Mount Princeton. Princeton is about a 6.5-mile hike with 3200 feet of elevation gain, which is similar to our previous two summits, Bierstadt and Quandary. I woke up feeling very un-refreshed after attempting to sleep in the seat of a car. Justin swears by it, but in my opinion, there is absolutely no way to get comfortable enough to sleep in a car seat. My legs kept falling asleep, my back had no support, and really it was just awkward. Sleep or no sleep, at 6:30am we were off on the trail. The trail actually started off as a continuation of the dirt road we took to the campsite. We followed the road for about 800 feet of elevation, and then branched off to the right onto a footpath. The path was loose dirt for a little bit, and then turned into a boulder field/scree for the remainder of the climb. Of all the trails to be on while tired, this would not have been my choice. Each step had to be carefully chosen, as some of the rocks were loose and unsteady. This required concentration, which was a struggle for me in my sleep-deprived state. I hardly seemed to make progress, and the summit seemed an eternity away. I wanted that summit though. I dug deep and summon..." —
justinraphaelson • Jul 13, 2015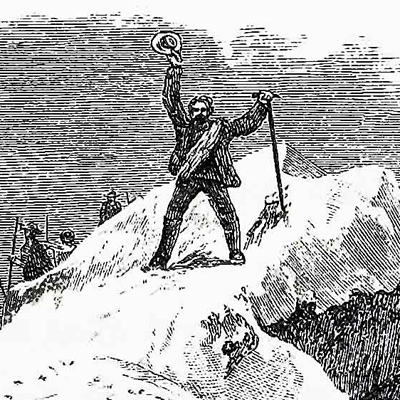 "Left Cascade Camp. at 5:54, drove down CR 321 to trailhead at Younglife Youth Ranch. Began hiking with 2 buddies at 6:15am. We are all 18. Hiked up past radio towers on 4WD road and took stone steps to the left around 11,200 ft. Scrambled up the rock face and had a snow ball fight. Left 1 member of group at the pass and 2 of us summited at 11:02am. We were down by 3ish pm. Total hike time was 8:57:55. My first legit. 14er!" —
Grant.Crist • Jul 7, 2011
"My hardest 14er ever because it was the worst weather. Even though we camped out at the antenna we had little daylight to do this hike in. Then the blizzard set in. By the time we summited we just wanted to get out of there. " —
ChrisMeloche • Jan 17, 1998
Awards
about