Mount Muir lies in the Sierra Nevada of California less than a mile south of Mount Whitney.
Only 1 ft of prominence shy of inclusion in the California 14ers Peak Challenge (min 300 ft prom)
Named for John Muir, founder of the Sierra Club, notable California geologist, and American conservationist.
The southernmost section of the John Muir Trail contours along the west side of Mount Muir near its summit and ends on the summit of Mount Whitney.
Mount Muir can be climbed on its west side from the John Muir Trail. Involves a short stretch of difficult scrambling up the steep, boulder-strewn slopes to the summit block (Class 3).
Easiest access to the summit of Mount Muir is by hiking the Mount Whitney Trail, which passes very close to the summit of Mount Muir after joining with the much longer John Muir Trail.
The east side of Mount Muir is a spectacular near-vertical cliff about 1,400 ft high. The first route on this side (the north side of the east buttress) is Class 4.
The south side of the east buttress is also a Class 4 climb.
15 summits • 23.4 mi • 7,456 ft gain • 11 hr 28 min
1 summit • 21.8 mi • 6,651 ft gain • 12 hr 16 min
"Mount Whitney via the Mountaineer's Route from camp at Upper Boy Scout Lake. Stunning up-close views of Whitney's E Face on the approach before inching up the cavernous couloir to the Notch. Chute was snow-free with lots of sand and scree in the upper portion. I climbed the final 400 and really enjoyed the scramble - lots of paths that work and a good hand-over-hand flow. Topping out via this route is surreal and wonderful - you pop out only a minute walk from the summit. In an instant, all the toil, care, focus, and thoughts of rough terrain evaporate into pure summit bliss! Hiked down the Main Trail to climb Mt. Muir - another fantastic scramble, before hiking back up the trail, taking the traverse to the Notch, and descending the Mountaineer's Route all the way back to the Portal. " —
klotito • Oct 10, 2021
"A nice day for a first time on Mt Whitney. I was solo this day, so didn't quite finish my attempts of Discovery Pinnacle & Mt Muir. I wasn't familiar with the nontechnical routes and wasn't quite comfortable attempting the routes I found on my own. The trip across the chockstones at the very end of Keeler Needle is quite scary, if not especially difficult. Thousands of feet of exposure greets you on both sides of a narrow ledge. The views from Mt Whitney were nice, though I think I may have preferred the view from Mt Langley." —
sareine • Aug 4, 2020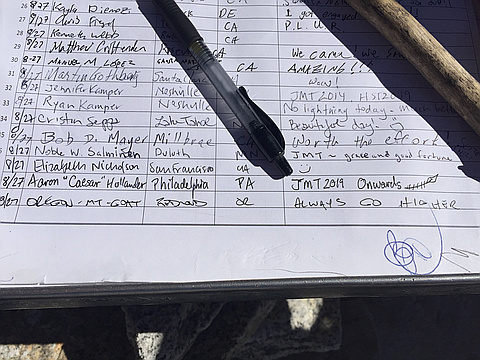 "night time start at 3:45 am and chose to get dropped off instead of trying to find a parking spot in the crowded lot. Ran into 6 glowing eyes at 9500 ft, thankfully they were just deer. Got to the lone pone lake junction at 4:45a, outpost camp at 5:08, trail camp at 6:15 for a beautiful California sunrise. Topped out at the crest at 7:30 and immediately headed for discovery pinnacle. Ten minutes later stood onto of the pinnacle. Then dropped down to the JMT and climbed up the west face of Mount Muir unroped with no protection. Probably not the smartest decision but made it up and down ok. 8:30a After lowering my heart rate back down went ahead and finished the traverse to Mount Whitney. Made it to the summit of the highest point in the lower 48 at 9:30 and felt great. Spent half an hour eating and drinking, enjoying the view and signing the register. Decided to hit Keeler Needle on my way down and topped out at 10:30, Aguille Extra finished the day at 10:50 and my legs were finally feeling the altitude. Took my time coming down and was back at the Portal by 3pm. Great day on some amazing granite!" —
oregon-mt-goat • Aug 27, 2019
"First off, let me encourage any capable rock climbers completing the John Muir Trail at Whitney to summit Mount Muir. It's only right. This fun fourteener only costs maybe an hour diversion from the trail. It's fairly easy but makes you feel like you did a real climb. And in my mind it honors Muir's under appreciated legacy of class 3/4 climbs. Look out for one of the multiple use trails on the right and grind that scree right up towards the top right. I followed a popular topo (google for it) and it worked out brilliant, doing a sort of zig zag keeping on the better featured sections. There's a short wide chimney just below the summit block I'd been concerned about but I just sort of scrambled over it. Luckily very little wind and I felt very comfortable chilling on the summit block signing the register. I had read about a big airy move but I didn't run into it. Certainly there was some big exposure if you wandered but no problem presented over it. The down climb had me a touch nervous but I just made a point about being cautious. Overall there are more dangerous sections coming up the switchbacks from Guitar Lake in the dark. " —
JustinB • Aug 10, 2018
"On the way to Whitney with my lady. The ranger had told us, when I asked about Mount Muir, that it was really exposed and that Katie was too short. She climbed the class 3 with ease. " —
MatthewWinterberg • Sep 7, 2016
"The Muir Hut is open and welcome to travelers passing by for cover from rain and other weather conditions, but camping is not permitted overnight, which is exactly what I wanted to do to avoid setting up the tent again!" —
HolleyB • Jul 11, 2016
"I took an unconventional approach and started my hike at Whitney Portal at 10am which brought me to Mount Muir's summit at approximately 430pm and back to TH around 11pm. The descent in the dark took almost as long as my ascent. Hiking down in the dark is much harder than up! Four hours down in the dark with busted knees and a crappy headlamp is not easy. Need more Lumens! Long ass day. " —
ThemountainsarecallingImustgo • Sep 5, 2015
"We had to turn back at 11,900 feet last week due to hail & lightning, so we drove back up from Vegas this weekend to finish the job! We started at 1230am from Whitney Portal. We took the trail up & reached the summit of Mount Muir soon after sunrise. We were feeling good, so instead of going directly to Mount Whitney, we decided to climb all of the needles along the way! In all, we climbed Mount Muir, S'Brutal Tower, Aiguille Junior, Aiguille du Paquoir, Aiguille Extra, Third Needle, Crooks Peak, Keeler Needle and Mount Whitney, in that order!!! From there, we took a brief rest, then headed back down the trail, trying to beat the sunset, since Amber's headlamp batteries were dead & we didn't bring extra. All in all, we hiked over 23 miles with 8600+ feet of gain in 18.5 hours, reaching the car at 7pm! Yikes! I would have had some photos to add, but Aiguille du Paquoir ATE my camera. It fell out of my pack at the summit, slid into a crack & completely disappeared :( " —
Kevin • Jul 26, 2014
"Started at Crabtree Meadows and had the trail to myself pretty much all the way to trailcrest! Got off the Whitney trail a bit too early and had to traverse to get under the summit block. The scramble to the top was good fun, although the wind made it seems a little scarier at the time then it really was. I'd definitely hit this up again next time I'm on Whitney." —
Christopher • Jun 24, 2012
Awards
about