Mount Mitchell is the highest peak of the Appalachian Mountains and the highest peak in the eastern United States.
Was the highest point in any state of the United States until Texas joined the union in 1845.
The nearest higher point east of the Rocky Mountains is Harney Peak in the Black Hills of South Dakota.
Protected by Mount Mitchell State Park and surrounded by the Pisgah National Forest.
A road leads to within 980 ft of the summit (lame) but at least everyone has to hike the last 980 ft.
"2nd HP for the day, cam from Mt Rogers. Nice drive to the top, couldn't see anything though, weather had come in and completely covered the mountain, could nearly see 30 feet. " —
CravinoCrew • Apr 8, 2021
"Hiked Old Mitchell Trail from park restaurant to paved trail from museum to peak. Trail starts up over a hill then down along steep side of the mountain below the park campground before rising to meet the campground trail. The section of the trail below the campground is like an obstacle course with steep steps and a knotted rope for a fun workout. On the way back down we skipped a second round through the obstacle course by taking the much easier campground trail to the road, getting back on Old Mitchell Trail where it comes near the road. Trails are soft dirt with some gravel, roots, and lots of rocks and boulders. " —
davidensley • Nov 22, 2020
"After my 3 peaks in Great Smoky Mt. N.P. in the morning, I drove the 5 1/2 hours to Mt. Mitchell State Park to see what I could do this afternoon. I wanted to summit Mt. Mitchell first, then hopefully add Mts. Craig and Big Tom to the list. Since it was only about 1/4 mi. from my pkg. spot to the summit, I was excited to get some good views that I hadn't at Clingmans, since the sun was out with some clouds. The modest observation deck isn't quite as imposing as Clingmans, which is understandable since Mt. Mitchell is the highest peak in the eastern half of the U.S. Nevertheless there are still a lot of tall trees on top of this mountain so the deck helps you see the surrounding area better. After taking videos of the great views, I returned to the pkg. lot and found the Deep Gap Trail leading north toward Mts. Craig and Big Tom." —
SteveM_StickMan • Jun 26, 2020
"After my rest and snack stop at Big Tom I hiked back up over Mt. Craig to the Mt. Mitchell pkg. lot. I wanted to get a proper summit picture so I walked up the summit of Mt. Mitchell a second time! My 6th state HP this trip." —
SteveM_StickMan • Jun 26, 2020
"Visibility was terrible. The whole mountain was wrapped in a cloud. Cold (36 degrees fahrenheit!) and windy. Couldn't find the benchmark - where did it go? I bet this place would be very pretty on a clear day! State highpoint #8 for me, #2 for my mother!" —
psychikingjes • Mar 30, 2018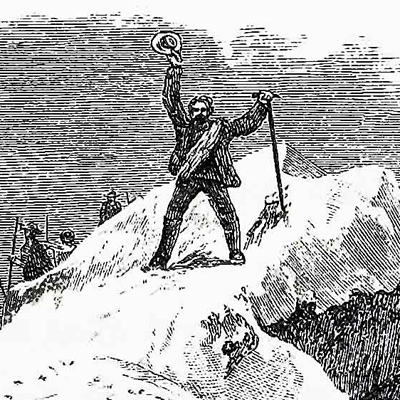 "Parked a car at the top and travelled down to Black Mt Campground trailhead. I'll tell you what, this trail is not for the faint of heart. It's a 4 hour stair master to the top with lots of uneven terrain and loose rock. It's an amazing experience though! We left the bottom and it was sunny and 55degrees F. Reached the top in 4 hours and the windchill was below 30. Saw bear scat in a few spots up. An amazing day with my son and friends as we bagged the highest peak east of the Mississippi! Camped that night in the primitive sites near the campground. Only bad thing was a burn ban was in effect due to the fires in NC that were easily visible from the summit. " —
praterdon • Nov 11, 2016
"Enjoyed a nice hike of Mitchell from the Campground. Started out at 10 am under blue skies, calm winds and 50 degrees. The trail up is rooty in the beginning and gets rockier as you climb. Although the grade is constant it is very gentle and we found the hike to be much easier than anticipated. The lower elevations are treed in with the views starting around 5300' at various switchbacks. Nice woods, some dense rhododendron covered trails (very different from the Adirondacks and Whites that we are used to). We ascended via Mt. Mitchel trail but decided to check out the Higgins Bald trail on the way back down, only adds a little extra mileage. The Higgins Bald trail must bot be used very often, it was easy to follow but had considerable debris throughout the trail. Overall a very enjoyable climb of 11.5 miles, ~3000' of gain in ~6 hours including summit time. " —
deb-and-rob • Oct 9, 2016
"Hooray for Labor Day weekend! We flew into Atlanta from Vegas with the intention of bagging 9 new state highpoints and a couple National Park highpoints in 4 days. We accomplished that and then some!" —
Kevin • Sep 4, 2016
"Long day hike summiting five 6K peaks under sapphire blues skies. Balsam Gap > Blackstock Knob > Commissary Trail > Mt. Mitchell > Mt. Halllback > Mt. Gibbes > Potato Knob > Blackstock Knob > Balsam Gap Total Distance: 19.4 mi. Altitude Gain: 4907 ft. " —
WGMayo • Sep 3, 2016
"Solo summit. This was a way cool hike. The road leading to Black Mountain Campground was pretty ridiculous! Started my hike at 0900, and was sweating as soon as I got out of my car. Though cooler in the mountains, the humidity is not something I'm acclimated to. I met two fellow hikers in the parking area, one was (oddly enough) from Schenectady, not far from where I live (small world!) & the other was from Chicago. We all hiked up independent of eachother and wound up at the summit within 5-10 mins of the others arrival. The trail was easy to follow & very interesting- the switchbacks made the ascent fairly easy and I kept a pretty rigorous pace. I added about a quarter mile by taking the Higgins Trail at the junction, in hope of the "open meadow with views" I had read about on the Internet, but this proved inaccurate and I was very disappointed. I met two young ladies from Kentucky on this section of the trail who were very friendly. I really loved the flowering trees (bushes?) in the forest as we do not have that in NY, & the bird noises were quite different than what I'm used to. About a mile from the summit, torrential rains fell and soaked me through to the bone.. But the coo..." —
kellieirene • Jul 25, 2016
Awards
about