Mount Lyell is the highest point in Yosemite National Park.
Located at the southeast end of the Cathedral Range, 1.2 miles northwest of Rodgers Peak.
The peak has the largest glacier in Yosemite, Lyell Glacier.
The most common approach to Mount Lyell is from Tuolumne Meadows on a highly traveled section of the John Muir Trail. The round trip is approximately 25 miles and involves 4,500 feet of elevation gain.
The hike is easy from Tuolumne Meadows, following the Tuolumne River to the head of the Lyell Canyon, and becomes moderate as it approaches Donahue Pass. Before reaching Donahue Pass, this route leaves the trail and heads south towards Mount Lyell.
Most summit ascents are done either over or around the Lyell Glacier.
Seasonal and year-to-year variations on the glacier make it necessary to assess current conditions before choosing a route to the summit.
The NW Ridge, from the saddle between Mount Lyell and nearby Mount Maclure, offers class 2-3 climbing with high snow levels on the glacier. Low snow levels increases the grade to class 3-4 on the exposed granite ledges, in which cases it may be easier to ascend the glacier more directly to the summit.
The grade of the East Arete likewise increases with low snow conditions, going from class 3 to class 4 (the looseness of the rock underlying the glacier on the East Arete makes it somewhat dangerous in low snow conditions).
Other routes exist on the south and west sides, but of greater difficulty and longer approaches.
"Super warm day. Snow was rapidly melting and we observed rockfall onto the glacier. We made it up to the col and failed at finding < class 4 rock to make it up to the summit plateau. Disappointing to make it so close to the summit, but I'm glad to have seen the Lyell glacier before it melts." —
edg • Jun 14, 2022
"Wanted to hit this early in the season to maximize the snow. Took the direct route up the central chute from the glacier. Last bit was pretty loose scree in the central chute to the top. A little ambitious for a day out with Maclure and not acclimated- didn't get home until after midnight! Complete TR: https://TheMtsAreCalling.com/lyell/" —
Christopher • Jun 8, 2021
"Where do I start? Joel, Jodie & Mark tried to do this peak as a backpack 3 weeks ago, but were turned back by some 4th class climbing that they weren't prepared for; this was the 'revenge' hike. We drove up 6 hours from Vegas on Friday evening, with the plan to make this a long dayhike. Amber, Joel, Jodie & I started on the trail at 1205am. We were slow and tired, having not slept - that was our first mistake. Jodie turned back 10 miles in. When we got to the snow slope below the glacier, Joel mentioned that it had melted out A LOT in the last 3 weeks. There was now much more exposed rock down low, which slowed us a bit. The real problem were the HUMUNGOUS sun cups that had formed...and they went all the way up the glacier. Those sun cups, coupled with the crappy snow conditions slowed us up tremendously. We ran into 2 groups that were turned back by the rocky route. Joel pointed out the right side of the summit block where he was not able to find the 'easy class 3' route that everyone talks about. We eyed a finger of snow that looked like it might lead to an easier climb & I took off ahead of Amber & Joel, since my second wind had kicked in. Well, I got in a bit over m..." —
Kevin • Aug 17, 2019
"Day 1: Left Tuolumne Meadows at 2pm. Asaka was feeling jet lagged so we kept a slow pace to start. Hiked to 9,700 ft where we set up camp at 8pm. Day 2: Broke camp at 6am. Followed JMT until second lake, where we left trail and continued to Lyell Creek. Climbed the granite slabs and a giant scree field until the base of the Lyell Glacier. Ascended the sun cup filled glacier with crampons and ice axes until we reached the Lyell/Maclure saddle at 12,500ft. From here, we did some careful class 3/4 scrambling up the northwest ridge, until the last class 2 boulder slog to the summit. We had great weather, and were the only ones to summit that day. We descended back to the saddle, then climbed nearby Mt Maclure. This was mostly class 2 with some class 3 along the last portion of the summit ridge line. Weather held quite nicely, and we avoided rain and thunderstorms from the ominous clouds above. We descended the eastern scree field, avoiding the glacier on the way down. We took a long rest at the third lake where we took a nap and cooled off our legs. Made it to camp at 7pm. Day 3: Broke camp at 9:45am. We descended at a comfortable pace and even jumped in Lyell Creek to cool off...." —
seancasserly • Jul 30, 2016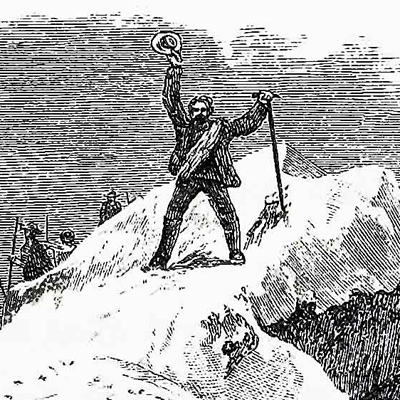 "Over the river and through the woods and across the meadow and up the mountain. Followed a supposedly 3rd class route description from Secor which turned into a gnarly rock 5th class rock at the end. We weren't going to do that unroped. Traversed over to the standard route eventually. Got back to camp just in time for a beautiful sunset." —
paperpanther • Jul 11, 2009
Awards
about