Mount Kilimanjaro is the highest mountain in Africa and 4th highest of the Seven Summits.
Lies close to the equatorÉ but has snow on top! These famous "Snows of Kilimanjaro" are rapidly melting and are predicted to be gone by 2022.
Among the tallest freestanding mountains in the world, with Uhuru Peak rising 15,100 feet (4,600 m) from base to summit.
An inactive stratovolcano with 3 volcanic cones: Kibo, Mawenzi, and Shira.
Uhuru Peak is the highest summit on Kibo's crater rim.
Several climbing routes exist: Marangu, Rongai, Lemosho, Shira, Umbwe and Machame.
Machame is by far the most scenic albeit steeper route up the mountain, which can be done in 6 or 7 days.
The Rongai is the easiest camping route.
The Marangu route is also easy and with accommodation in huts tends to be very busy.
Kilimanjaro National Park shows that only 40% of climbers actually reach the Uhuru summit with the majority of climbers turning around at Gilman's Point, only 300 meters short!
41 summits • 11.3 km • 1,191 m gain • 24 hr 14 min
1 summit • 11.2 km • 1,156 m gain • 9 hr 35 min
1 summit • 56.6 km • 4,255 m gain • 11 hr 20 min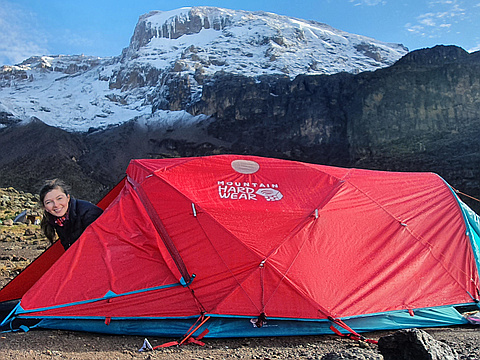 "Intending to challenge ourselves, we took the most direct and steepest route, Umbwe, with minimal porters (1 per two people), set up and dismantled camp ourselves, cooked our own meals and climbed within the mountain's winter season (Nov & Dec). We had roughly only 5 other teams on the mountain due to Covid travel complications, and had day 1, 2, summit day, and final decent day all to ourselves. We had food for 8 days but in the end only spent 6 days on the mountain, summiting on day 5. Our plan to acclimatize properly by spending more time at the highest camp (Barafu) was foiled as we learnt that one may only spend a single night at this camp unless being rescued. We therefor attempted the summit not sufficiently acclimatizes and exhausted from the heavy packs we were carrying ourselves. (Exhaustion results in oxygen depleted blood). We all incurred severe altitude sickness symptoms en-route, (vomiting, throbbing pain resistant headaches, loss of appetite, weakness, sleepiness), I hyperventilated on the summit and needed to descend rapidly, Wade developed HACE (symptom was onset of significant drunkenness) and had to be assisted down the mountain. We were happy to have ach..." —
CraigBurnsStellenbosch • Dec 11, 2021
"6-day Machame route. Rained all of day 1 to Machame Camp, but dry each day after. Couple of windy days in the middle, but clear skies and low winds on summit day. Just an awesome 6 days, really loved being on the mountain." —
jodola • Sep 14, 2019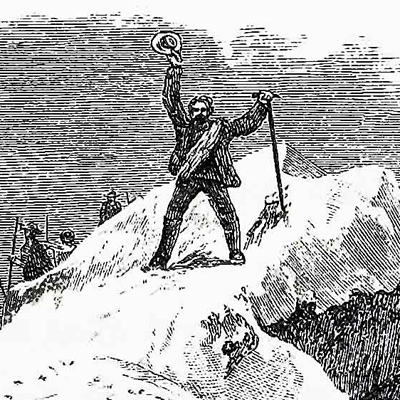 "Speed climbed Kili on a short trip to Tanzania. We reached the summit through Umbwe route in 33hours (including an overnight at Baranco camp), Total time spent from start of ascent to exiting through Mweka was 48 hours 37 minutes." —
shulmani • Dec 2, 2016
"Traveled with Alpine Ascents, with a group from Gainesville, Fl. We were summitting for Climb for Cancer, a group started by Ron Farb. The trip to seven days. This was a once in a lifetime amazing adventure." —
jaycochran • Jan 30, 2016
"7 days, stunning walk, first really big summit and first time over 4000m. 10 friends met from around the world to undertake the adventure - 9 summited to the top and 1 just made the first summit. 1 summited to the very top but was carried off the mountain - he was determined but should have stopped earlier. The one that didn't top summit recovered quickly and enjoyed rest of trip. Mild altitude sickness was experienced by most over the hike but overall pretty successful trek! Zanzibar after was well worth the reward! Beautiful Tanzania 🇹🇿 " —
Chefinthecity • Sep 16, 2015
"Did the trek to the roof of Africa. Once-in-a-lifetime experience Mount Kilimanjaro Photo Album: http://dimitriosfan.com/2016/12/28/mount-kilimanjaro-tanzania-%E2%80%A2photo-album%E2%80%A2/" —
DimitriosFan • Jun 25, 2015
" Our team did extraordinarily well, especially given the circumstances, and everyone showed a huge amount of strength and courage during our ascent up Mount Kilimanjaro. Wikipedia suggests that the success rate percentage for reaching Uhuru Peak is 41%, and our team achieved 52% (with 82% reaching Gilmans Point). Day 1 – Qwine Hotel, Moshi Our first day started with collection at Kilimanjaro International Airport – a pretty impressive name for what is in fact little more than a small single-story building with a runway. Most of our group arrived on a Qatar flight from Doha (via a 1hr stop at Dar Es Salaam where we had to remain in our seats) at the end of a three-flight journey, and we were looking forward to just getting into our accommodation to relax before the trek ahead of us. Our guides had booked us into a small (but 5-storey) hotel in the centre of the town of Moshi, called Qwine Hotel. As far as low-budget accommodation goes (remember we're here as a charity event, not a luxury holiday), it was okay – the rooms are a decent size and there is free wi-fi, albeit a bit patchy (as it seems to be everywhere in Tanzania). The highlight of the hotel is a 5th floor ..." —
mproudfoot • Oct 9, 2014
"An amazing and awful experience over the six day trek to the summit via the Machame route. Had excellent weather almost the whole time. We went through Meru Mountain Treks. Overall, we were satisfied with the tour company, and decided to climb the old fashioned way with no personal porters. A Tunisian fellow joined our group of four friends at the last minute and provided much comical relief during the climb, however got very bad altitude sickness and HACE and has no recollection of the summit itself. He was lucky to have been traveling with us four doctors, but really shouldn't have seen the summit that day at all. On day 4 we all got food poisoning, which hit me at the latest and was dealing with that gem of nausea about half way through the summit push. a magnificently horrible feeling, but I started to feel better around Stella point (although completely exhausted) and summited no problems and felt like a new man on the decent via Mweka later that afternoon. Feels amazing to have reached the top of one of the seven summits and by doing it in a non-traditional fashion than most Westerners. " —
MooseHiker • Apr 28, 2014
"Did Machame Route over 6 days. While it was the rainy season we really only had rains on Day 2 up to Shira Camp and we hid in our tents and the huts. We were the only team on the mountain that did not have personal porters, only a small group of 4 for communal gear and food. At Barranco Camp, every Westerner got food poisoning, as there may have been something in the water source, or possibly from the vermin running around camp. It was a 24 hour illness, so most of us were fine by summit night, unfortunately it hit Justin the latest and he was in the worst of the nausea and vomiting just before and through our summit push. We all persevered through the illness, however a Tunesian who was added to our group by the tour company we went with (Meru Mt Treks) developed HACE around 200m below the summit. I advised him to go down and he refused, and our guides did not force him to turn around. He was stumbling and falling from Stella Point all the way to the summit. I gave him 500mg of Diamox to hold of the worst of the swelling as long as possible. He tagged the summit and we sent him down with out assistant guide immediately and he ultimately made it back okay but had he stayed much lon..." —
Christopher • Apr 28, 2014
"Trekked up the Lemosho route (7days). There were definitely some long, hard days but also filled with so much fun and joy. I cannot thank my guide, Yahoo, enough for enriching my life. The only sad portion of this trip was when our cameras died on the summit due to cold. Luckily, we made friends with another climber and are still awaiting pictures to be emailed. Not only did we successfully summit but I was met with a proposal of a lifetime on the summit! I love you Tommy!" —
alison.ashby • Jan 27, 2013
Awards
about