Mount Garfield is a New Hampshire 4000 footer best known for its rocky knob summit with sweeping views deep into the Pemigwasset Wilderness.
Connected via Garfield Ridge to Mount Lafayette 3.5 miles away.
The Appalachian Trail runs along the ridge and across the summit of Garfield.
Most popular route to the summit is the easy 5 mile Garfield Trail which mostly follows old fire roads to the top before a short, steep, and easy scramble to the summit.
There is an old foundation on the summit of Garfield, which most refer to as from a fire tower.
"Began at 1:30am 7.15.2022 D&S GaleHead Trail Parking 1mi approx walk on dirt road before trail Bushwhacked but found trail Summit at 430am This was part of a 6-peaks in 34 hours. 33 miles total and all 6-on the 4,000' list of 48. Knocked out 11 on list in 5.5weeks " —
MountainGal1966 • Jul 15, 2022
"Pemi Loop. 20 hrs, 2 minutes. 4 of us. Flume was the first peak, Bondcliff the last. We also threw in Galehead and West Bond for 10 peaks total. Got some blisters out of this hike. Glad to have finally done one. " —
newenglandwarrior • Jul 1, 2022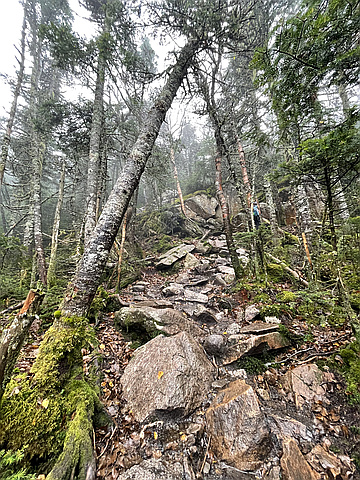 "Solo. 22/48. Staying in Carroll lined up nicely for this hike - the trailhead was just a little over ten minutes away! Started out on trail around 07:15. There was only one other vehicle in the lot, the weather promised to be grey and cloudy all day, car showed temperature of 44°. Nice start through a woodsy area with tons of roots to trip over and lots of interesting mushrooms. The trail was sopping wet the entire day. I could hear the stream roaring next to me somewhere below as I hiked in and was a bit nervous about stream crossings as it had rained the previous day. I encountered my first crossing of the hike (& the owner of the other vehicle, another solo female hiker about my age with her dog) and was pleased to find with trekking poles an easy hop across. I shed my jacket at this point too. After a couple more little stream crossings the trail continued at a very gradual incline, with gentle pushes followed by what felt like flat, nothing too hard to handle. About 2.5 miles in it became very rocky with running water underfoot more often than not. Some boggy muddy areas, some with makeshift bridges some without were present the whole hike. At the junction just..." —
kellieirene • Oct 4, 2021
"Molly and I hiked Garfield today. We parked at the gate and did the road walk up, then up the Garfield Tr. We made it about half way up before needing spikes. We had no views today. We were socked in. Another Grid gain." —
newenglandwarrior • Apr 18, 2021
"A hike with Molly and Denise. Made it up Garfield to poor weather conditions. Socked in and windy. We hiked over to Galehead but determined we did not have enough time to summit it. We came out by headlamp." —
newenglandwarrior • Nov 29, 2019
"3 days in WMNF. First two days included a nice overnight backpack of the eastern Pemigewasset Wilderness. On day one I hiked up Lincoln Woods and over to the Bonds, then continued on to summit the rest of the high peaks on the Eastern side- Zealand, the Twins, Galehead and Garfield, before setting up camp along the ridgeline above the Franconia Brook Trail. Ended up climbing Garfield in the the rain, which made for a dicey ascent/descent on tired legs. " —
wacbravo • Sep 7, 2019
"An easy climb. Spectacular views from the summit! Accidentally started to take the Garfield Ridge Trail down instead of the Garfield Trail, which took time to retrace my steps." —
NHClimber • Jul 7, 2019
"2 semaines solo de pure plaisir à faire du hiking à différentes places dont les Whites Moutains. Grosse journée qui commence à la noirceur. J'ai essuyé une tempête de l'enfer ici. Par chance la Galehead Hut était encore ouverte au sommet. J'ai pu m'y réfugier le temps que cela se calme un peu. Sur Garfield, les vents étaient horribles! Ils me trainaient par terre." —
fsoucy76 • Sep 21, 2018
"My hiking buddy was heading out for her first trek over Mount Washington, so I snagged a spot with the AMC Boston Chapter for a small group hike of Mount Garfield. The trail was easy and moderate throughout, and only tested my thigh strength for that top 0.2 miles. The company of my fellow hikers was fun and lighthearted, and the view--Amazing! We spent over an hour at the summit, soaking in everything we could." —
gooner • Jul 21, 2018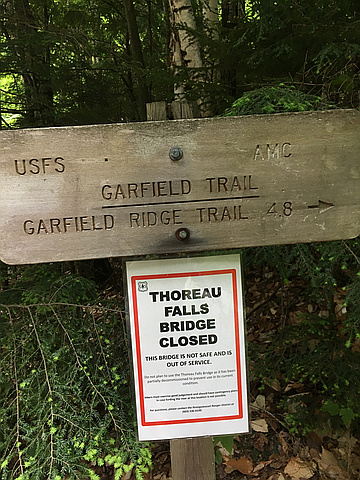 "Hiked Mount Garfield on 6/23. (9 of 48 4000's complete). 5 miles to summit. Fairly easy trail grading for most of the way up. Miles seemed to fly by. Only the last .2 miles is steep. Views are well worth it. Cold and windy at summit. Beat the rain out too. " —
dmcosker • Jun 23, 2018
Awards
about