Mount Frissell is located on the border of Massachusetts and Connecticut.
The highest point in Connecticut is, Frissell So. Slope, and about 300 yards along the ridge from Mt. Frissell.
While the peak and northern part of the mountain are located within Massachusetts, the southern slope of Mount Frissell is located in Connecticut and rises to the highest elevation of any point within that state, 2,379 ft.
Bear Mountain, located 1.3 miles to the east, is the highest mountain summit in Connecticut.
Mount Frissell is traversed by the Mount Frissell Trail which connects with the South Taconic Trail to the west and the Appalachian Trail to the east.
"Beautiful day for a short romp on the South Taconic and Mt. Frissell trails. An easy whack off of Mt Frissell to visit Mt Ashley. The mountain laurel was a bit scratchy on bare legs and surprisingly found numerous piles of moose droppings. To finish my day I headed over to the mighty Old Croken in the Drowned Land Swamp Conservation Area. The summit trail is basically an old road that provides a nice punchy climb to a bench for your viewing pleasure of the Harlem Valley and Taconic ridge. A short walk in the woods brings you to the summit pole. Spotted my first wild columbine of the season in full bloom." —
Nimblefoot • May 11, 2021
"As part of a 16 or 17 state highpoint blitz of the Northeast this August while working remotely 8 hrs a day from various Starbucks. Wrapped up the work day at 5pm and so thought I could do the drive 1.5 hr to Mt Frissell and get it done. Came in from the south up a gravel road. Met 2 guys walking back to trailhead up road (I probably was rude by not offering them a ride but I was on the clock!) and they said 45min at least to summit and they were moving quick. I parked with 6 other cars and headed down the trail with a few mosquitos. It was 30 min to the summit and 30 back....good to see all my training at altitude in the Rockies over the years is paying off. I just flew up the "steep" parts and enjoyed the treed terrain with solid rock outcrops. Views were really nice. Saw no one. Made it back as sun was setting. Drove onwards to Rhode Island and Jerimoth Hill." —
alexjoseph • Aug 9, 2019
"Followed the red-blazed trail from the AMC parking area in Mt Washington State Forest, on the way to the CT High Point and the Taconic Trail junction. A cloudy, foggy start gave way to a nice sunny hike." —
SteveM_StickMan • Jun 2, 2019
"Well! The trip to Connecticut's state high point certainly requires some driving, to say the least. The road was accessible with low clearance, but it was very muddy and rutted, so I'm glad my rental was high clearance with 4WD (but I didn't actually engage it, so... *shrugs*). Mt. Riga Road and the approach from the south (so heading north to the CT/MA state line) appears to no longer be maintained, so I came from the north (heading south on East Road from MA to the CT/MA state line). The last several miles of the road are "closed except to local traffic", but as we ran into three other groups on the trail, I'd take that sign with a grain of salt. We parked at the "Parking for Trail Head to NW Camp", which is right on the state line between MA/CT. The trail is to the west, next to the parking area, and marked with bright red blazes. Because it's very early spring, there was a ton of snow-melt that turned the first part of the trail into a stream, so we got a bit wet. Still plenty of snow/ice on north-facing slopes and shaded areas of the trail. The trail has steep sections climbing up the granite and quartz-sided slopes of Round Mountain and Mount Frissell (definitely class 2 mini..." —
psychikingjes • Apr 7, 2019
"A wonderfully warm day, 60's to 70*, with a blue sky and haze in the distance. After sauntering across the summits of South Brace and Brace mountains I cruise by the tri-state monument and CT. highpoint on my way to Frissell. I popped open the ammo box to sign in and read the inputs from recent visitors to this peak. Back to the CT highpoint for lunch in the sunshine." —
Nimblefoot • Feb 21, 2018
"Beautiful day for a winter hike! Trailhead and parking access was easy when traveling south on East Rd from Massachusetts. A fair amount of ice but was handled easy with micro spikes. " —
atwoheadedcat • Jan 20, 2018
"Decided to do some State-Highpointing on the East Coast for Labor Day weekend. We flew out of Las Vegas Thursday night into Boston, then bagged the highpoints of Rhode Island, New Jersey, Connecticut, Massachusetts, New York, Vermont & New Hampshire (with short stops in Pennsylvania and Maine for good measure) before flying back out of Boston on Monday. What a weekend! Hit this one after Round Mountain & before descending down to the CT highpoint." —
Kevin • Sep 5, 2015
"After visiting the tri-state monument and the Ct. HP we continued to the summit. Another new ammo box register thanks to the HPers, much better than the old wooden box nailed to the tree." —
Nimblefoot • Oct 30, 2014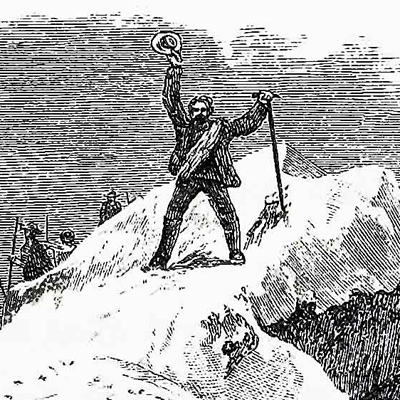 "Nice walk up,but on the way,my other half was startled by a wild animal ,I think a Coyote? It was very sunny.cool breezes,but nice.Later we descended down an finally got back to our vehicle. My other half,Deanna,she at the summit waved the flag from her former home state,Texas. In our picture's you can see my scorn on that one? Will post them shortly." —
kevin.titus.50 • Apr 6, 2013
"We continued on the Mount Frissell Trail to the summit of Mount Frissell. The trail takes you down Round Mountain and then up again to summit Frissell. It was a very steep trail and i think in the back of our minds, we keep thinking about how on earth are we going to get down. Also making it harder was the fact that everything was wet. Gloria had stepped into a spider web on the way up and she was freaking out. She very upset and was crying. She was able to pull herself together to finish the second summit of our very first hike together." —
elbesto • Oct 3, 2012
Awards
about