Mount Evans is a Colorado 14er in the Front Range and the closest fourteener to Denver.
Mount Evans dominates the Denver area skyline.
Unfortunately for hikers and mountaineers, there is a road to the summit, the highest paved road in North America.
There are annual bike and running races to the summit using this road.
The ruins of the Crest House, which once contained a restaurant and gift shop, serve as an observation platform near the summit.
Mount Evans is an extremely busy place but offers up a multitude of interesting routes that get away from the crowds.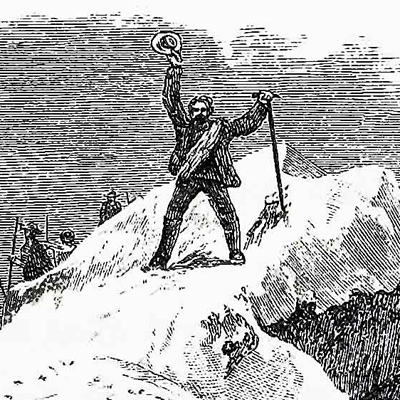 "I looked at this mountain for so long and wanted to Summit it so badly and tried and failed a few times before I finally made it and what an amazing weekend it was! I backpacked in and had the whole area to myself. Because of covid nobody was on the top except a few bikers so I had all the mountain goats and birds pretty much to myself. Absolutely stunning views and lovely weather and I saw a moose which was also very cool! This hike will always hold a special place in my hiking heart!" —
CheshireKatt13 • Sep 18, 2020
"While I can claim that this is my third 14er in Colorado, I'm not silly enough to truly claim it until I hike up it under my own power. That being said - beautiful. Simply stunning! I cannot describe how amazing it is to be up on a 14er, whether I hiked up or drove up. You really feel like you're at the top of the world. I'm looking forward to coming back and summitting Mt. Evans for real, along with some of its neighbors who you can grab on the trek up. It was a fun drive, and I'm glad I got up there before it closed for the season. " —
psychikingjes • Sep 1, 2019
"Drive up to Summit Lake. Had the intention of hiking up the short route up to the summit but we missed the trail and hiked all the way up the road. About 6 miles up, summited at 4:15 and took the trail down. 7.5 miles total. " —
aenea9881 • Sep 16, 2018
"Mt Evans - West Evans - The Sawtooth - Mt Bierstadt - Mt Spalding 9.8km with 500m gain in 4:15hrs While it looks like a cheat day: short, low gain and starting from the highest point which is accessible by car... but it definitely didn't feel like that. First of all, it was for the first time when I was consciously aware of the altitude: my legs simply weren't moving uphill. Similar to some cars at elevations 3,500m+: doesn't matter how much one presses on a gas pedal, it barely moves (actually we saw a couple of such on the road, a Jeep and Subaru). It was fine for me to go on flat surfaces or downhill, where little or almost no oxygen for the muscles was required. But uphill was painful and slow. Partially, it might be because of a lengthy traverse the previous day. Normally, such distance and elevation gain I'd do in half of the time (in home conditions in Alberta). But the altitude definitely took its toll. " —
alexp • Aug 6, 2018
"Mountain 4 of 5 for the day. A very rewarding moment after doing the Beierstadt, Sawtooth, Evans traverse. Unfortunately, I had a few bad interactions with very rude, obviously tourists that had driven up the mountain in a car. " —
IanWright • Aug 23, 2015
"Did this via Tour de Abyss - which starts on a switchback up to Evans. Drove up in two cars and left one at the summit so we could drive back down. This is my absolute favorite hike I have done so far. Started the hike with a quick jaunt up to the toilets at Evans which, with the crazy high winds that morning caused pee to go up instead of down - yes I share too much :) The Willows were a new one for me - I always thought they were huge trees with long drooping branches - wasn't expecting a swamp like area and had no gaiters. Other lesson from this trip, pack more than needed. We started around 330am and were confident we would be finished by 11am at the latest. We got down around 4pm I think. Longest day ever! Didn't pack enough food or water and ran out before we ever made it to Evans. We demolished two family sized bags of sour cream and cheddar chips on the drive down while dodging tourists taking photos of big horn sheep. Yes - we were those people. Hangry :) But still my favorite hike ever - please look for repeats " —
kelseyjames8675309 • Aug 21, 2015
"Started around 7:30am from the Mt. Bierstadt parking lot. Hiked Mt. Bierstadt then crossed the sawtooth for Evans. Like I expected lots of people on both summits but the sawtooth people free. Had some hail and rain on the hike back from Evans." —
Ryan_Wallace • Aug 10, 2015
"Second summit of Mt Evans. In much better shape was able to complete in 9 hours and even took side trail to see the water falls. Very good hike! Note: I did not realize that the road was closed and I enjoyed the summit alone! What an day!" —
Brandon-Shinsplint- • Jul 11, 2015
"As a last hoorah together before parting ways on our optometric externships, my roommate and I took a roadtrip from Philadelphia, PA to Denver, CO. We may or may not have driven a majority of this, but it was mostly because of my traveling time constraints. I wish I had more time, the mountains out here are beautiful. " —
AngieBaby • Aug 15, 2014
"This was my second attempt at Evans. The first I knew nothing about hiking or mountains, and this one defeated me. I was determined! I started at the lodge and hiked towards Echo Lake. I then picked up the Chicago Lakes trail and headed for the summit. One of my more difficult hikes. It took me 12.5 hours to hike out and back. At the summit I had an overwhelming sense of accomplishment! My summit time was short lived with the fear of a storm moving in. Between Evans and Spalding the sky opened up with Snow...so funny." —
Brandon-Shinsplint- • Jul 6, 2014
Awards
about