Mount Elbert is the highest Colorado 14er, the highest peak in the Rocky Mountains, and the 2nd highest peak in the continental US.
There are three main routes up Elbert, all of which gain over 4,000 feet of elevation. The standard route ascends the peak from the east, starting from the Colorado Trail.
Mount Elbert is a popular backcountry ski descent in the Spring.
Despite its height, Elbert's summit has been reached by Jeep, mountain bike, and many puppies.
"June 5, 2023. A nice day on the mountain. Only used hiking boots, no traction needed. Summit views were amazing. Saw one mule deer, brown-capped rosy-finches, and a few marmots and pika. " —
runningvegan • Jun 5, 2023
"A failed summit on Wheeler, NM in the snow just the day before had us in pretty low spirits. After Wheeler we drove up to Leadville, CO where we checked into our VRBO, got some food and planned and packed for Elbert in the snow the following day. Waking up at 3:45, we headed out to the trailhead in the cold dark. Hit the trail early to get a head start on our 10+ mile hike and 4,500' of ascent. Elbert was hard to be sure. Long haul to the treeline where we stashed our snow shoes and went on through the wind stripped mountainside. Temperatures dropped as we climbed, with wind gusts in the 40-50mph range. After a couple false summits we finally found the top of Colorado and the sun popped out to greet us. As Zach came up he said "nothing about that was easy" - I couldnt agree more." —
wiweasel • May 12, 2023

"Climbed the east ridge with the Lockwood Foundation's annual Trailride a 14er event. Beautiful experience with dozens of other people helping a woman with ALS gain one more peak. https://youtu.be/Ji-oBhXbwNU" —
cheeseishappiness • Sep 12, 2021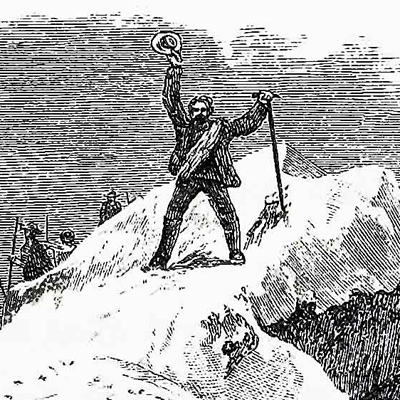 "Reached the parking lot by 0400 and started hiking around 0420 The road to the trailhead was closed so it added 1mi exactly each way, which was relatively easy, but a pain coming back. I made quick of the climb, reaching trailhead by 0435, the tree line by 0550, and summited by 0750. I stayed at the summit to wait for some folks for about 40 mins, which cooled me down quite a bit. I descended and made it back to the trailhead by 1042 and to my car 15 mins later. There was some smoke from the Dixie fire in California which impacted some of the views, but still magnificent. I look forward to exploring more 14ers in the area soon. The hike was not too difficult, but the two false summits do crush your spirit a little, even if you expect them." —
mchikes • Aug 9, 2021
"Up from the North trail, which due to road closures ended up being around 12 miles. My first 14er and first time being up past 12,000 ft in a few months, so I was feeling the elevation. Overcast day, but great views at the summit. Nice run down to the car just as afternoon thunderstorms were rolling in. Not the most exciting mountain, but beautiful scenery. " —
daviddeang • Jun 24, 2021
"I have been thinking about Mount Elbert, elevation 14,433, for the last 4 years and planned to hike this peak as a little celebration for turning 65 this year. It was special to me because it is the second highest peak in America, not counting Alaska, and the highest peak in Colorado. For my 60th I did the first highest peak, Mount Whitney in California with my son Garret. Turning 61 I hiked the highest peak in Arizona, Humphreys Peak with my daughter Christina. I really did not want to hike this peak by myself. I asked 6 people to go with me and 2 wanted to go but they were engineers and their firms would require them to quarantine for 14 days when they returned to New Mexico because of the Covid-19 epidemic we are experiencing. I reluctantly went by myself. I planned on driving up from the Albuquerque area Sunday August 30, 2020, spending the night near the Mount Elbert 4WD trailhead in my 1992 Land Cruiser, hiking the peak Sunday August 31st, then driving back that day or spending one more night. I left my house at 7:30 AM. It was a 6 and 1/2 hour drive north through central New Mexico and central Colorado to near Colorado's midpoint. I passed the 2WD trailhead. The 4WD tra..." —
Phil-Robinson • Aug 31, 2020
"Camped at one of the dispersed sites about 1/4 mile before the trailhead, very convenient. Got up early to hit the peak before any potential storms came rolling through, had beautiful weather up there. A few false summits, but only the last one really fooled us. These trails are very busy. Cool to greet the CT and CDT trekkers passing through on our way down." —
jodola • Jul 17, 2020
"A beautiful day that was a bit hard on my knees, to say the least. We camped in the national forest next to the North Mt. Elbert trailhead - only about a tenth of a mile away from the trailhead. We were on the trail by 5 AM and made the summit a little bit after 10 AM. It is STEEP - very, very, VERY steep. The weather was very windy on the way up, but died down by the time we made the summit and on the way down it was a bit too warm without a breeze. No issues routefinding; the trail is very clearly marked. It's stunningly beautiful and I'm so glad to have summitted my first Colorado 14er (under my own power - I don't count driving up Pikes Peak, even though I log it on here). Elbert was a great start. I wish the trail was better switchbacked, and my oh my is it rocky and also slippery from washouts on the steepest parts. I wish I had brought poles for the trek down for the worst parts of it. Still - a beautiful, beautiful day and I'm so glad to have experienced this. USA State high point #25 for me - halfway there, but some big ones still to go...!" —
psychikingjes • Aug 30, 2019
"This was a surprisingly grueling morning for me. I actually found Mount Elbert's ascent to be more challenging than Mount Whitney's (though its descent wasn't nearly as tough on my knees). Whitney's 6,000+ ft. incline was more spread out over the 11-mile ascent, whereas Elbert's 4-5k incline was much less gradual over its ~5 miles. Other factors that affected me included suboptimal respiration above treeline, receiving only 2-3 hours of sleep the previous two nights, dealing with uncomfortable weather (for summer anyway) that had me constantly switching in and out of clothing, and having to overcome other psychological hurdles such as reaching multiple false summits and witnessing other hikers pass me by on the trail. Usually I'm the one doing the passing on these Class 1 trails, but on this occasion, the aforementioned factors slowed me down to a crawl. Unfortunately, all the hiking, running, stair-climbing, and other exercises I did all summer long didn't pay off as much as I had hoped. While I eventually summited the highest point in Colorado and the entire Rocky Mountain range, I didn't exactly set the FKT with my efforts! The descent wasn't quite as bad, with the exception..." —
theascent • Aug 21, 2019
"Plan was to summit Monday but weather said to go Saturday. Flew into Denver at 11pm Friday drove through a snow storm to the TH and started hiking 3 hours later. Had bad stomach issues right away assuming because of the altitude and it sent me down before attaining the windy summit. " —
Happyjoecappy • Apr 27, 2019
Awards
about