Mount Colvin is an ADK 46er in the Adirondack Mountains of Adirondack Park, New York.
Offers excellent views of many other Adirondack High Peaks including: Giant, Rocky Peak Ridge, Upper Wolfjaw, Lower Wolfjaw, Armstrong, Sawteeth, Gothics, Saddleback, Basin, Tabletop, Marcy, Haystack, Redfield, Allen, Nippletop, Dial, and Blake.
Named after Verplanck Colvin, an explorer of the Adirondacks and the director of the survey which mapped the region. After naming many other peaks and geographic features, he chose this less-prominent mountain to name after himself.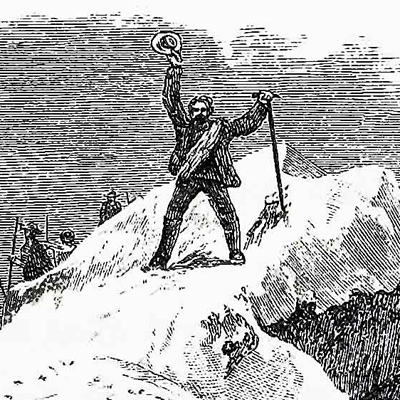 "Hot and buggy. We hiked in, set up camp at Gill Brook, and then did these two peaks. By the time we finished and returned to camp, it was dusk. Steep, muddy, difficult trails." —
hanawalton • Jul 5, 2021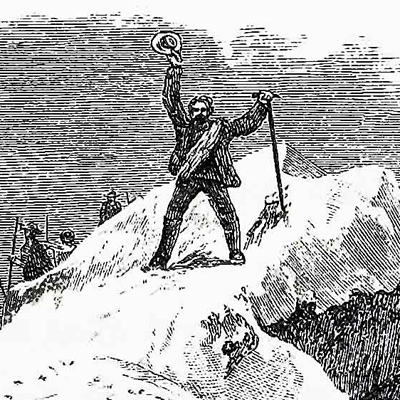 "18.3 miles in 12 hours. Sunny and clear skies, in the 20's with light wind. Started at 6:30 am from the St. Hubert's lot. Walked through Ausable Club and down Lake Road until the Gill Brook cutoff (put on snowshoes at the cutoff). Met up with Gill Brook Trail and continued towards Colvin then Blake. Great views of Lower Ausable Lake, the Great Range, and Giant/Rocky Peak from Colvin. Peaks of Nippletop and the Dix Range from Blake. Steep ascents and descents between these two peaks, switched to spike because it was easier. Doubled back through Colvin after hitting Blake until the Elk Pass junction and continued up towards Nippletop. Steep ascent, quick up and down to get to actual summit. Amazing views of the Great Range, and many more ranges to the South and West. Continued the loop with the Leach trail towards Dix Mountain, more views of the Great Range as the sun was starting to set in the background. A couple more ascents and descents to Bears Den and Noonmark Shoulder (timed perfectly with the sunset), then a very steep descent back down to Lake Road, where we needed headlamps right as we met up with it. Easy walk back to the lot to finish the day. Overall, t..." —
gregoryskiba • Mar 13, 2021
"Started out from St. Hubert's at 6:15am. First car in the lot and first person to sign in at the gate. Headed down the Lake Road to the Gil Brook Cutoff Trail. Headed out to Colvin and Blake from the junction at Elk Pass. Not alot of snow. Bare boots until putting on microspikes at Elk Pass. I forgot how little fun the drop between Colvin and Blake is while knowing that you will have to reclimb it shortly after. However, the day was successful. My watch did stop logging mileage for a couple miles on the way back to the car. The mileage of the total hike was right around 15 miles and I made it back to the car right at 3:15pm. Overall, a nice day to take down two more winter 46ers. " —
LGH-Tom • Dec 22, 2020
"Parked at Roaring Brook, hiked past Ausable Club and up the access road to Gill Brook Trail. Hiked up Colvin, down and up to Blake, out-and-back over Colvin and past the Club to parking. Colvin -> Blake = difficult. Strava issues yield bad track returning from Blake to Colvin." —
hunterjfrost • Nov 8, 2020
"Becca and I parked around 430, took the Gill Brook trail mostly in darkness, then went up Colvin and through to Blake. On the way back, we lunched on Blake to a great view on a side lookout." —
mikebenjamin • Sep 4, 2020
"Came in through the Ausable Club for the loop. Went up Dial to Nippletop. Cold day, easier climb to both of these. More difficult climb down to trail for Colvin. Bushwhacked up to trail before Colvin then hit Blake and back out through Ausable Club. Long day, 12 hours and a very sore right ankle. 💁🏻‍♀️" —
bbergman • Aug 30, 2020
"Attempted to do the Colvin Range in a day. Foot problems on return trip to Ausable Club changed plans. Plus, ran out of water near trail split to Elk Pass. Really disliked the descent and climb to Blake. Blake turned out to be my least favorite of the ADK high peaks." —
JMindlin12463 • Jul 29, 2019
"Good morning!, Back to the AMR road for one more adventure before I leave for home and its true what they say about its the early bird that gets all the cobwebs, lol, Cleared about three miles of trails today,, your welcome! Great day on another Solo hike to Blake and Colvin 46ers. 5:30 start because of pending thunder storms approaching but was able to summit and back to the car by 2:30pm and no rain till I got my return under way,, Colvin had some great views but Blake was a treed summit,, But all and all seen some great water falls along the long and sometimes steep winding trail! Enjoy" —
ramjet1963 • Jun 26, 2019
"Great day with great friends hiking Mount Colvin w46er,, Snowy then blowing with good wind gusts near the summit, Attempted Blake Peak but Abborted 75% down the the coll due to Change in weather and breaking up to two feet of snow along the trail,, Best decision we made ,, had a great time on the summit of colvin but made for a very exhusting day" —
ramjet1963 • Feb 2, 2019

"Late fall conditions. Very muddy with thin ice covering steep pitches. Microspikes were the best option for traction but far from ideal. Some groups were using straps and ropes on the steep parts." —
decentdiversions • Nov 4, 2018
Awards
about