Mount Adams is a potentially active stratovolcano in the Cascade Range and the second-highest mountain in Washington.
Adams is a member of the Cascade Volcanic Arc, and is one of the arc's largest volcanoes, located in a remote wilderness 31 miles east of Mount St. Helens.
The Mount Adams Wilderness comprises the upper and western part of the volcano's cone. The eastern side of the mountain is part of the Yakama Nation.
Adams' asymmetrical and broad body rises 1.5 miles above the Cascade crest. Its nearly flat summit was formed as a result of cone-building eruptions from separated vents.
The volcano has a volume of 85 cubic miles placing it second only to Mount Shasta in terms of bulk among the Cascade stratovolcanoes.
The Pacific Crest Trail traverses the western flank of the mountain.
"One day push from south climbers trailhead. Brought a first time climber with me to see if I could convert another flat lander. Left the parking lot at 9:30 and had a nice walk to about 7500 ft before hitting the snow. Got to lunch counter at 12:30 and dropped the camping gear off in a great rock shelter near some running meltoff. After lunch and hydrating took on the south face. Our pace was really slowed by my newbie and the heat. At 11,000 ft my companion hit his limit so went the rest of the way solo. Brisk winds at the top but clear skies to Rainier and St Helens. The glissade chutes were icy and the top and slushy at the bottom but still made for a fun decent and saved the legs from down stepping. Fantastic, windless night at the lunch counter. The Saturday crowds were coming up as we finished our decent and made it back to the car exactly 24 hrs after we left. Not sure my friend will ever climb another mountain but good memories were made! " —
oregon-mt-goat • Jul 17, 2020
"36th summit I've climbed. A very difficult but beautiful and nontechnical climb via the South Spur, with just unbelievable views the whole way up, but especially on the summit. Overall rating 10/10, a bucket list climb for anyone in the northwest looking to climb one of its highest peaks with minimal technical difficulty. " —
MountainQuest • Jul 17, 2020
"Camped at Glacier lake to summit, then back to camp. 8000' elevation gain. Crampons were worn from 2750m to summit. Full fall conditions, and Ice lead to a longer summit day. Didn't see a person in the 3 days." —
ken_hercules • Oct 12, 2019
"Part II - Climb to the summit from Lunch Counter Left for the summit from Lunch Counter around 4:30 a.m. with our crampons on. The sunrise at 5:30 a.m. was spectacular. Climbed up the snow fields most of the way and across rocky scree areas in places. The suncups were prominent, deep in places and endless. Overall, it was a straight-forward climb on the way up to the summit with an ice axe, crampons and one pole. The views from the summit were amazing on this clear day. From the summit you could most of the Cascade Range volcanoes (Mt St Helens, Mt Rainier, Mt Hood, Mt Jefferson, Mt Baker, and Glacier Peak). it was spectacular!.We glissaded on the descent in multiple places. This was quite fun, but beware of the occasional rocks given the low and slushy snow conditions. After descending to our camp at Lunch Counter, we packed up and hiked the rest of the long and hot trail back to the trailhead. I definitely recommend getting an early start and returning before it gets too late in the day and the snow conditions deteriorate further. The wildflowers and burnt tree trunks make for a very dramatic hike." —
joeerickson • Aug 6, 2019
"Returned to Adams 6 years after a miserable early season attempt where we were stormed off the mountain. This time, things could not have gone better. High winds were forecast but failed to arrive. We had a nice climb up the South Butte / Winter Route up to Lunch Counter. Overnight was chilly but not cold. We awoke to clear skies and light wind - perfect cramponing conditions up Pikers Peak. The traverse from Pikers up to the summit was longer and harder than I anticipated. Crystal clear views of Hood, St. Helens, and Rainier. The top of the glissade chute on Pikers was still very icy, so we descended about a third of the way down before glissading back to camp. A great climb!" —
edg • Jun 23, 2019
"Six of us were stuck in a cave for three hours on 8/4/18 about an hour below the Lunch Counter. Severe hail storm with lightening. No warning. We were instantly wet and cold." —
blindskov • Aug 5, 2018
"Left Spokane the day before at 2PM and cruised into Cold Springs around 8:30PM. It was a Tuesday so much fewer people than the trip reports that I've read before…maybe 15 cars. The next morning I started on the trail around 6AM, wishing I'd woken up earlier. The ascent was spectacular. 5mph winds, no clouds, 40ish degrees. The only downside to the elements was the haze from the British Columbia fires. I never got a glimpse of Hood or MSH, and only a peak of Rainier (once I summited). I knew it was going to be warmer so I decided to go without ice axe (trekking poles only) figuring if anything I'd be postholing because of warm weather. I did bring and use crampons, which would say are quite nice on the final push up false summit. The most difficult part was the final hump getting up to the false summit. Once at Piker's I met some really nice people out from Baltimore who were meeting their son in Seattle afterward from a cross-country bike trip (He was in the midst of riding coast-to-coast, east-to-west). From there the peak is less than a 1000 feet up, so we all ascended up together-ish. Up to the summit in about 7 hours. We ran into another group at the summit out ..." —
zachmitch • Aug 9, 2017
"long slog up, mostly boots and crampons above the shoulder. snow was crappy, hard runnels and variable up high, with a few thousand feet of decent conditions on the SW Chutes lower down where it had softened enough. lots of traversing and up-climbing over various ridges, constantly traversing left on the descent to make it back to the south side route and trailhead, definitely made the descent lots of work and less enjoyable" —
hauteroute • Jul 1, 2017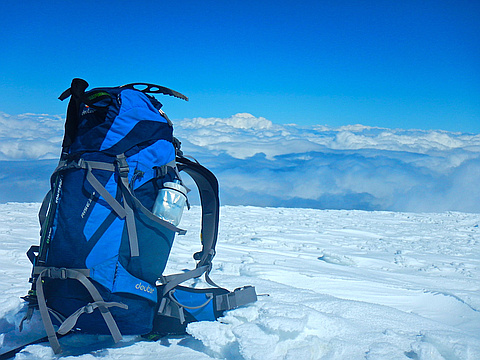 "Solo, 21.9km return with 2297m of elevation gain. Started with sunrise at 5:16am; 5hrs up, 2 - down, 8 hours car-to-car. Had whiteout between 2600m and ~3000m, twice. Plus a thundercloud on the way back, had to run down from South Butte." —
alexp • Jun 9, 2017
"Another Cascade volcano ski weekend (I can't get enough of these!)...a short sleep leading into an after work drive to Rogers Pass for another short sleep in the car in the rain, and then working from Vernon before driving 9 hours with buddy to Trout Lake, Washington for 2:30am arrival and 3 hr bed down in the tent. Up at 6am and walking up the logging road at 7:30am with 2.5km of walking until skis on and another 1km to trailhead and then the long slog up the south rib. Buddy wasn't feeling it so turned around half way and I continued up. WTF I have to go down after the first false summit!!! Pushed through with ski crampons to a windy summit and then tried to ski down skier's right of the terminal moraines but massive cornice with huge glide cracks meant I gingerly skied alongside the cornice ridge all the way into the forest. Skied a ways down until finally reaching end of snow and 2 guys packing up there skis. Walked out and ended up at campground and so had to walk 1km back up the logging road to the car. 8 hrs up and 2 hrs down 2300m and 22km. Went to cafe after (great spot) and at 7pm, with prospect of doing it solo and advice from a Portlandian to not take the Palmer lift at..." —
alexjoseph • Jun 3, 2017
Awards
about