Mont Blanc (or Monte Bianco in Italian) is the monarch of the Alps and a classic symbol of mountaineering.
The white-domed Mont Blanc Massif towers over the Aosta Valley, Italy and the Haute-Savoie, France, ranking 11th in the world in topographic prominence.
The two most famous towns near Mont Blanc are Chamonix, France and Courmayeur, Italy.
The summit is on the French-Italian border and both countries claim it as their highest peak.
The summit of Mont Blanc is a thick, perennial ice and snow dome whose thickness varies, so no exact and permanent summit elevation can be determined.
The Mont Blanc Massif is a popular mountaineering, hiking, and skiing playground.
There are several classic climbing routes to the summit. The most popular route is the Voie des Cristalliers through the Gožter Corridor, considered dangerous because of frequent rock-falls, leading to Gožter cabin for night shelter. The next day the route leads to the D™me du Gožter, and L'arrte des Bosses.
A less popular but more technical route is La Voie des 3 Monts, which starts from the Cosmiques Hut and ascends Mont Blanc du Tacul and Mont Maudit before a final ascent to the summit.
Naother route, the Grand Mulets route, is frequently traversed in winter by ski and poses some icefall danger.
The famous view from the summit of Mont Blanc looking down at all of the major peaks in the Alps is not easily forgotten.
"That was one of the goals I was preparing for as part of my solo expedition in the Alps! Tried to scale it all the way from Chamonix, but after reaching the top of Mer de glace glacier, got kicked out by bad weather and nasty crevasses on Glacier du Geant icefall. So I took the lift to Aiguille du Midi and went up the 3 Monts route to Mont Blanc and spent the night at Vallot bivouac at 4365m. The next day walked all the way down to the village Les Houches at 1000m altitude. " —
Christos • Aug 11, 2018
"Also visted the Italian highpoint Cresta delle Bosses (P.4760m) and climbed Aiguille du Goûter (3863m) and Dôme du Goûter (4304m). 3 day climb with one bivac. For more info and photos: http://www.hikr.org/tour/post56279.html" —
Sputnik • Sep 16, 2012
"First ever alpine ascent. Arrived in Chamonix 19th September 2011. First snow of the season and very high winds made acclimitisation and preparation very difficult. We followed the Gouter route starting Les Houches Cable Car. My very good friend Chris Hart and I summitted 23rd September on a warm sunny day with very light winds even at the summit." —
neilsheward • Sep 22, 2011
"Miki and I climbed Mont Blanc in two days from Chamonix-Les Houches via normal route. We were acclimatized before so that's why we went that fast without problems. On the summit weather changed and some cloud covered the peak so we couldn't see nothing from the Alps scenery! It was very cold and we couldn't wait the sun that appeared after half an hour! Even the beers we were taking with us we drink ed in the Gouter hut on the way back!" —
FilipVasileski • Jul 4, 2009
"The ascent was made for a friend paralyzed from the neck down. The route chosen was the classic, the night sleeping in the refuge Tette Rouse. At 00:30 we started the Grand Corridor, and after I passed the first retreat, I was happy to finally see the mighty peak in May deaproape. Unfortunately, after Vallot refuge had to team up with two other people to reach the summit at 10:32. The joy was indescribable, especially because it was my first ascent of a peak from abroad." —
CODmunte • Aug 31, 2007
"Ski slogged up the Three Monts Route. An epic 17 hour day. We set out from the Cosmiques Hut at 3:30am and headed out onto the glacier under the light of our headtorches (UK for headlamps). So it was guide Steve, Jan and me on one rope team and guide Graham, Josh, and Bill on a second rope team. Our chosen route, the Three Monts Route, would take us on a grand traverse of two other Monts before culminating on the summit of the highest point in the Alps. First began the ascent of Mont Blanc du Tacal. We skinned up the increasingly steep east face in the darkness. At one point Bill lost the grip on his pole and we never saw it again. About two-thirds of the way up we reached a bergshrund; we climbed over one at a time using skis as a ladder. Next up was an ascent of the second Mont, Mont Maudit. A 12-foot-high bergshrund blocked our path in the steep upper slopes, so after some bandying about our guides pierced the shrund and led up a route of ice screws to the ridge top. The back side of the ridge was a boiler plate sheet of ice – Josh started to slide off the slope but was arrested just in time by his rope team. We traversed along the back of the ridge using ice scr..." —
scott • Apr 30, 2005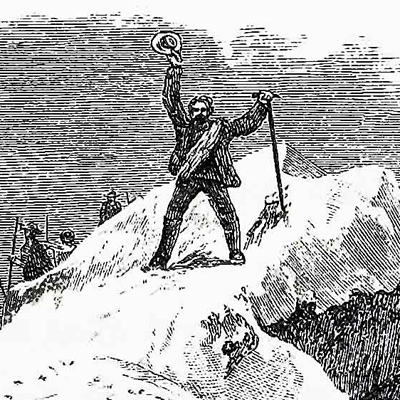 "Arrived at Gouter around 20.00 on 12/6. Started early in the morning around 04.30 and then went up to the top with 2 experienced french alpinists. After the summit (had clear sky) went down via Grand mulet refuge and glacier de Bosson, passing aiguille de midi. " —
niklasbennwik • Jun 13, 1994
Awards
about