The Matterhorn, also known as Monte Cervino in Italy, is a 4000 meter peak in the Alps and perhaps the most iconic mountain in the world (peakery features the Matterhorn in its logo!).
The distinct, towering pyramidal shape has four faces facing the four compass points.
The Matterhorn's faces are steep and only small patches of snow and ice cling to them; regular avalanches send the snow down to accumulate on the glaciers at the base of each face.
The Matterhorn lies in the Pennine Alps on the border between Switzerland and Italy.
The Matterhorn was the last great Alpine peak to be climbed and its first ascent marked the end of the Golden Age of alpinism.
The first ascent in 1865 by an expedition led by Edward Whymper ended tragically when most of its members fell to their deaths on the descent.
The Matterhorn's North Face is one of the 3 Great North Faces of the Alps. It was not climbed until 1931. By modern standards, the climb is fairly difficult (AD Difficulty rating), but not hard for skilled mountaineers.
The most popular route to the summit is the northeast Hornli ridge. There are fixed ropes on parts of the route.
The usual pattern of ascent is to take the Schwarzsee cable car up from Zermatt, hike up to the Hornli Hut (elevation 3,260 m / 10,700 ft), a large stone building at the base of the main ridge, and spend the night. The next day, climbers rise at 3:30 am to reach the summit and descend before regular afternoon storms move in.
1 summit • 14.1 km • 399 m gain • 15 hr 26 min
1 summit • 8.5 km • 1,320 m gain • 4 hr 34 min
"Epic climb before the guides closed the mountain because of dangerous conditions. They all commented on the lack of snow at the summit and the warm temperatures. Ascent was straight forward with some fixed rope aids. Descent was brutal with all the down climbing and route finding required. 4 hours up and 3:40 down." —
oregon-mt-goat • Jul 21, 2022
"Started with my guide Michal Sekelsky at 4 in the morning from the Hörnli hutte. Tired after no sleep in the hut. Around 30 people in total started to climb. Reached Solvay hut within 2- 2,5 hours during the sunrise, and put on the crampons at the start of the fixed ropes. Used no axe after the fixed ropes near the summit. Cloudy weather but on the way down the sky cleared up a bit. Drank 2 liters of water and 1,5 l Coke! and had a bar and a sandwich at Solvay hut on the way down. It took me 4,5 hours up but around 6 hours down. Exposure on the ridge and tired knees is one explanation. The climbing up was very fun and varied. This summit is a great achievment for me. Fantastic feeling at the top! " —
niklasbennwik • Jul 18, 2017
"Icy ascent. It was a race to the summit. Stabbed my leg with a crampon on the way down. Blessed beyond words to be able to attain this life long goal. I believe this to be the most beautiful mountain on Earth." —
amygiannantonio • Jul 28, 2016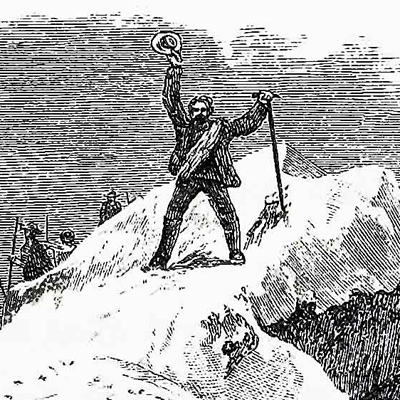 "As part of Mountain Ventures intermediate alpine training course. With Lew hardy (guide) and Anne Jago. We set off at 05:00 from Hörnlihütte for the Hörnli ridge of the Matterhorn. We climbed very fast and from being about the last party out ended up being the fourth rope on the summit. There is a large amount of easy climbing, with some false trails. There are some iron rings for belaying (not many). There are fixed ropes above the shoulder which allow pitches of III to be avoided. At the top of the fixed ropes it was necessary to put on crampons in a very awkward and confined spot. The last part was snow/ice. The summit was reached at 09:45 and has a narrow snow/ice crest. Ascent televised from a helicopter for German television. Descent same way reaching the hut at 15:45. A wonderful climb done in perfect weather." —
peter43 • Aug 15, 1983
Awards
about