As the only Colorado 14er in Rocky Mountain National Park, Longs Peak has long been of interest to hikers and climbers.
It is the most popular fourteener and on a given summer weekend day typically sees hundreds of ascents.
The easiest route, the Keyhole Route, is non-technical during the summer season.
The East Face of the mountain is quite steep and is surmounted by a gigantic sheer cliff known as "The Diamond" (so-named because of its shape, approximately that of a cut diamond seen from the side and inverted ).
Another famous profile belongs to Longs Peak: to the southeast of the summit is a series of rises which, when viewed from the northeast, resembles a beaver climbing the mountain.
Longs Peak is the highest point in Rocky Mountain National Park.
"Second Long's ascent. This time via Cables Route (North Face). Took about 13 hours and let me tell ya, I respect Sherpas even more than I already did after hauling a rope to the top of the mountain🤣🤣" —
LGH-Dan • Jul 22, 2022
"We got to the Keyhole by sunrise. It rained very briefly, but that made it a little slippery on the way up. It was kind of foggy but half of it cleared by the time we got to the top, so we still got incredible views. The picture of the keyhole is from the way down." —
matthewanderson • Jul 6, 2022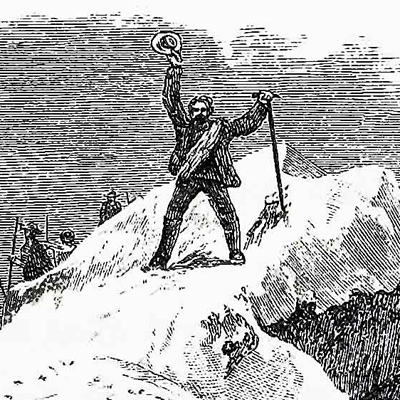 "I'd been staring at this beautiful majestic Mountain for 3 years and never thought I would have the courage or stamina to get to the top but after putting in the hard work I was able to do it and it was one of the most amazing days I've ever had on a mountain. I had amazing weather, amazing people to help me through the class 3, amazing views, and overall an amazing time that I will cherish forever! " —
CheshireKatt13 • Aug 27, 2021
"Longs Peak - Storm Peak - Mt Lady Washington (attempt) - Battle Mountain - Pine Ridge 23.61km with 1,447m gain in 8:30 car-to-car In Canada, even the mountains are polite. I have never been kicked out from the mountains in such a way: two hail and thunderstorms within just 2 or 3 hours. 1. Longs Peak, 4,360m Started with a nice weather, summited Longs in under 4 hours. Only to see a storm coming my way. Stayed at the summit not more than 2 minutes: just few photos, one text message and had to hurry down. Almost was done with the traverses and got hit with hail and rain before the keyhole. Rested, had lunch and waited for a weather window at an alpine hut/shelter. 2. Storm Peak, 4,060m The peak had justified its name, the wind gusts were somewhat up to 80-100km/h. In some places had really hold onto the rock in order not to be blown away. Otherwise, very short and straightforward scramble. 3. Mt Lady Washington, 4,037m - attempt Waited and watched for the weather at a camp. Just as soon as started toward its west slopes, another bigger storm rolled in. Had to hide in a hole between camp site's stonewall and a boulder for quite some time. All in all, lost 1:30hrs be..." —
alexp • Aug 5, 2018
"A warm spring summit of Longs Peak Via the Loft Couloir and down the Keyhole.Overall the snow quality In the Loft was perfect. The backside and the Keyhole route however, were a completely different story. There was also plenty of post holing to be had in the boulder field below the Keyhole.It made for a very long day. My second summit of Longs Peak! " —
IanWright • May 16, 2018
"Flew in Wednesday night from Vegas. Got about 1.5 hours of sleep sitting straight up in the car at the trailhead, then started the hike at 1am. The only real issue we had on the way up was exhaustion due to the lack of sleep. We got rained on for the last few miles back to the trailhead. " —
Kevin • Aug 31, 2017
"3rd times a charm. After being snowed on at the keyhole in early September 3 years ago and rained out entirely last year, I finally had a great window of weather. Parking lot and first half mile of road was completely full when I arrived at 3am; I guess I started pretty late for this climb. Route after the keyhole is interesting. Ledges are fine, Trough is tedious, Narrows were intense, and the Homestretch was not as difficult as described. The huge flat summit of this peak is so unexpected after the variety in the route on the way up. Got hailed on for awhile on the way down, but otherwise had excellent weather for the entirety of the climb." —
edg • Aug 5, 2017
"Storms over denver but clear on Longs. Got started around 4am up the keyhole. summited around 8am then after a short stay headed over to meeker then down the loft route. Back at the car around 2pm right as the storm was hitting. was number 9 on my colorado 14ers list." —
Ryan_Wallace • Aug 17, 2015
"Ascended via Keyhole Route in 6 hours, including waiting 30 minutes for traffic to clear before climbing up a very icy Homestretch section to the summit. Descent took 6 hours. Perfectly clear weather from 2:30 am to 2:30 pm." —
tlannin • Aug 2, 2014
"3:15 AM start and made the approach to the East face by sunrise. Lots of falling rock particularly down the Lambs slide. An adventurous day topping out just before the storms rolled in. Made it down the upper part of the keyhole before the weather got serious." —
Yosemike • Sep 8, 2013
Awards
about