2nd highest peak in Vermont and the southernmost of 5 4000-footers in the state
Killington Ski Resort lies on the north and east sides of the peak. It's trails don't go to the actual peak.
A treat for thru-hikers: just east of the peak is a large lodge with restaurant and panoramic views, usually open during the summer for people riding the gondola for scenic views.
Long Trail / Appalachian Trail traverses just west of the peak to 4-sided shelter Cooper Lodge. The summit is accessible via a short spur trail.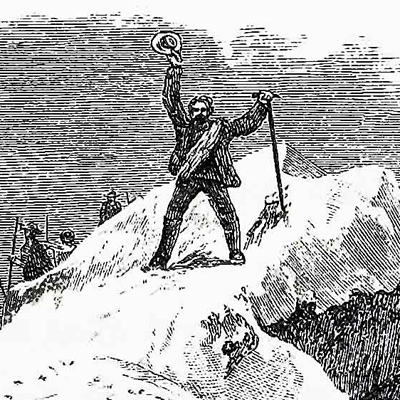 "August 28, 2022 with Chris The first 2 miles were fairly flat (with a couple moderate sections), but the remainder was very steep with the short hike (0.2 mi) from Cooper Lodge to the summit being very rocky. Nice hiking on a trail with less small rocks everywhere like in NH. " —
AmyScrambles • Aug 28, 2022
"A beautiful solo hike on an 80 degree partly cloudy day with a slight breeze that kept the bugs at bay. 2.1 miles of mostly flat dirt and rocks maybe mixed with wooden steps, planks, and a few bridges. Nothing too sketchy at the top. Followed blue blazes of Long Trail and a smidge (white blazes) of AT. Saw a hut with bathroom building on the side. A few people at the top and several dogs heading up. Communication towers at the top and views of ski lifts. No marker. My first Vermont peak!" —
lfrancois • Jul 13, 2022
"Hiked peak via Bucklin to Long (out & back). Sunny dry weather and all of the leaves changing. Long easy trail through the woods with some gradual rock climbs near the top. Completed the 5 summits over 4000 ft. My totals over the 2 & 1/2 days were 44 miles and 16,500. I highly recommend the 5 peak challenge this time of year. They all have some unique features." —
trussell • Sep 24, 2020
"According to this map, https://cms.killington.com/sites/killington/files/2019-06/S19_Killington_Hiking_Web_Info1.pdf , the summit can be reached by three trails from the Killington resort side of the mountain: the A Trail, the C Trail and the E Trail. I did choose the C Trail because, according to the blog of a Killington resident who did try all existing trails, it is the one which offers the most scenic views during the ascent. Upon arrival at Kilington resort, the most obvious feature is the large quantity of heavy road work equipment. The way to the C Trail trailhead is not obvious and I asked a Killington employee who indicated it to me. He did so, but when I reached the designated area, there was nothing there. From the map, it is obvious that the C Trail passes under a chairlift, so I buswaked it this way and had no problem finding it. The so called C Trail is a gravel road. There was a lot of construction work under way around the road, but not on the road. I never saw a C Trail indication. Actually, the C Trail is officially closed, but the first written sing that I spotted saying that was nearly at the top and intended for the descending hikers. E Trail and A Trails a..." —
pierredenommee • Jul 9, 2019
"While most are enjoying the 50+ degree day, I found winter! Bluebird skies, sunny, crisp views, a gorgeous winter wonderland atop Killington today, Vermont's second highest peak at 4241 feet. 2/5 of the Vermont 4000 footers complete. " —
scottturner • Mar 24, 2019
"we took a few days to explore two of the VT 4000 footers in winter as well as enjoy a day exploring Burlington. The weather was perfect, the trails were beautiful, the challenges were interesting and the laughs were plenty. Killington and Abraham were dressed in white with some deep snow." —
deb-and-rob • Feb 21, 2019
"2 semaines solo de pure plaisir à faire du hiking à différentes places dont les Whites Moutains. 2ieme journée et je me rapproche des Whites en allant faire cette rando un peu plus difficile. Beaucoup de brouillard et j'ai aussi rencontré une grosse gang de thru-hiker vers le sommet. Certain avaient la bonne mine tandis que d'autre étaient assez découragé de la température. Ça l'air qu'ils avaient essuyé une bonne tempête la veille. Aucune grosse joie pour moi au sommet. Je m'attendais à un peu plus que simplement ça... " —
fsoucy76 • Sep 18, 2018
"I have been wanting to climb Killington for a while, but the drive (with my children) to only hike when there are mountains closer to home they haven't done never made sense until I was able to combine it with a trip to Great Escape theme park - then the kids were 'willing' hikers. Looked like rain might come this morning, but the wet held off and the clod cover kept the temperatures comfortable. Went up from the ski are on 'E'. Currently the trail 'C' is closed due to machinery. " —
hiking4000 • Sep 1, 2018
"2nd trip up Killington, this time with my wife Deb. I have gone up all 5 4000footers but Deb only did 2 so we are trying to catch her up! Absolutely awesome day, cool and sunny, a little breezy on the summit but the views were great. One of my favorite Vermont hikes!" —
hbotc • Sep 10, 2017
"Solo. Coming off of day shift I have Friday, Saturday& Sunday off. The weather looked bad. But it looked great for Thursday! So I told my boss I was taking off. Playing hooky to go hiking! The weather was beautiful as promised, bright blue skies and in the 70's. I'm not sure why people love summer hiking so much or won't hike in other seasons, as soon as I got out of my car I was inside of a swarm of mosquitoes and black flies and immediately started spraying myself down to protect against being bitten. This trail is well-loved. There were 3 nice sturdy bridges over water crossings, a lot of little stairs and planks, and water re-routes on the upper trail. The first two miles were flat and wide, followed by maybe a mile of steep (~2500'?) of rocky trail, to the Cooper Lodge. The bugs were obnoxious, and the spiderwebs across the trail were plentiful. I was also sweating. A lot. Summer sucks. Anyway after the lodge there is a really dope rock scramble section that I loved maybe a quarter mile of it. Saw a guy on his way down on this portion who looked just like Santa Claus. I had the summit to myself & there was just enough of a breeze to keep the bugs off me. I snapped some..." —
kellieirene • Jun 15, 2017
Awards
about