Humphreys Peak is the highest peak in Arizona.
It is the highest of a group of extinct volcanic peaks known as the San Francisco Peaks.
The summit can be most easily reached by hiking the 4.8 mile Humphreys Trail that begins at the Arizona Snowbowl ski resort in the Coconino National Forest.
The last 1 mile of the trail traverses the only region of tundra in Arizona, at over 11,500 feet.
On a clear day you can see views of the Grand Canyon to the north.
"Got a late start coming in from Nevada all night driving from Boundary Peak, NV. Got to bed at 2am and up around 7am to get started on Humphreys. Luckily it's a pretty easy 12,000' mountain. Not much exposure or slope angle. Great trail and the weather was great. Was able to locate the wreckage of a B24 Bomber that crashed on the side of the mountain in 1944 during a night training run killing all 8 crew members. " —
wiweasel • Nov 11, 2023
"A mountain a world apart from the rest of Arizona. Took the standard summit trail up, in continuous snow for about one mile, before breaking out of the snow at the saddle for an easy hike to the top. Overall rating 8/10, a great state highpoint if you have a day" —
MountainQuest • Jun 16, 2023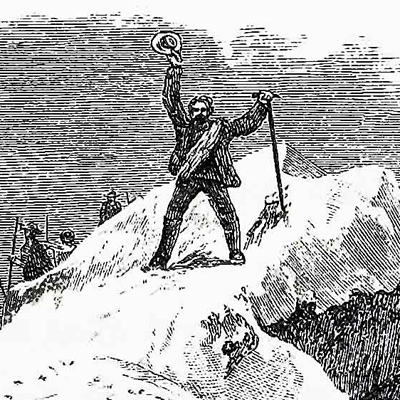 "Climbed it from parking lot to summit back to back took 8 and 1/2 hours. Combinded total 20 miles 6800 feet. 1st time on the summit at 4:20 Am pitch black was awesome up there with city views and lights." —
ryancoburn • Jul 23, 2022
"It felt so good to finally get Humphrey's Peak this year, that I wanted to go back and do it again - this time via the Weatherford Trail! I knew this was a beast and going to be long, but DANG it was a long day. About 5250' gain (a vertical mile), and some of that was retracing elevation loss, and about 24 miles total from Schultz Pass trailhead to the summit and back again. It was a long but gorgeous day - hiking in the inner basin, up on the ridge of the bowl, was just incredibly beautiful. The first two miles have not quite 1000' of gain, and then once you hit the actual Weatherford trail that used to be a highway for Model T's to take people near the summit of the current snowbowl area - well, then it becomes a gentle and very even grade. I'd say about 400' gain/mile? You spend a good long time at around 10,800' along the inner rim of the bowl between Doyle/Fremont and then the Fremont/Agassiz saddle. Then you climb back up again and eventually leave the treeline and stay above that while you pass tantalizingly close to Agassiz (which you cannot hike to; it HAS to be a snow ascent, it cannot be done on bare rock) then drop down to the saddle and join the masses (literal masses)..." —
psychikingjes • Jun 11, 2022
"Third try was indeed the charm - so good to finally get a win! My first successful summit of Humphreys in 2022, hopefully not my last. We're back firmly into three-season hike territory (aka basically no snow at all), rather than a winter snowshoe/crampon/snow hike. We started a little later in the morning than originally intended, but these things happen and work has been crazy. With no snow, though, I was less worried about starting alpine-early. We brought our microspikes but never needed them. The day was beautiful, a little breezy and with some low-hanging clouds to start. We just missed a cloud strike the summit and saddle and cover everything in hoarfrost; it was melting and flaking off by the time we arrived. The weather was overall good until the saddle with the Weatherford trail, at which point the wind picked up. All along the exposed ridgeline from the saddle to the summit, the wind got progressively worse. Strangely (but thankfully), it was relatively calm at the summit itself, just a light breeze. The second we stepped back down, though, the wind was howling even stronger and it was icy cold. I had my soft windbreaker on and then my puffy down jacket over that, along ..." —
psychikingjes • May 21, 2022
"#19 for our Sate highpoint bid. Started out at 1pm from the carpark, trail at some points was still covered by snow, about 2/3 of the way up we lost the trail a few times - was difficult to figure out a few of the switchbacks. Arrived later than what we had anticipated to the summit 5pm, perfect weather, great views at the top. Headed down, stoped for a quick meal, and continued down in the dark (we expected this and had headlamps) lost the trail again a few times and found ourselves in some knee deep snow... my Suunto watch saved us. Using the breadcrumb feature we were able to stay on track and find our way back to the Trail Head around 10:30pm. In all, really enjoyed this climb. My son (Finn) found his limit and was able to push past it, finding he had more in the tank that what he thought, First decent in the dark, highest elevation hike and a great adventure overall." —
CravinoCrew • Apr 30, 2022
"It was a beautiful day on the mountain. Sadly, a summit was just not in the cards for several reasons. We got an early start; 3 AM wakeup, on the road by 4 AM, at the trailhead by 4:30 AM, and on the route by 4:45ish AM. We crossed the ski slopes and dodged the two huge snow cats already out grooming the slopes even in the pre-dawn darkness. After putting on our snowshoes, we started up the ski slope, but cut back into the woods to avoid the sheer number of snow cats out. Plus, the Snow Bowl has gotten cranky about uphill travel and wants you to register and have a pink armband and be logged if you're going to do it - and they require you to pick up that armband between limited hours the day before. We just didn't have the chance to get one, and didn't want to get in trouble. So, we veered into the woods... and snowshoed through snow deep enough that at one point I post-holed down to my waist. One snowshoe came off and the other wasn't helping. That was fun to get out of in the darkness... Things were better once we hit the trail, but it wasn't super well defined. We met half of a group coming back just before dawn, they had turned around at some point above because they were fatig..." —
psychikingjes • Mar 12, 2022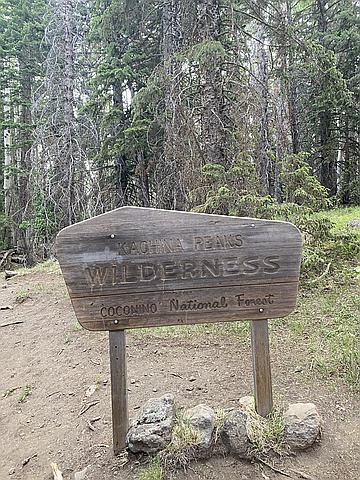 "I climbed this peak solo at the end of a three-week hiking trip through Colorado, Utah, and Arizona. The trail is fairly easy to follow, but there are a few spots that can be confusing. For this hike, if you think you've gone off-trail, then you probably have. I recommend having a GPS or map/compass with you. The first three miles are fairly gradual, but the last 1.75 miles (above the treeline and after the saddle) become much steeper. As of June 2021, the wooden sign that said "HUMPHREYS PEAK: 12,633 ft." is gone. I heard that it got stolen. I took the main Humphrey's Peak Trail, which starts at the Arizona Snow Bowl. The trail is fairly obvious until you reach the boulder field, which you do not want to cross. Instead, continue up the path that looks like what you've already been climbing. After the saddle, where it becomes very rocky, there are wooden posts marking which way you should be going. In total, you will have to ascend three false summits before you reach the true summit of Humphreys Peak. Overall, this is not a super difficult hike if you are slightly prepared. I do recommend bringing trekking poles because the way down can be slippery due to loose rock. One gir..." —
Noodles • Jun 15, 2021
"In retrospect, I would say that I chose an ideal time to summit Arizona's highest peak. The lingering snow in the San Francisco Range added to the scenery without adding any real danger to my outing. The wind above treeline was just as benign as mountain-forecast.com had predicted. Wildfire season was still weeks away in this part of the Grand Canyon State. And by the time hail started to pellet the area in the late-morning hours, I had ample shielding from the towering coniferous forest. The ascent was a bit more challenging than I had anticipated. Mile-for-mile, I would rank it as being just as tough as the two highest peaks in the contiguous U.S. (California's Mount Whitney and Colorado's Mount Elbert) despite being nearly 2,000 feet shorter. That was my impression anyway. Gaining over 25 pounds during the pandemic might have contributed to me struggling more than I would have a few years earlier. Here I thought I was in decent shape going into my weeklong Arizona trip, but the scale at my doctor's office suggested otherwise! Protip: Fritos, Doritos and Cheetos don't make the best nutritional combination for a strenuous hike like this one. Groundbreaking info right there, ..." —
theascent • May 17, 2021
"October 12, 2020. U.S. Highpoint 3/50. I was worried that this was going to be a really rough trail after I read trail reviews on AllTrails, but if you are an experienced peak bagger this trail is not an issue. Some roots and rocks did slow me down a bit, but it was not a slow crawl like other extremely rocky trails that I have been on. The false summits were kind of a bummer, every time I thought I was close it was a false summit. This trail was not crowded (compared to SoCal trails) and everyone was very friendly. When I got back, the parking lot was full of people going to the Aspen Nature Loop Trail to take fall photos. " —
runningvegan • Oct 12, 2020
Awards
about