Humboldt Peak is a Colorado 14er in the Sangre de Cristo Range.
It is the least challenging climb of the Crestone group of fourteeners, which include Crestone Peak, Crestone Needle, and Kit Carson Peak.
Despite the rather impressive north face of Humboldt Peak, the standard route on the peak is not much more than a hike along a decent trail with some minor rock scrambling (Class 2) near the summit.

"Camped out Friday night below South Colony Lakes and started up early the next morning. The gulleys require careful route finding and crossover from the first gulley to the second actually felt like a class 4-5 maneuver with minor exposure. Rest of the climb is on excellent solid, knobby rock. Unmatched views from the top of the Needle. My climbing partner and I decided to not add on the main peak standard route so after we returned to camp I figured I'd take the opportunity to bag Humboldt. Made good time, got to spend about 45 minutes on the summit and took some pictures for a large group from Colorado Springs. After descending back to camp I took a short nap before packing up and heading out. Spotted a fellow New Hampshirite and Catholic at the trailhead and stopped to say hello. Bummer that smoke from the west coast obscured the view but I'll be back eventually for Crestone Peak! https://youtu.be/7TsIVY8y6oU" —
cheeseishappiness • Aug 7, 2021
"After getting turned around due to dangerous winds at around 12.6 K around a month ago, I hadn't been able to stop thinking coming back for a second try. This time we faced a sketchy forecast, and the storm clouds hanging over the Sangre de Cristos as we drove past Westcliffe the night before turned the car very quiet. the We started the bushwhack up towards east ridge at 4 AM, and things were eerily quiet as we trudged upwards through the brush with our headlamps. We caught an amazing red sunrise as we approached treeline, and then moved up across the bare slopes to the ridge. The view of the Crestones as we came over the summit was amazing. The only people we saw all day were up there, all having taken the standard route. " —
LGH-Dan • Jul 8, 2017
"Hiked in and set up a camp at Lower South Colony lake and intended to climb it the same night but were shut down because of rain. The next day we woke up to a little snow on the surrounding peaks so we took our time climbing Humboldt since we had the whole day. Clouds hung out around the peaks all day." —
Yosemike • Sep 16, 2013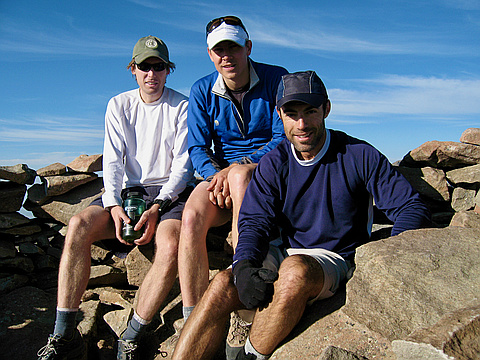 "After a hard couple days climbing Kit Carson and the Crestones, Humboldt was a cinch. We flew up to the summit from South Colony Lakes and were at the summit in a flash, on the summit by 7:30am. Then it was hike all the way out and catch a flight back. What a great trip. We'll be back!" —
scott • Aug 26, 2007
"As if the Crestones traverse wasn't enough that day, I trimmed down my pack to water, flashlight and a snack at our Colony Lakes camp and hit the trail to the summit of Humbolt. I just wish I had brought my camera. " —
ChrisMeloche • Sep 5, 1999
Awards
about