Hoye-Crest is the highest point in Maryland.
Its summit lies along Backbone Mountain.
There is no direct road access to Hoye-Crest.
The best route is a hike from a point along U.S. Route 219 just south of Silver Lake, West Virginia. From here, begin ascending Backbone Mountain on an old road and hiking trail on Monongahela National Forest property that goes up to the West Virginia-Maryland state line. Then head north along the state line.
25 summits • 2.4 mi • 633 ft gain • 1 hr 20 min
7 summits • 2.7 mi • 619 ft gain • 1 hr 48 min
1 summit • 2.3 mi • 654 ft gain • 1 hr 8 min
"Nice hike up to the highest point in MD! There is also a trail off of that one where the border of MD and WV meet - you'll see a large concrete marker on top of large rocks. Pretty cool!" —
emkabalka • Jun 12, 2022
"Morning summit for this one. Found the trail easy enough by the side of the road, nice little hike up the to the crest. Weather was overcast and misty.... unable to find the marker, but I think people have built a rock tower over it (kind of dumb in my opinion). Also nearby by was a Marker for the state boarders.." —
CravinoCrew • Oct 24, 2020
"My second trip out to Hoye-Crest/Backbone Mountain, the Maryland state high point. This time the trail was carpeted in leaves, not snow, and while still somewhat slippery, was still easier to walk up. Mom's knee has also been replaced, and she's had ankle surgery, so she was doing a lot better too. (Not being 3 weeks out of the hospital, again, helps.) Ken hadn't done the Maryland high point yet, and we wanted to see some fall color and show off Western Maryland to our visitor, so Mom and I took him on a two-night/three-day adventure through Western Maryland, southwestern Pennsylvania, and West Virginia. The hike here at Hoye-Crest is still well-marked with red "HP" and arrows painted on trees, and the trail itself is an old logging road. No issues. The register at the peak was basically full, though, and only since September 2020...! A busy day; a party of four had already signed in before us, and we passed four separate groups (while keeping appropriate social distance from those not in our party) who were heading up as we were heading down! The fall leaves were beautiful, a great day for leaf-peeping. Oh, and we found a small snake hiding in the leaves on the way down. " —
psychikingjes • Oct 21, 2020
"Second state highpoint of the day was Hoye-Crest, which was about a mile up from the road. Nice easy walk to the summit with a decent view from the top. Some benches, a picnic table, and a sign all at the summit. Quick decent back down to the road before heading to the next highpoint. Hiked with Kim. " —
LGH-Tom • Aug 29, 2020
"As part of a 16 or 17 state highpoint blitz of the Northeast this August while working remotely 8 hrs a day from various Starbucks. Navigator error and trusting Google Maps took me 25 miles past this one to "Backbone Mtn Retreat Center"...racing back south and west this one had a tricky trailhead find on the side of a road and then to my surprise a 1.5km walk up the forest in the fog (no surprise) to a lookout to a field in the forest. Saw a guy coming up as I ran down. Off north to Mt Davis in PA now...before work." —
alexjoseph • Aug 8, 2019
"This is the (part two) of my big high point trip. After summiting Mt. Davis, I drove down to reach Hoye-Crest. I had used Waze navigation systems, which had brought me to the residential road (pic above). Luckily, that sign guided me to the trailhead despite having no cell service." —
sklarguy • Jun 22, 2019
"Second of three intended highpoints on a weekend trip. Trail was completely covered in snow, but not impassable. Companion had a lot of trouble because of bad knees (and ankles). But made it! :) Cold, wet, and near dark. The trail is really well marked at this point! State highpoint #6 for me and #2 for my mother." —
psychikingjes • Mar 24, 2018
"I got there after the sun went down on a rainy night. I'm sure this hike would be beautiful during the day however, this night while hiking solo, it was kind of spooky! Especially since my camera did not seem to want to take pictures when I was standing on the Maryland side of this hike. The only photo near the top I have is the MD/WV state line marker, from the WV side! " —
Jocelyn • Oct 23, 2014
"Hoye-Crest is a pretty easy highpoint, although getting to the trail may be more of a challenge. There is not a parking lot near the trialhead, so you have to park along side the road. I ended up driving by it 2 or 3 times before figuring out where it was and where to park. The tail is well marked and for the most part follows a dirt road. The weather wasn't the best on the day that I hiked it, so the trail was muddy and didn't get any views from near the summit due to clouds (not sure how much a view there actually is though). The 'summit' is well marked (see picture below), so you can't miss it! There is also a nice area at the top, so it would be a great place to pack a lunch and have a picnic on a nice day in the woods. It doesn't take long at all to hike it and can easily be done in an hour or two depending how fast you hike. Highpoint #2" —
BrianLada • Aug 29, 2013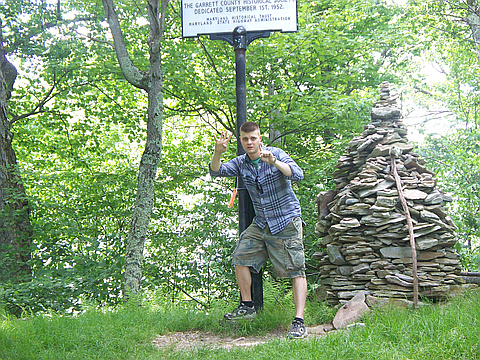 "My last stop on my way to Pittsburgh. This time i would have to hike the one mile from the road to get to the summit. It looks like there is some what of a dirt road to the top, but only the best off roading could get you there. I am glad i changed to my hiking shoes, because the trail was really muddy. It looked like a lot of ATV's go through here and maybe even some paint balling has accrued in these woods. Lots of high point markers letting you know the way to the top. Not to long you will make it to Hoye-Crest and the top of Backbone Mountain. There is a very nice set up with mail box and a sign. I was able to get some great pictures and there is a great view from the top. Really good set up, but i realized that i need to hurry because i was running late and i still wanted to get to Mt. Davis that say day. I started to sprint down the mountain as fast as a could. I saw some old people hiking up and the dirty little trickster that i am was temped to scream out "Bear" on my way down. Well, even know it seems pretty funny i restrained myself from doing it. Getting down and checking my map on my phone i realized i would not be able to get to Mt. Davis that same day and still meet m..." —
elbesto • Jun 8, 2012
Awards
about