Gothics is the tenth highest of the High Peaks Region of the Adirondack Park.
Much of the mountain is covered in bare rock slides, which give the mountain its name due to their resemblance to Gothic architecture.
The summit has near 360 degree views, which combined with its location in the High Peaks Region gives splendid views of the Adirondacks.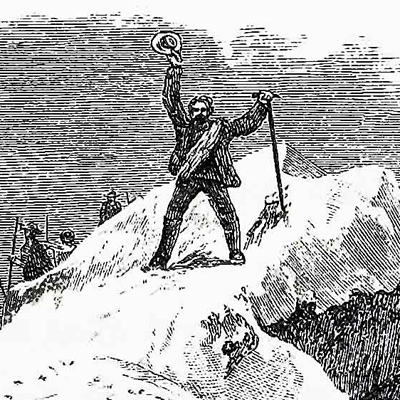 "Hiked out of AMR, not many cars in parking lot. Lake road started to get icy, stopped by rainbow falls, was immaculate (and saw a rainbow, like the name described). quickly realized on the way up to Sawteeth that snowshoes were needed, which we did not have. a day full of post-holing by breathtaking views." —
gregoryskiba • Apr 15, 2023
"Attempted a Great Range Traverse on September 23, 2022 But a freak snow storm, freezing temps, 40mph wind, and a soaking wet mountain range said "no". Modified the plan to exit Gothics towards Pyramid, pick up Sawteeth, and head down the Weld Trail. Afterwards we had to walk out 4.5 miles along Lake Road through AMR and another 2.5 back to the Inn along Route 73 after dark. Memorable." —
ndru-virus • Sep 23, 2022
"Parking at the Garden was full upon arrival; after a good deal of searching, found parking at Roostercomb trailhead. Walked up the road to the Garden (took around half an hour) and set out on the Phelps Trail. South Side trail has been abandoned due to storm damage, so I took Phelps Trail up to Johns Brook lodge. Ascended up to Lower Wolf Jaw (tough final half mile!) then back down and up to Upper Wolf Jaw. Path from UWJ to Armstrong to Gothics was quite easy. Impromptu decision to hike Sawteeth, then back up Gothics and descended by Ore Bed Brook trail. Back out and down the road. Phone died 23.5 miles in." —
hunterjfrost • Oct 9, 2021
"An epic and picture-perfect day hiking the Lower Great Range with Courtney. We started at a little after 6 am - last time needing to park at the AMR lot and walk up Lake Road! This time we walked all the way out to Lower Ausable Lake about 4 miles on the road before turning off onto the AW Weld trail to head to Sawteeth. We first stopped by Rainbow Falls, which was gorgeous and had rainbows, as advertised. The hike up the Weld trail I had read was "gentle" as compared to the scenic route and we took it to save some time on a big day. I wouldn't have described it quite that way and found it plenty strenuous going up. We summitted Sawteeth about 9:30 am, and the blue skies were amazing. We had definitely worked up a sweat and were surprised when we arrived and some girls were saying the wind was cold up there. We proceeded to the lookout point and made sure to get to the actual summit and then came back to sit on the rocks and enjoy the view and have some snacks and quickly understood as we got chilled sitting there. Time for long sleeve shirt #2. The hike from Sawteeth to Pyramid (which for some reason doesn't count) was some of the steepest of the hike and we worked for that on..." —
kvander • Aug 15, 2021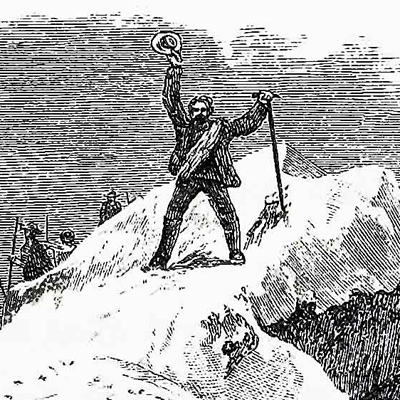 "Beaver Brook Trail, then right on the AMR trail to Armstrong, back through to Gothics, and then on to Pyramids. I'm happy we did it that direction. We wanted to cross the bridge by Rainbow falls and take Lake Road all the way back to the gate, but the bridge was out, so we had to take Lost Lookout across and go down the same Beaver Brook trail to Lake Road." —
AmyScrambles • Jul 4, 2020
"Began at Rooster Comb parking area for Great Range Traverse. Humid day with some sun, horrible black flies. We added in Pyramid and ran out of time and energy for Haystack. 7 peaks" —
bbergman • Jul 3, 2020
"Final trip on the Lake Road. Visited Rainbow Falls on the ascent of the A.W.Weld Trail. Over to Sawteeth where a little boy and his family had just become 46ers. Went up the steep ascent to Pyramid, home of one of the best if not THE best view in all the ADK. Since Gothics was so close, resummited Gothics and headed down Beaver Brook Trail to the falls. Incredible day!!" —
JMindlin12463 • Sep 21, 2019
"Took 5 aspiring 46ers on this hike over part of the great range which started up the trail to Beaver Meadow Falls then straight up to Gothics. We traversed to Armstrong and Upper Wolfjaw but ran out of steam and decided to skip Lower Wolfjaw. Had great views and gorgeous sunny weather. The group was tired but loved the journey!" —
hbotc • Jul 15, 2019

"Was another great but tiring day Solo in the mountains,(55,604 steps) climbing 4 new 46ers, (Lower, Upper Wolfjaws, Armstrong and Sawteeth) Returning to one been to 46er (Gothics) and summiting 3 non significant peaks (Middle Wolfjaw Mountain, Sawteeth-southeast Peak and Pyramid Peak) A total of 8 peaks in 13.5 hrs of ups and downs that make up the Lower Great Range Loop, Awesome day with my first Black bear sighting surprise, about 30ft away enjoying the ground bugs and vegetation, wished I could have gotten a better pic but adrenaline made that impossible at the moment, He moved on and I returned to the trail of the Wolfjaws, Many bridges waterfalls and amazing rock formation along the trail made for an amazing adventure. Doing what you love!" —
ramjet1963 • Jun 24, 2019
"took Lake Rd. up to the Scenic Trail up Sawteeth; up and over Pyramid, Gothics, Armstrong, and UWJ to end the day....First hike since breaking my shoulder climbing Marshall 6/17/18" —
scottolsen • Jun 8, 2019
Awards
about