Giant Mountain is in the High Peaks Region of the Adirondack Park, New York.
The prominent rock slides on the mountain's steep western face and its location away from most other large peaks make it quite an imposing figure, leading to its name.
The two most popular routes climb the southern ridge of the mountain, meeting up about a mile south of the summit.
Rocky Peak Ridge, another ADK 46er, lies nearby, and can be summited in the a same-day outing.
Eagle Slide on Giant is a classic and challenging slide route up the west face of the peak.
"We were originally heading for Rocky Peak Ridge out of Chapel Pond but our pace was too slow to get it done in time. So plan B became Giant as it's summit is so close to the trail junction. Great weather and views, dry trail for the most part." —
Nimblefoot • May 26, 2023
"Tom and I left the trailhead by Chapel Pond at 7:30 @ 18 degrees under cloudy skies. Up, up and up to the summit arriving at 10:50 am. Poor views with blowing snow awaited us. Very little ice and snowshoes worn to the summit. Off to Rocky Peak Ridge." —
garyogden • Dec 26, 2022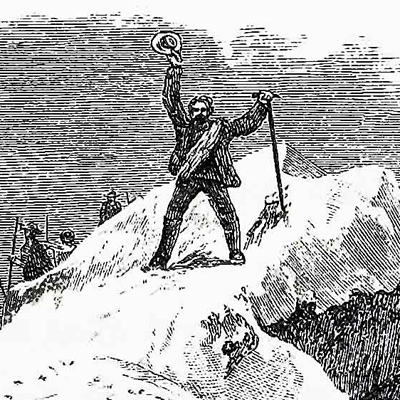 "Partly sunny in the 20's. Started from Ridge Trail head. Trail was packed down, but slick at times. Spikes at minimum needed the whole way, snowshoes recommended in some parts (especially where the snow drift covered the trail. Clouds cleared at the summit leading to gorgeous views of all the ranges. Windy at the summit, otherwise it was a perfect warm winter day. Decided not to go to RPR because I was solo. Took my time and a few more breaks on the way up than usual. 6.1 miles out and back in 4.5 hours, 3,520 ft elevation gain." —
gregoryskiba • Feb 11, 2022
"I've tried writing this trip report three times, but peakery keeps glitching out. Hiked with Kim, Austin, and Donny. Austin and Donny continued on to RPR, but Kim and I just hiked Giant. Kim had gotten her COVID vax the day before and I'm fat. A successful weekend of hiking. We went out to dinner at Smoke Signals afterwards and had a fun night. I'll definitely be hiking some more 46ers with this group in the future. " —
LGH-Tom • Apr 24, 2021
"Met up with Tom, my cousin Austin, and Austin's friend Donny on Saturday morning to hike a 46er. I wasn't feeling that great because I had received my 2nd COVID-19 shot the day before. It was still a great day to hike. I will have to come back to hike RPR, but maybe Tom and I can do it from the Wilmington side. Weather was wonderful and the views were amazing. Overall, a good day and fun weekend up in Lake Placid. " —
Kim-Stilson • Apr 24, 2021
"First winter 46er for Jen and her 6/46 overall. This was a plan B after the Adirondack Loj was already packed full. A beautiful bluebird day on the last official day of winter. The snow was very hard packed in the morning and by the descent it was like walking on snow cones and made it difficult but ideal for some great butt sliding. Quote of the day, "I just sweat a lot and it smells like onions." The mountains have been hard to come by as of late. Life happens, good, bad, or indifferent. It was nice to be back breathing in the fresh air and relishing the beauty and peace. " —
scottturner • Mar 20, 2021
"Becca and I parked at the trailhead at 0430 to get a good spot. It wasn't the parking lot, or even the trailhead, that we thought, but it still had access to the peaks we wanted. Somewhere along the way I dropped one of my two rubber footspike things, so I went about a half mile back to find it hanging on a tree (placed by a friendly passerby). Becca posed for some test footage for an upcoming video project, and battled her leaking water bottle all day. This hike has had some of my favorite views of the Adirondacks, especially on the descent between Giant and Giant Nubble." —
mikebenjamin • Sep 20, 2020
"My first high peak!!! I had dreams of hitting Giant and Rocky Peak Ridge today but didn't start early enough to feel comfortable making it to RPR and back before dark. It was pretty slow going for me, both up and down the trail. It was very wet and muddy in areas with a fair amount of rock scramble. I tend to move at turtle speed on the rocks because I'm paranoid about getting injured if I rush. The trail was gorgeous, so many view points along the way. The summit was very chilly which I anticipated. Overall, it was a wonderful experience!" —
DeliriumTrigger • Sep 3, 2020
"Great Hike! This is a steep trail from rock ridge trail head, you will gain a lot of elevation in a short time frame so be prepared. A lot of nice views along the trail to stop and take a break at. There are several rock slides that are manageable both going up and on the way down. At the split from Giant to Rocky peak it takes about an hour to reach the summit of Rocky Peak, then an hour back to the split. The summit of Giant is pretty open and flat, a great spot to stop and break for lunch/dinner. You can enter the rocky ridge trail off route 73, and do an out and back trail which is what we did, took us under 6 hours even with stopping for lunch at the summit of giant. You can hike the New Russia Traverse and go from one trail head to the other one off route 9, that length is about 9 miles total. " —
alexreiff • Aug 7, 2020
"Glad we brought crampons, but the going was tough with the deep patches of snow and ice at the top 1/3 of the summit. We had hoped to do RPR but a bad fall in the col between the two peaks encouraged us to rethink that idea." —
mariegrimmke • May 16, 2020
Awards
about