Gannett Peak is the highest peak in Wyoming and a classic climbing adventure in the heart of the stunning Wind River Range.
Although not as famous as the slightly lower Grand Teton, it is one of the most sought after summits in the US and is considered among mountaineers one of the most difficult state highpoints.
Gannett Peak is commonly climbed on a 4 to 6 day round-trip of over 40 miles and 9,000 vertical foot gain.
The most common approach involves a long hike in to Titcomb Basin, ascent of Bonney Pass, and a final glacial climb of the peak.
Gannett has the largest glaciers in the American Rockies.
The 896-acre Gannett Glacier flows down from the northern slopes of the mountain.
Minor Glacier is situated in the western cirque of the peak while Dinwoody Glacier and Gooseneck Glacier can be found on the southeast side of the mountain.
Gannett is a quintessential, remote mountain climbing experience.
4 summits • 7.4 mi • 2,657 ft gain • 11 hr 25 min
1 summit • 58.5 mi • 12,046 ft gain • 86 hr 53 min
"Gannet has been a looming goal that has haunted me for years, so when my friend Chase announced that his plan was to hit every point in the Rockies this summer we decided to link up to tackle it. Our original plan was to take the Glacier Route, but with the snow bridge below the bergshrund completely melted out this late in the year, we did some additional research and eventually decided the Tourist Creek route was our best option. Making the long haul from Colorado to Pinedale the night before, we met up with a couple other friends and headed out from the Green River Lakes TH at 5:30 AM on Friday 9/2. After hiking roughly 12 beautiful miles in along the High Line Trail we took off our boots and forded the Green River towards the Tourist Creek drainage. This was the end of the trail and the start of the real adventure. Tourist Creek.....*shiver*. It is a hellish approach anyway you spin it, but with 40-50 lbs of hiking gear strapped to our backs I began to have serious doubts whether I would even be able make it close to our intended basecamp underneath Mt Solitude. First, a bushwhack up the lower drainage through thick blowdown and boulders. I moved like cool molasses though ..." —
LGH-Dan • Sep 3, 2022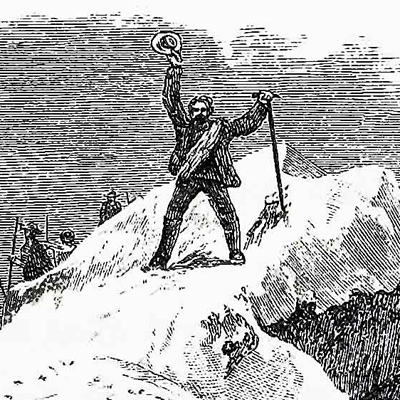 "Part of a five-day trip in and out of Cold Spring/Glacier Trail (East side; driving through Wind River Indian Reservation from Crowheart). Great weather for summit day. Pushed through the moraine in the dark. Bergschrund wide open; kind a z-shaped climb to cross and get around it. Good snow conditions. Nice and sunny at the top. Really tough peak - exhausted at the end of the day!" —
andrewmadsen • Aug 20, 2020
"Drove up from Las Vegas, NV with the intention of viewing the solar eclipse & climbing Wyoming's highest peak with some friends from LVMC. We started our hike on Sunday (with 50 pound packs) via the Glacier Trail and hiked to a cool spot just before Star Lake, where we set up our first camp; I slept horribly. On Monday, we packed up and hiked in to Big Meadow, where we found an awesome spot to view the eclipse! It was unreal. There was nobody around us. This was definitely an experience that I will not forget! After the eclipse, we continued on to a point just before Tarns Camp. I was exhausted and couldn't go any further that day. The good news is that there was fresh water flowing from the hillside right by camp! I got everything ready before another restless night of bad sleep. On Tuesday, we started on the trail at 4am. Not too long after we started, we were scrambling up & down the moraine boulders. We got some beta to head past the standard route up Gooseneck Glacier and take the next gully up, towards the heavily crevassed section south of Gooseneck Pinnacle. Once we reached the crevasses, we headed north, back over to Gooseneck Glacier, where we made ou..." —
Kevin • Aug 22, 2017
"With a team of 6, we climbed Gannett Peak via the Glacier Trail approach. The bergschrund between the Gooseneck Glacier and the gully to the summit ridge was wide open, but had a good snow bridge on the upper end. The gully itself was down to a sheet of ice over the lower 2/3. The upper 1/3, you could get good purchase with crampons, but had to chop footsteps on the rest. We were not expecting the ice, and did not have ice screws...could have used them for protection. The snow field along the summit ridge was fairly melted out on the upper part, so we stuck to the rocks along the ridge top instead of traversing the snow field. Coming back down, we set up a rappel down the ice in the gully. In all, it was a great climb. Some 4k footage taken along the way to the summit: https://youtu.be/2_HpRbJi_Fk " —
reidstidolph • Aug 26, 2015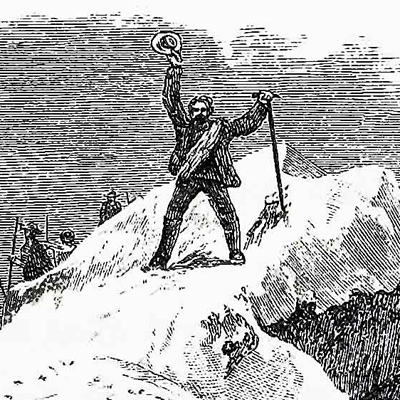 "Glacier Trail in, Bonney Pass to Titcomb Basin for the way out. With NOLS. Beautiful scenery but big snow year for the Winds and late melting so bugs were very bad. Perfect summit day, in fact it was hot and not a breath of wind. Good snow conditions, no crampons but we did rope up on Gooseneck." —
Bluebell08 • Jul 30, 2011
"Reaching the summit of Gannett Peak was the climax of a mountain marathon of five climbers, Pete Allard, Jim Grace, Shaun Lacher, David Sandway, and myself, Dennis Stewart, to set a world record for climbing the highest point in each of the contiguous 48 states in the shortest time. We had started at midnight on July 1 at the summit of Mount Rainier and finally finished on the top of Gannett Peak with a record time of 30 days, 10 hours and 52 minutes. This effort won our team status in Guinness Book of World Records. Our record has been broken significantly since 2000, but our group did not use any "fresh" climbers during our one month ordeal. All drivers on our team were also climbers. We also used the same vehicle during the entire trip unlike one of the other record breakers. This was my second successful summit of Gannett Peak and it concluded my goal of reaching the highest point in each of the 48 contiguous states twice." —
Stewy • Jul 31, 1991
Awards
about