El Diente Peak is a Colorado 14er in the San Miguel Range of the San Juan Mountains.
El Diente (Spanish for "the teeth") is one of the more dramatic peaks in Colorado in terms of local relief and steepness and is one of the most challenging climbs among Colorado's 14ers.
All routes involve at least Class 3 scrambling on loose talus, and poor route-finding can expose the climber to more difficult and dangerous terrain.
The ridge connecting El Diente to Mount Wilson is one of the four great Colorado 14er traverses.
El Diente only has 239 ft prominence, so by a strict 300 foot cutoff rule it would not be counted as a separate peak from its higher neighbor Mount Wilson. However the 3/4 mile connecting ridge is a significant Class 4 climbing challenge, making El Diente more independent than its prominence would indicate. Hence this sentimental favorite is included in the 14ers challenge on peakery.

"Amazing day in the San Juans. Started from Rock of Ages and went for the traverse first. Soloed El Diente's north buttress and met two guys at the summit who I teamed up with for the traverse. Clouds moved in on final pitch of Wilson followed by hail in just a matter of minutes. Had to descend the now iced over crux move as we heard rocks crackle around us. Parted ways in navajo basin and reclimbed rock of ages saddle. Thunder storms came in more earnestly so I waited 90 minutes before weather cleared to go for wilson peak. Over 15 hours car to car." —
cheeseishappiness • Jul 22, 2022
"We left Merced, Ca at 3:30 PM Saturday night and arrived at the Kilpacker Trailhead at 11:00 AM Sunday morning. Our packs were heavy, having packed for an epic we realized was unlikely to happen after seeing the snow free south side of the ridge driving in from Cortez. After ditching some gear we hiked a few miles out to a campsite near the first waterfall, relaxed for the remainder of the day and got some much needed sleep. We managed a start by 7:00 AM Monday morning and followed a good to decent trail most of the way up the route to the third class a few hundred feet below the ridge. Once on the traverse route we followed the trail up to the ridge and scrambled to the summit in perfect weather." —
Yosemike • Oct 7, 2013
"Headed out in the dark from Navajo Lake campsite at 4:45am. Brutal loose rock/scree/talus slog up the North Slopes route to the ridge at 13,900 ft. Dropped packs here and headed for the El Diente summit... a fun route that weaves up over the ridge and then back around 180 degrees. Summited at 8:40am... great views of the full length of the El Diente-Wilson ridge from the top. Back at the packs at 9:25 and weather looked good so decided to go for the ridge. Got caught up in some serious moves in the gendarmes but after that it was smooth going... until at the base of the saddle I looked over my shoulder and dark black sky was almost overhead! Phil and I kicked it up a few gears and flew through the crux climb from the saddle up and over 14K feet... adrenaline powered me through some sketchy (fifth class?) moves down to the yellow rocks. Finally at the end of the ridge (took us 2hr15min), all that remained was the Mt Wilson summit ridge crux. The black sky was eye level; my ice axe was a perfect lightening rod. Phil scrambled up and over the ridge crest with a couple moves of huge exposure and I followed quickly behind. Spent less than 30 sec on the summit then got the hell ..." —
scott • Jul 11, 2013
"Began at Rock of Ages Trailhead at 9pm, July 5. Hiked about 3 miles and stopped to set up camp at midnight. Slept until about 3:45am; began hiking again at 4:30am. Peaked El Diente at 9:20. Completed the great El Diente/Mount Wilson traverse and peaked Mount Wilson at 12:10pm. Returned to the Rock of Ages trailhead, finishing at 6pm." —
Globetrotter87 • Jul 6, 2013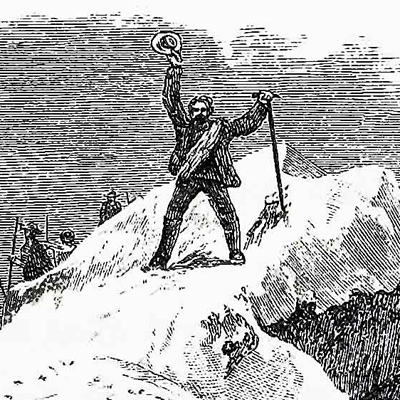 "I climbed El Diente on the 50th aniversity of the Colorado Mountain Club; don't remember the exact date,with three others. I was the trip leader. We started from the Silver Pick basin and camped in an old cabin there. At that time I drove my jeep half way up the Rock of Ages divide where it got stuck in the snow. We all signed the register in a can at the summit and I made my report to the Club. I'm almost 84 now and have fond memories of the climb." —
georgestone • Jul 16, 1960
Awards
about