Clouds Rest is an arete, a thin, almost knife-like ridge of rock formed when glaciers eroded away solid rock to form Tenaya Canyon and Little Yosemite Valley.
The northwest face, mostly solid granite, raises 5,000 feet above Tenaya Creek.
Although there are many peaks in the park having far greater elevation, Clouds Rest's proximity to the valley gives it a very high degree of visual prominence.
"We were supposed to climb Mount Lyell on this trip, but bad weather on the first day caused Amber & I to bail on that plan. Instead we hiked up to Clouds Rest and enjoyed exploring all over Yosemite. I love this park!" —
Kevin • Jul 27, 2019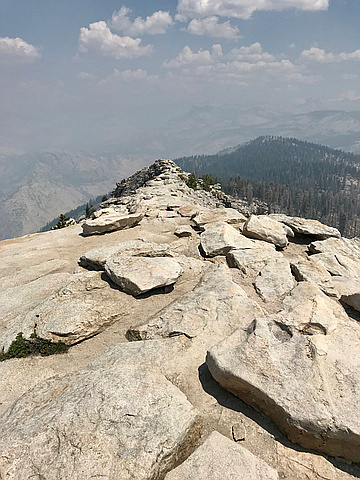 "Gt this one a bit late and t that time the view was obscured in the west by smoke from the Ferguson fire. We woke at 3am and bagged Half Dome as that was smoked out the day before. Grind up the switchbacks was one of the tougher, more miserable climbs in recent memory. Either we were melting in the sun or getting chewed up by particularly aggressive mosquitos when we stopped in the shade. The highly recommended views are indeed spectacular and not to be missed by any serious hiker.. I'll have to come back at some point with better visibility." —
JustinB • Jul 24, 2018
"Beautiful, mid-60's day. Decided to try Cloud's Rest from the Valley through to Tenaya Lake, so parked cars at each end. Also planned on getting Half Dome in on the way, but due to a late start and lack of permits quickly abandoned that goal. Finished at Lake Tenaya just past sunset." —
austin • Oct 1, 2016
"Been on my to do list for years and i finally got there just before the thunderstorms rolled in. Peak # 50 of my 100 in 2014 goal! We started from Teneya lake before sun up, was a beautiful hike." —
1-with-Nature • Jul 14, 2014
"A fantastic climb during an amazing weekend. Backpacked with Holly to sunrise lakes on Friday and proposed at sunset with the lake to ourselves. Got up early and hiked Clouds Rest and enjoyed mimosas on the summit. Hiked out early for a surprise stay in the Ahwahnee, checked in and surprised her again with her four closest East Coast friends waiting in the room. An unforgettable weekend. " —
Christopher • May 24, 2014
"Another fun hike with Liz and Nicole. No coyotes this time around. I was begging the girls to sleep in a little instead of 3 am dawn patrol, but they were in a hurry to summit and head back to Orinda. I was exhausted with the early start and took an hour nap on my way up - in the sun, listening to the birds. It was heaven and I still made it to the top. Just not a lot of time to lollygag upon the summit." —
40in40 • Oct 11, 2010
"Solo hike up from the valley, met my friends at the summit, they were suppose to hike in from Tenaya, but couldn't get a permit, had to hike from Tuolomne instead. They showed up as it was getting dark." —
tcitret • Aug 18, 2010
"Took Kevin on a hike in Yosemite to climb Clouds Rest and Half Dome. California was burning and it obstructed the views, but still a great trip. Had to leave for the "Shasta Complex Fire" once Kevin called home to find out I was needed back at work." —
mj3920 • Jun 23, 2008
"I was in the middle of a 6-day backpacking trip from Tenaya Lake to Yosemite Valley. We hiked to the top of Cloud's rest as a day trip before continuing on to Half Dome and beyond. " —
jaherrick • Sep 9, 2006
Awards
about