Possibly the first ever prominence-based hill challenge. Includes all peaks in Scotland between 2,500 and 2,999 ft high with at least 500 ft prominence. Originally compiled by J. Rooke Corbett in the 1920s and published after his death in the 1950s by the Scottish Mountaineering Club (SMC) and still maintained by them. Maintained on peakery by member Mark Trengove using data obtained from the Database of British and Irish Hills.
Highest peak
Beinn a'Chlaidheimh
2,999 ft / 914 m
Most prominent peak
Goatfell
2,867 ft / 873 m prom
Most summited peak
The Cobbler
15 summits
Most difficult peak
The Cobbler
Class 3
Difficulty breakdown
Class 3/4 1 peak
Take on a big classic Scottish hill challenge that will lead you over the length and breadth of the Scottish mainland and largest islands.
Visit such iconic Scottish hills as Ben Ledi, Cul Mor, Ben Loyal and The Merrick.
Rack up more distance and metres of ascent than climbing all the Munros.
"A boggy then snowy ascent up Coire Creagach to the East Top, then on to Stob Coire Creagach, Binnein an Fhidhleir and back down the main route. A brilliant viewpoint and fun ridge walk in the snow." —
ChrisMac • Jan 19, 2020
"A long hike from the road-end south of Poolewe through the Letterewe Estate. Two hours hiking out on good tracks via Inveran and Kernsary. Then a rough stalker's path and faint trail up Coire nan Dearcag to the summit, returning the same way. Last hour back hiked in darkness. Solo. A beautiful day, freezing after a hard frost. Chilly south-easterly breeze. Many red deer, a mountain hare half in winter fur,and a ptarmigan." —
marktrengove2 • Nov 8, 2019
"Parking at the car park north of Ribigill, south of Tongue, we took the track past the farm and over the moor, crossing the Allt Lon Malmsgaig west of Cunside. A boggy path led up to the flat Bealach Clais nan Ceap. A steep pathless ascent followed up the eastern flank of the mountain, which seemed to get more vertical the higher we went. Eventually we reached the plateau, resting and eating below a granite tor on Sgor Chaonasaid. There the fierce south-westerly wind hit us, making progress much harder. A short easy scramble brought us to the top of the Sgor, where care was needed to stay upright in the wind-blast. Returning to the path across the plateau, we passed over Sgor a'Bhatain and onwards to the huge tor that is the summit of this complex mountain. Progress towards it was slow, as the gale force wind, gusting at times, made for a slow difficult hike. Eventually we reached the tor and, after some difficulty finding the route, gained the summit by a path that would have been easy under gentler conditions. The wind blast on the summit precluded more than a short stay for summit photos. We abandoned our plan to continue south in a loop around the other summits due to ..." —
marktrengove2 • Oct 27, 2019
"From Glen Croe, standard route up and down. A grassy, pathless slog for two thirds of the ascent. Enjoyed the summit even though the bigger hills were cloud covered with occasional glimpses of more." —
ChrisMac • Oct 15, 2019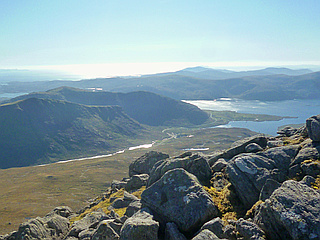 "From the Abhainn Mharaig car park, by the A 859 'Golden Road'. After crossing a boggy area, we scaled the minor peak of Sron Carsacleit 339/38m. Keeping to the high ground, we worked our way round to the large boulder field on the south flank of the mountain. Once through the boulders, we located the steep eroded path up the south-east ridge to the fine summit with a stunning panorama. We descended by the path back into the glen, following the Abhainn Mharaig back to the car. With DB. Bright sunshine, but with a fierce gusty southerly wind." —
marktrengove2 • Sep 20, 2019