Castle Peak is the highest Colorado 14er in the Elk Range and resembles an eroded castle.
The best climbing months are June, July, August, September through the Montezuma Glacier, a permanent snowfield between Castle and Conundrum Peaks.
There are two standard routes for ascent: 1) The Northwest Ridge features a moderate snow climb followed by an easy ridge scramble. 2) The Northeast Ridge features an easy snow climb, but slightly harder scrambling and route-finding once on the ridge. This route offers great glissading.
Conundrum Peak, a sub-summit of Castle Peak above 14,000 feet, is often climbed in conjunction with Castle Peak but since it doesn't satisfy the 300 ft promimence cutoff it is not included in the popular 14er challenge.
14 summits • 12.9 mi • 5,274 ft gain • 11 hr 17 min • Class 2
1 summit • 8.0 mi • 3,211 ft gain • 7 hr 56 min
"I hiked Castle and Conundrum via the standard route, starting at a campsite very low on the road. The weather was perfect all morning with zero wind. After Conundrum, I decided to re-summit Castle instead of taking the saddle descent." —
WaxDr • Aug 19, 2017
" I climbed Castle Peak & Conundrum Peak with my dear friend Aaron Charles Pacheco. We did not do the standard route, but instead decided to ascend the Northeast Ridge in it's entirety from much lower than the standard route normally would. If you stay on the left side of the ridge it is a steep class 2, but we decided to do the right side of the ridge into some very unnecessary and very enjoyable class 3,4,& 5. This climb had some of the loosest rock I have ever dealt with. We had dozens of close calls and near death expirences. There was constant rock fall from above. Every hold you tried to grab came loose. On our decent we decided to go down from the saddle between the two peaks and into the basin. This was another decision that put us in very dangerious territory. There was still a lot of snow, so to avoid it we ended up traveling along some very narrow ledges with huge exposure. Every time the wind would blow rocks would start falling all around us and the sound it made was like a thousand animals in a stampede.There were moments where I would step on a rock and it would fall. I would quickly jump to the next rock and it would also fall. It felt like being in video game or a m..." —
IanWright • Jul 10, 2016
"After not having enough daylight to make it to camp for Capitol and not enough reserves to dayhike it, I decided on Castle, keeping to the Elks. Motored up the fire road to the basin and started up the NE, rock as rotten as advertised. There were only 5 climbers on the mountain that day yet you could hear rockfall everywhere, much of it just from melting snow. Found some decent class 3 on the ridge to keep it sporting, but you could avoid it if you wanted to remain class 2." —
Christopher • Jul 23, 2013
"climbed up the northwest route, lost the trail a few times on the ridge but eventually made it to the peak. I was going to traverse to Conundrum but my hiking partner had plans that evening so we descended down while glissading in a few spots. near the trailhead we saw a couple of moose, there is a first time for everything." —
dukelazarus • Aug 19, 2011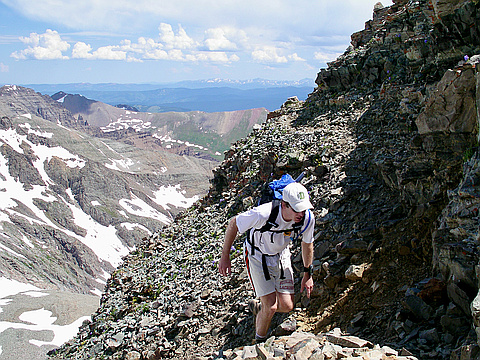 "Second 14er outing of CB summer trip. Perfect CO summer day. Started a bit below the snow to get 3,000 ft vert. Final scrambling moves on the Northeast ridge and the speedy glissade down Montezuma Glacier were highlights. Bonus: found a Nalgene bottle mid-glissade." —
scott • Jul 8, 2005
Awards
about